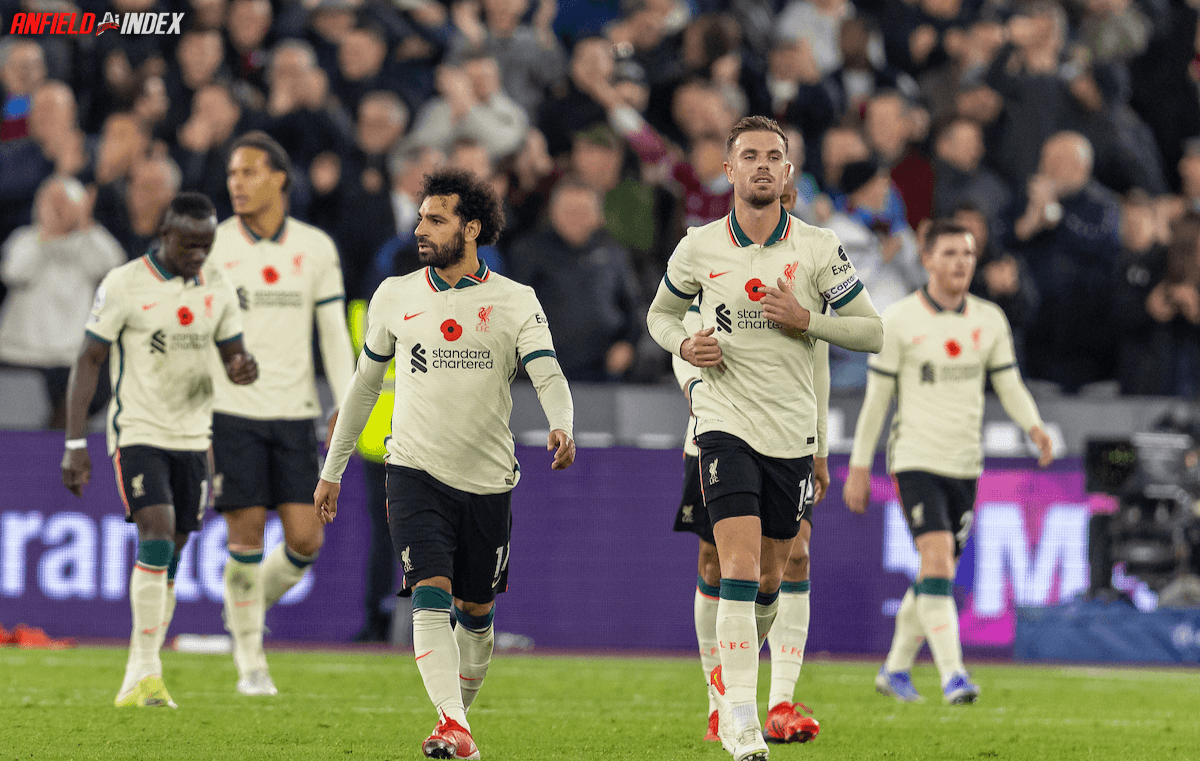 West Ham 3 - 2 Liverpool - The Player Ratings
West Ham 3 – 2 Liverpool – The Player Ratings
Alisson Becker – 5.0
A poor game by this mans standards, couldn't deal with the physical nature within the box and wasn't commanding at all. These games will happen, but he's world class and can't be elite every game.

Trent Alexander Arnold – 6.5
A tough game overall, and had limited avenues to dictate play. A superb taken free kick in an otherwise frustrating game, and got the assist for Divock.
Andy Robertson – 5.0
The poor period of form continues. Out of position too much and didn't offer good service. Kostas has to take the shirt until the Scotsman's form is found.
Joel Matip – 6.5
Struggled at times with the bursts and counter attacking. Was swarmed and never given enough support from his RCM.
Virgil Van Dijk – 7.0
Had to deal with far too much, and was well placed to snuff out and jockey away much of what came his way. His presence kept Liverpool in the game, or it may have been another Villa.
Jordan Henderson – 5.0
Not enough on the ball to create havoc, and was bypassed too often. Unable to find space, and didn't cut out passes or offer even coverage. Once again is really good or really bad.
Alex Oxlade-Chamberlain – 5.0
A very tough game after such a good midweek performance. The slow build up didn't suit this man, and space was too limited to burst and cause damage. Subbed for Thiago.
Fabinho – 7.0
Shielded what he could, but was difficult to subdue the fast paced counters and screen his zone. Offered good overall coverage and support, but much of the game was played beyond and around him. His midfield partners didn't help out enough in stopping the breaks, and needs Thiago back in the side for such games.
Sadio Mane – 6.5
Always looking to explode, but numbers and the West Ham structure limited all avenues.
Diogo Jota – 5.0
Couldn't find any openings or room to expose space. Struggled in the game and subbed. A central striker is needed still, and Ivan Toney would be perfect for these games.
Mohamed Salah – 6.5
West Ham subdued him at every turn, and he couldn't beat the vast numbers of defenders in front of him. Looked dangerous but was overwhelmed by a well drilled rearguard.
Subs;
Thiago Alcantara – 5.5
Was brought on to add cutting edge, but still finding his way into games. A tough period to be introduced, with West Ham so well organised. This man needs to start as soon as possible.
Takumi Minamino – 5.0
Came on.
Divock Origi – 7.0
Looked to challenge the opposition and took his goal well. A positive contribution.
The Manager;
Jürgen Klopp – 5.5
It's so tough when you don't replace key Gini shaped elements, to fully implement your chosen style. Virgil kept the game close, but changes in personnel rather than style of play didn't make for a good afternoon. The lack of signings have hamstrung Klopp, and his midfield just don't control games were a tenacious opposition is on hand. Thiago should have come into this game when it was level, with the 8's offering so little.
Summary;
West Ham fully deserved the points, and David Moyes is showing why he should have won manager of the year last season. The most structured system Liverpool have faced, and conceding the early goal to the Hammers set the tone. Possession means little to this London side, as they explode when needed. Liverpool just didn't work the ball quick enough and were caught over and over. The reds are struggling with teams that are bullish and organised.
Steven Smith