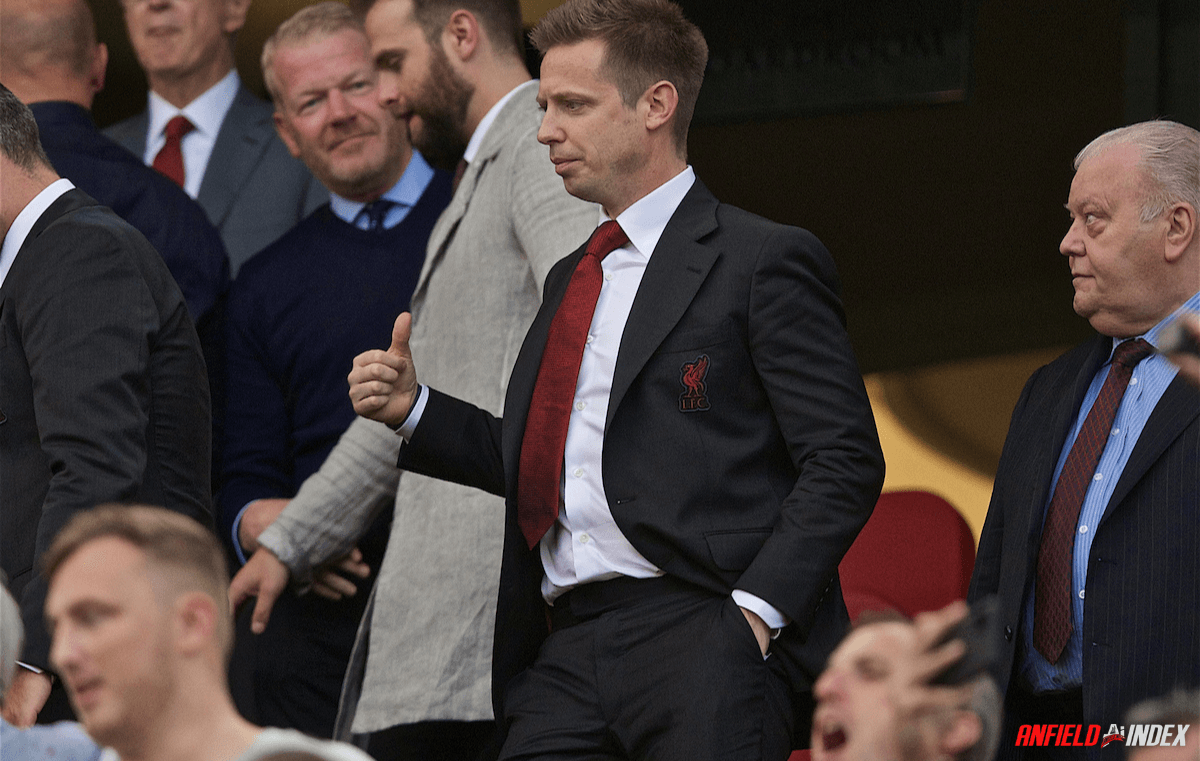 The New Sporting Director
Any new role undertaken at a sporting team (let alone a major club like Liverpool FC), brings a certain amount a risk, especially when the role was previously engineered with brilliance. FSG have made some high profile mistakes along the way, yet the overall structure of the club is now one to be admired.
As Michael Edwards gets ready to depart his role as Sporting Director, Julian Ward was immediately confirmed as his successor. As with the celebrated American TV show, Succession, change can offer various dilemmas when such a prominent leader makes way. There have been multiple times when frustration has engulfed Liverpool's transfer strategy (during the FSG reign), yet the brilliance of Michael Edwards cannot be denied. With a brilliant method of identifying footballing talent, he has been able to help assemble a squad as good as any in world football. The deals that have been struck throughout his tenure as Sporting Director, have often been remarkable. His importance and impact may just equal that of Jürgen Klopp, and therefore his replacement process is a vital step for the reds to take on.
Julian Ward will be stepping into the Sporting Director role, with numerous questions to answer. His ability to continue Edwards' great work will surely be well under way, with his own vision of recruitment needing to unfold immediately. Edwards will now see his final months spent as an overseeing mentor, and Ward will have to assert his control as Director from the outset. The on going saga of Mo Salah's contract could well be the start Ward requires, and this may be the thinking of the Liverpool decision makers. To award a contract to Liverpool's most valuable asset at this time would be a relief to both the club and fans alike. To imagine this achievement could be awarded to  Edwards (whilst still officially Sporting Director) would be wasteful. If a contract is to be agreed, hopefully it will be Ward that is sat next to the Egyptian for the potential signing. This is pure theory of course, but it would certainly give Julian Ward the perfect starting point. Michael Edwards appears to be a man committed to the on going Liverpool cause, and it is entirely conceivable that he would have engineered such a moment for Ward.

The Salah contract situation is something I believe will conclude soon, and FSG will be aware of its overall importance to both themselves and the club.
The next step would be to reignite the Reds' stagnating transfer dealings. With some degree of normality returning to football world, it could see deals become more fluid in the next window. FSG have always looked to finance recruitment through sales, and where this can be an annoyance to fans, it is a reality that must be accepted. With a few players still primed to depart the club (and good Champions League progress underway), it could see Liverpool able to make one or two moves in January.
Julian Ward has a good reputation within the club, and would have learnt great things alongside Michael Edwards. With both strategic and specific recruitments now common at Anfield, it will be important for Ward to orchestrate deals that not only mirror the Edwards tenure, but help give assurance to the squads regeneration. With rivals Manchester United showing a scatter gun approach (since Sir Alex Ferguson departed), Liverpool need to maintain a clear direction in their approach. Appointing an Edwards successor from within the club will hopefully point to this, with the next two years vital to Liverpool's progression.
With various transfer stories of this player or that, it's definitely an intriguing period for Liverpool fans. There is anticipation of huge signings and continued success, which will be linked to how Liverpool replace players that are now in regression. The midfield still requires a true Gini Wijnaldum replacement, and the famous attacking trio are all hovering around the 30 years mark. These are the more pressing areas for Julian Ward to consider, and it could be that an ambitious move for Jude Bellingham is on the horizon. The cost would require a club record fee, yet the deal is something that could be seen as a generational signing for next summer.
Karim Adeyemi would represent a brilliant signing, and one that would tick all of the boxes. A versatile and prolific forward would give much needed depth, with RB Salzburg possibly entertaining Takumi Minamino returning as a make weight. The ages of each (Bellingham is 18 & Adeyemi 19) would be a massive plus point, and structured deals could be negotiated to suit all parties. Julian Ward will be well aware of the need to make a high profile signings, and this point will hopefully see at least one player brought in this winter.
Whereas Michael Edwards is still the clubs Sporting Director, his remaining days must be spent preparing and propelling Julian Ward into the hearts of the fan base. With a questionable summer transfer period behind the reds, progression must be made to regain the trust of the support. To see the greatest player on the planet commit his future to the club, would be an ideal start. To follow that up with aggressive recruitment in the coming windows, would see the Anfield faithful chanting Julian Ward's name.