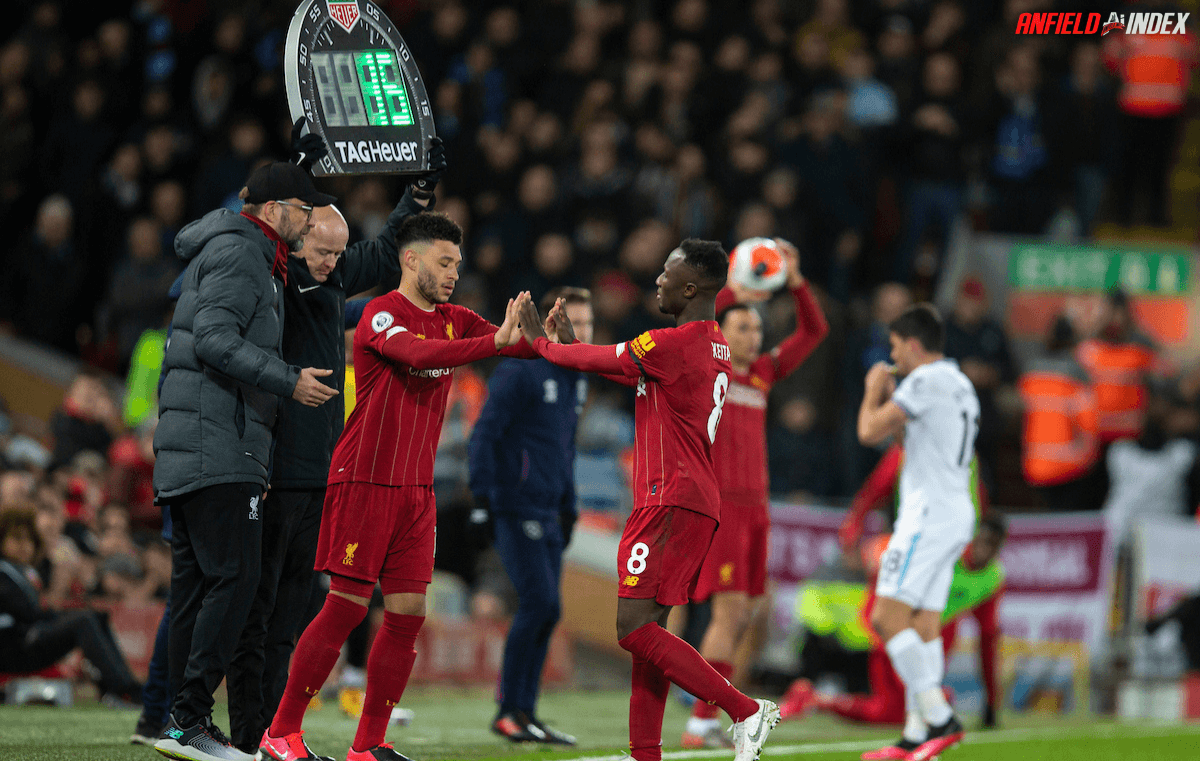 The Reds' Midfield Going Forward
Standards have now become so high that any dropped points can lead to dismay within the Liverpool fanbase. After a draw at home to Brighton, and a loss to West Ham, Liverpool head into this weekend with a clear need to improve.
The international window has (as always) brought back an array of injury concerns. The provisional team will almost pick itself, yet the indications of the starting line up are still encouraging. As Andy Robertson joins the injury list, it could offer the Scotsman a much needed break before the busy Christmas schedule. Robbo is an integral piece to Liverpool's recent success, but Kostas Tsmimikas is a player deserving of an extended run. With the rest of the backline and goalkeeper areas available, the rearguard is near full strength, and perhaps more exciting.
The attack will be strong, in that Mohamed Salah and Sadio Mane are primed to start. Diogo Jota will know he has an opportunity to shine, and the Roberto Firmino injury gives him time to find consistent form. Limitations in numbers can be disruptive, but the quality is there to see. Jürgen Klopp will be counting his lucky stars, that Champions League progress is already assured. The entertaining League Cup side now becomes the European team (for the final group games), and that could be vital to the next few weeks.

The start of the season has seen the midfield chopped, changed, electric and inconsistent. Control of the middle ground is vital to the Liverpool dynamic, and performances of key attacking players have won games more than the system strategy. It's frustrating to see so many players injured, but this period of time could well see Liverpool move up a gear. The Reds have four games in the next twelve days. This Saturday sees Arsenal arrive at Anfield, and a full strength version of the team must be selected. A midfield of Thiago Alcantara and Fabinho is the tantalising reality that can now be fully appreciated. The control that these two world class players can give, will offer a strategic advantage, and stop the Liverpool middle being overrun. Too often have we witnessed a swaying battle of midfielders when Thiago and Fabinho will simply not allow such silliness. The third midfield player to join the starting line up will be Henderson (if fit) or Alex Oxlade-Chamberlain. Either player will have such reassurance (from allying with Thiago & Fab), that they can play with a direct intensity further up the field.
When FC Porto arrive next Wednesday evening, the reds entire starting line up should be refreshed. The likes of Neco Williams, Ibrahima Konate, Joe Gomez, Tyler Morton and all the remaining reserves should be playing this game. Complete rotation is key at this point, and the first team proper should then return for Southampton's own trip to Anfield, next Saturday afternoon. These three home games can give Liverpool a real chance to bed in the midfield (in the league), and offer both minutes and European experience to the entire supporting cast. Thiago and Fabinho must now become starters if Liverpool are to challenge for major silverware, and protection of them is key. These two League games need to see their presence felt, in anticipation for December 1st.
Jürgen Klopp will take his team to Goodison Park on the 1st of December, where a certain Rafa Benitez oversees an up and down Everton side. The way in which Klopp manages his midfield in these next few weeks is paramount to how the season unfolds. It'll be a strong ask to expect Thiago and Fabinho to play all three of these league games, and the hope is that Naby Keïta, James Milner and Curtis Jones return next week (to offer rest periods from the bench). The issue is, Thiago and Fabinho represent the world class level that is needed to win games, yet are susceptible to injury. Liverpool have the ability to kill off teams, yet the vulnerability of the midfield has become apparent. Certain games have seen an irregular lack of control, and this is starting to be preyed upon by opponents. The notion that this area of the pitch is Liverpool's achilles heal needs to stop, and the duo of Thiago and Fab can offer that solution.
However people view the captain, Jordan Henderson is in an inconsistent spell. It could be that he simply requires the stability and control that Fab and Gini once offered. Thiago and Naby can give that control, which means there must be two controllers in this side for this gegenpressing side to flourish. Curtis Jones, Ox and Hendo have good attributes that can be unleashed (when there is control), and this must be reinstalled into the midfields mentality. A durable midfielder will surely be on the Klopp wish list, as the injuries will no doubt continue throughout the year.
The last run of games was important, yet this next batch is now vital. FC Porto and AC Milan are crucial to maintaining players fitness, given in their unimportant nature. Klopp must find a way to keep his elite and world class players available, until numbers improve. The defenders are sound, but need protection. The attack is lethal, but requires both support and control behind them. A central midfield that can control all situations is critical, and I believe a Fabinho and Thiago pairing will allow that. Arsenal are heading to a dark and floodlit Anfield, and I believe if these two midfield monsters start, it'll be a very difficult night for the North London side.
There are questions over Thiago Alcantara, but Saturday will see him and Fabinho start together. The control that was lacking can be rectified, and this midfield will most certainly be central to Liverpool's success.