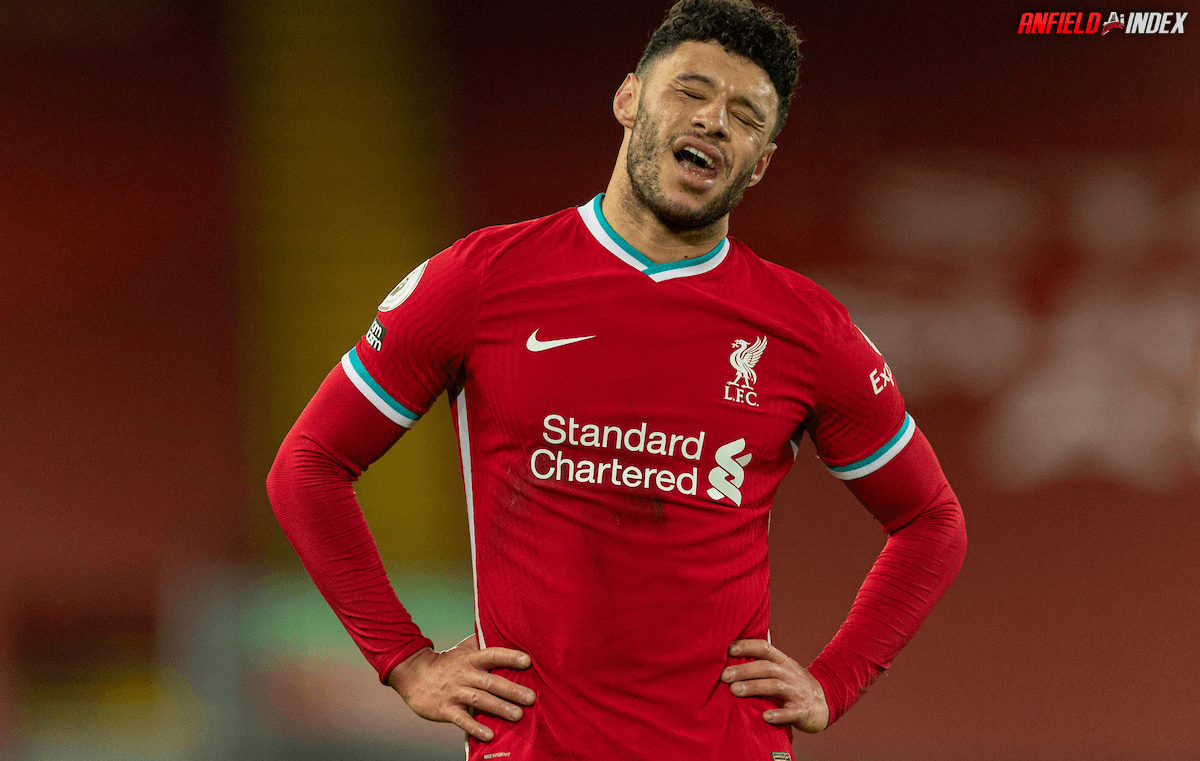 What should Liverpool do with Alex Oxlade-Chamberlain?
Alex Oxlade-Chamberlain really found his groove as a midfielder for Liverpool during the 2017/18 campaign. He was a whirlwind in the middle third and he seemed to thrive in the chaos created by Jurgen Klopp's ultra-aggressive system. 
If you think back to the games against Manchester City, he was the wildcard. Pep Guardiola loves to control everything on the pitch. They couldn't deal with someone in the middle third who could accelerate and carry the ball the way that Oxlade-Chamberlain did. Watch the opener from the 4-3 and see how easy it is for the one-time Arsenal wing-back to breeze past Fernandinho before firing past Ederson. 
That frenetic environment suited Oxlade-Chamberlain's skill set. He was actually perfect for it if we're being honest. Klopp even benched Gini Wijnaldum for a period of time to fit him into the starting XI. 

It was Oxlade-Chamberlain alongside James Milner and Jordan Henderson against Man City in the first-leg of the Champions League quarter-final. He started the second-leg, too, with Wijnaldum replacing Henderson. He was also in the starting XI for the 5-2 win over Roma, though he was subbed off early on as a result of an injury. Nobody knew it at the time but that injury changed his career. 
It was during the 2017/18 season that Liverpool started to shift towards more of a possession-based style. It was a necessity with so many teams sitting deep and looking to frustrate, knowing full well they'd be destroyed in an open game. 
So Klopp evolved his system. Trent Alexander-Arnold and Andrew Robertson finished the season as the starting full-backs. The summer of 2018 saw Fabinho arrive to really solidify that part of the pitch. He'd pick up any loose balls and keep the opposition hemmed in. The Brazilian was the anchor for the Reds. Where he was, that was where they'd be building their attacks from. 
Liverpool averaged 57% of the ball in 2017/18 and 60% across the next two campaigns. It might not seem like much of a difference but it adds up. For example, Klopp's men averaged over 20 more passes on a per 90 basis (a difference of 760 across a 38-game season) and had more sequences with 10+ passes. It was a slow, more controlled approach. 
For a player who is at his best when things are instinctive, it can be massively limiting. You see it when Oxlade-Chamberlain plays in midfield. He is forever trying to play at 100mph when everyone else is still in second gear. He lacks patience and is permanently trying to force the next pass. It is why he often sticks out like a sore thumb. The team evolved during his absence. For him to fit in, he'll have to curb his natural instincts. That doesn't suit the player or the team. He's nowhere near as effective when he's doing a job for the team. To be honest, whether he's doing a job for the team is fairly subjective. The midfield looked massively disjointed with him as part of the midfield three recently. 
This isn't a criticism of him. We clearly signed him for a certain system and we've moved on. Injuries have made things difficult for the 28-year-old and we find ourselves in the position we're now in. He isn't bad, he just isn't the right fit now. There is a big difference.