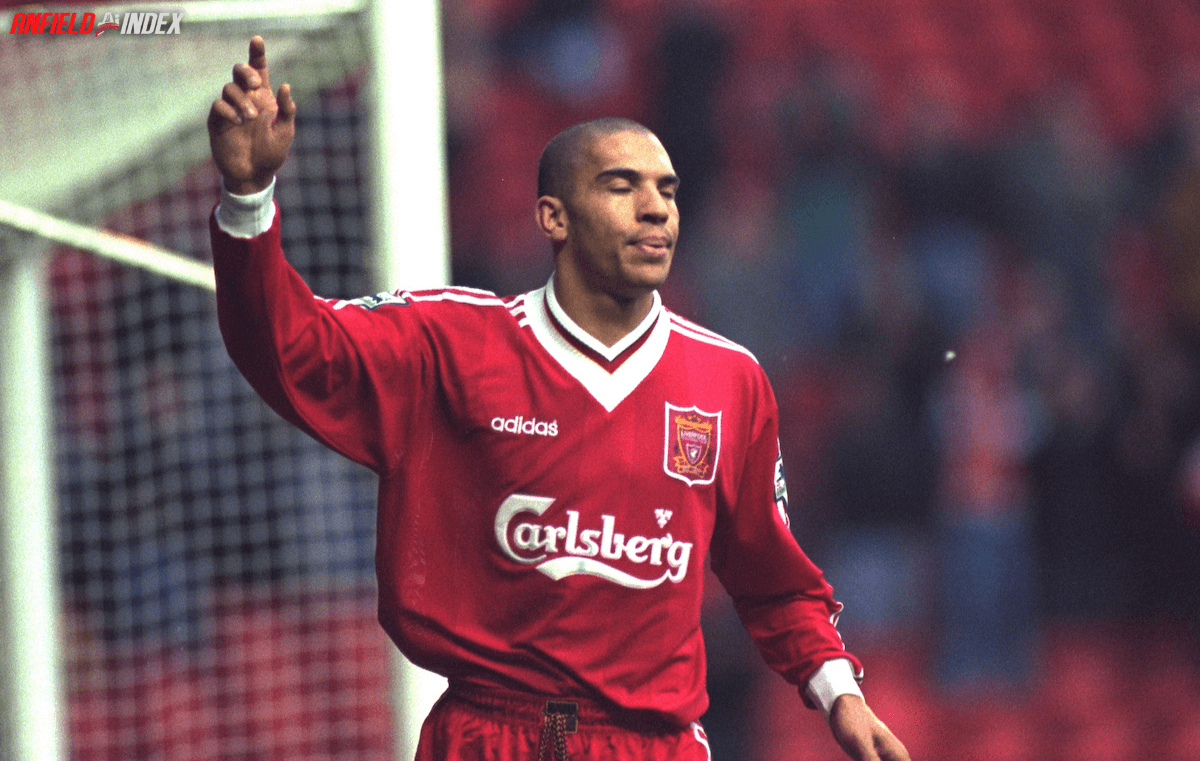 Stan Collymore - What Could Have Been
When Ian Rush was past his prime as a Liverpool starter, it coincided with the emergence of the brilliant Robbie Fowler. The young striker (Fowler) exploded onto the scene with a flurry of goals. In the era of Roy Evans, it was still common place for teams to operate with two main strikers. Where the duo of Ian Rush and Peter Beardsley had been devastating, there became an urgent need to find the perfect partner for Robbie Fowler.
At Nottingham Forest there was a prolific and dominating striker making waves. Forest were beginning to emerge once more, and a certain 6 foot 4 inch Englishman was a major reason for their rise back up the league. Stan Collymore closed out his career at Forest with a brilliant 41 goals in just 65 games. This towering striker was not your typical target man, and his athletic ability made him somewhat unique. In a summer where Newcastle recruited Les Ferdinand for 6 million (from QPR), Liverpool were able to sign their own powerful forward for huge money. At the time, Liverpool were heavily linked with both Collymore and Ferdinand, and eventually paid a British record fee of £8.5 million, to secure the Nottingham Forest striker.
The deal represented a major shift in Liverpool's transfer dealings, and signified an intent to reclaim their place at the top of the English League. Newcastle had signed Ferdinand to play with the former red, Peter Beardsley, in an exciting forward line. Manchester United had the impressive strike force of Eric Cantona and Andy Cole, whilst Blackburn Rovers were fielding the dominant pair of Alan Shearer and Chris Sutton. With Ian Wright and Dennis Bergkamp at Arsenal, Roy Evans clearly felt further firepower was needed, for Liverpool to truly compete.
In the days where transfer dealings would be confirmed by teletext and the morning papers, the Anfield club made their own huge signing to excite the clubs fanbase. Collymore was a 24 year old forward, with a devastating style of play. His pace and power would terrify opposing defenders, and most of his goals scored were sensational. The signing was applauded, and he was quickly paired with the veteran Ian Rush. Roy Evans was the nostalgic type, and where Graeme Souness seemed intent on selling his senior players (prior to his sacking), Evans seemed quite the opposite. Jan Mølby, Ian Rush and John Barnes played significant roles in Roys Evans' early reign, but the new generation of talent eventually found their place in the starting line up.
With a bleach blonde Robbie Fowler watching from the bench, Stan Collymore made an exciting start to his Liverpool career. A sensational long range effort against Sheffield Wednesday (on the opening day) appeared the perfect start. The following game saw Tony Yeboah score 'that' remarkable volley, as the Reds lost their next game. In a season where the league was stacked full as brilliant forwards, the Premier League began to stand out as the world's most entertaining league. The influx of money from Sky TV's coverage, meant every major club was clambering to make waves in the market.
The first season of Stan Collymore's Liverpool stint can only be considered a success. His partnership with Fowler quickly became one of the league's most exciting, and the pair even shared the Premier League's player of the month in January 1996. Liverpool were perhaps the division's most devastating attacking team, and their failure to land the league title, was only due to their defensive vulnerabilities. With the world class Steve McManaman causing havoc in their 3-4-1-2 system, Liverpool were fast becoming the team to watch.
That first season saw Fowler and Collymore amass a staggering 55 goals, with Stan scoring an impressive 19 goals in his debut season. Of the two forwards, Fowler was undoubtedly the more prolific and clinical. Collymore was able to offer great service and link play, and his role in the team was vital throughout the 1995/96 season. Liverpool's greatest ever Premier League game saw them entertain Newcastle United that season. I wrote recently about that particular match, and Collymore was a key component in the Reds' victory. With a respectable 3rd place finish, Liverpool strode into the FA Cup Final as potential favourites for the trophy. Manchester United overcame the Reds that day, with Eric Cantona deciding the contest. The season closed with Ian Rush departing the club, and where the campaign ended with the Reds empty handed, there was definitely reason to be optimistic.
Stan Collymore's second season saw the Reds recruit the gifted Patrick Berger, to add further attacking options. England had just lost their infamous semi final (at Euro 96), but Liverpool Football Club were keen to climb the league further. That hope was soon replaced by the reality, in that Liverpool were a squad often seen as unprofessional. The Spice Boys tag seemed to match their 1996 FA Cup Final attire (all white suits), and the team became a squad of ultra talented inconsistencies. Collymore ended the season with 16 goals (12 in the league), and his own performances became erratic. The supremely talented Collymore started to become as famous for his off field exploits, as his ability on it. The season ended with Liverpool sat 4th, with Collymore gradually eased out of the starting lineup. Michael Owen was the young prodigy that couldn't be held back any longer, and Roy Evans mistrust in Collymore saw Owen slide ahead in the strikers' pecking order.
Despite good overall numbers, Collymore never sustained the levels to match his obvious ability. In a squad of distraction and a life of luxury, he continued to lose his way, and the post season (Stan's second as a red) saw him sold on to Aston Villa for £7 million. Whereas he cannot be regarded alongside the great strikers of Liverpool's history, he was still part of a brilliantly attacking side, that often times had the Anfield crowd enthralled. It was perhaps a case of the right club, but the wrong time for Collymore.
There was a 2-3 year period where Stan Collymore was sensational, and certain fans (of a certain age) will have enjoyed some exciting moments of attacking brilliance. Nottingham Forest and Liverpool were lucky enough to have seen the very best of the giant striker. When looking back, it's a curious question as to what could have been, for gifted Stan Collymore.