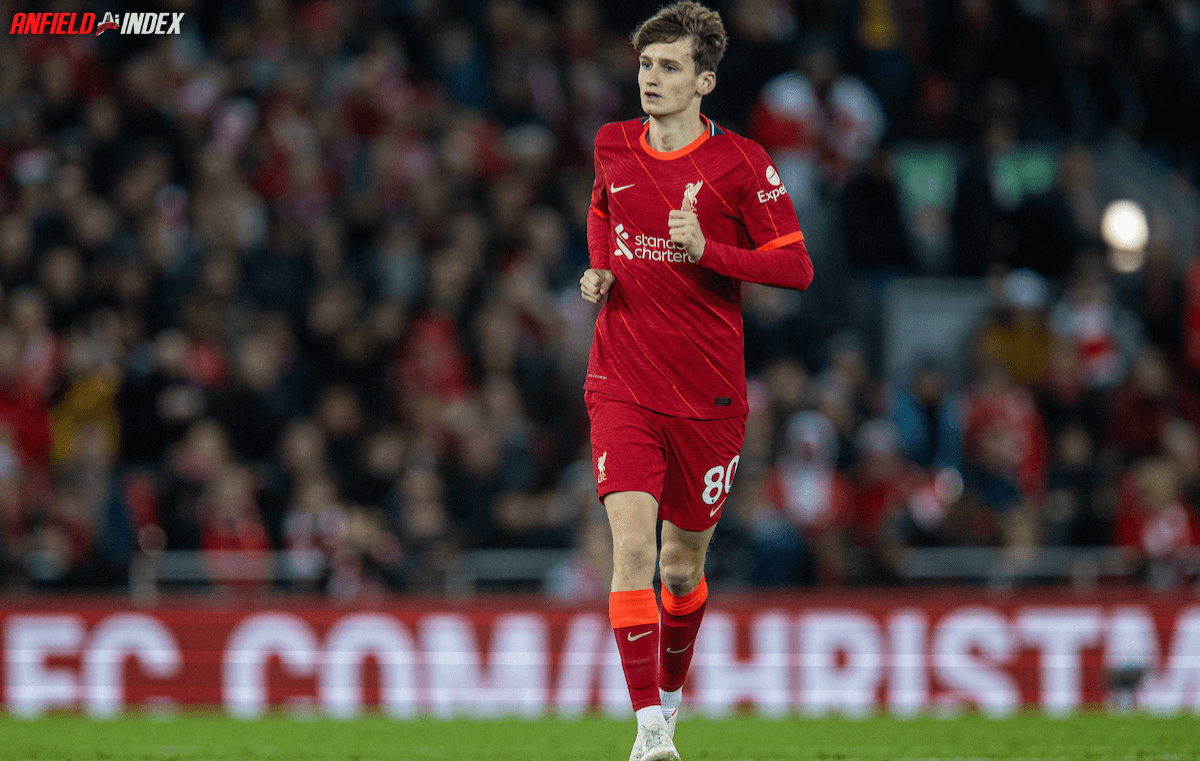 Tyler Morton - An Opportunity To Shine
Robbie Fowler, Steve McManaman, Michael Owen, Steven Gerrard, Jamie Carragher and Trent Alexander Arnold all graduated through the Liverpool academy. The success of each is part of the clubs illustrious history, and it is always a joy to see homegrown talent succeed as Liverpool players.
Within any historical football club, there are times when talent struggles to emerge due to the level of competition. There has been multiple false hopes in my lifetime, but there is still excitement when any young red makes his Liverpool debut. Having been witness to the debuts of all of the above, it's now a case of who follows next, and how high that player can ascend.
Liverpool have finally regained their lofty standing within the English game, and Jürgen Klopp has been able to deliver the long awaited Premier League title. Such massive success (both domestically and European), means the bar has now been raised to exceptional levels. Whereas Curtis Jones is coming along nicely, he himself still has questions over his long term trajectory as a Liverpool player. The competition is indeed fierce, yet the evolution of the current side is still allowing openings for certain young players.
This season has seen the tentative emergence of Tyler Morton. This midfield talent has been able to excel in the League Cup (this season), and against Arsenal he was rewarded a magnificent moment, by which to make his first League appearance. With the gunners soundly beaten, Jürgen Klopp chose the perfect moment to introduce this young Liverpudlian. At just 19 years of age, Tyler may now find his opportunities more frequent. The reds have encountered a raft of injuries to their midfielders (this season), and Klopp may well be primed to hand more chances to this next Academy product.
When standing on the sidelines this past weekend, Tyler Morton was warmly embraced by his proud manager. To make his Anfield introduction (when the reds were so dominant), will have been a proud moment for Morton's family, as well as Klopp himself. With comments regarding Klopp's desire to see Tyler bulk up, he also signified the level of talent Morton was showing. Tyler Morton now has the chance to further show his worth, with one or two games calling for fair rotation.
FC Porto ride into Anfield this week, at the backend of Liverpool's tremendous group campaign. With the extended substitution rule still valid in Europe, Klopp may see this occasion as the perfect game to give Morton further minutes. The fact that Liverpool have already qualified must see certain players rested for this game. Chelsea and Manchester City are the main contenders to Liverpool (within the Premier League), and with midfield players still working their way back to fitness, the next period must be managed accordingly.
It's important not to place too much pressure on any young players shoulders, but the signs are that Tyler could become a real long term option for the reds. With James Milner approaching the end of his top level career, and Jordan Henderson frequently struggling with injuries, there has to be a glance towards the next first team additions. With FSG continuing to show restraint in the market (and the AFCON fast approaching), now would represent the ideal time to explore Liverpool's homegrown resources.
Liverpool is a club that prides itself on being able to produce great homegrown players. To have witnessed Tyler Morton come into the game this past weekend, must have generated immense pride within the walls of Kirby's training centre. Hopefully Tyler will have the required strength and conditioning regime outlined, with the demands of a Jürgen Klopp team apparent. The most important component of this young mans development, is of course patience and understanding. Mistakes will be forthcoming, and learning curves will be an vital part of Tyler's journey.
The next instalment of Morton's Liverpool career could be soon, or it could be that he drifts back into the background. The reds' fanbase should simply look forward to the next time this teenager emerges, and show the level of support he will most certainly need.