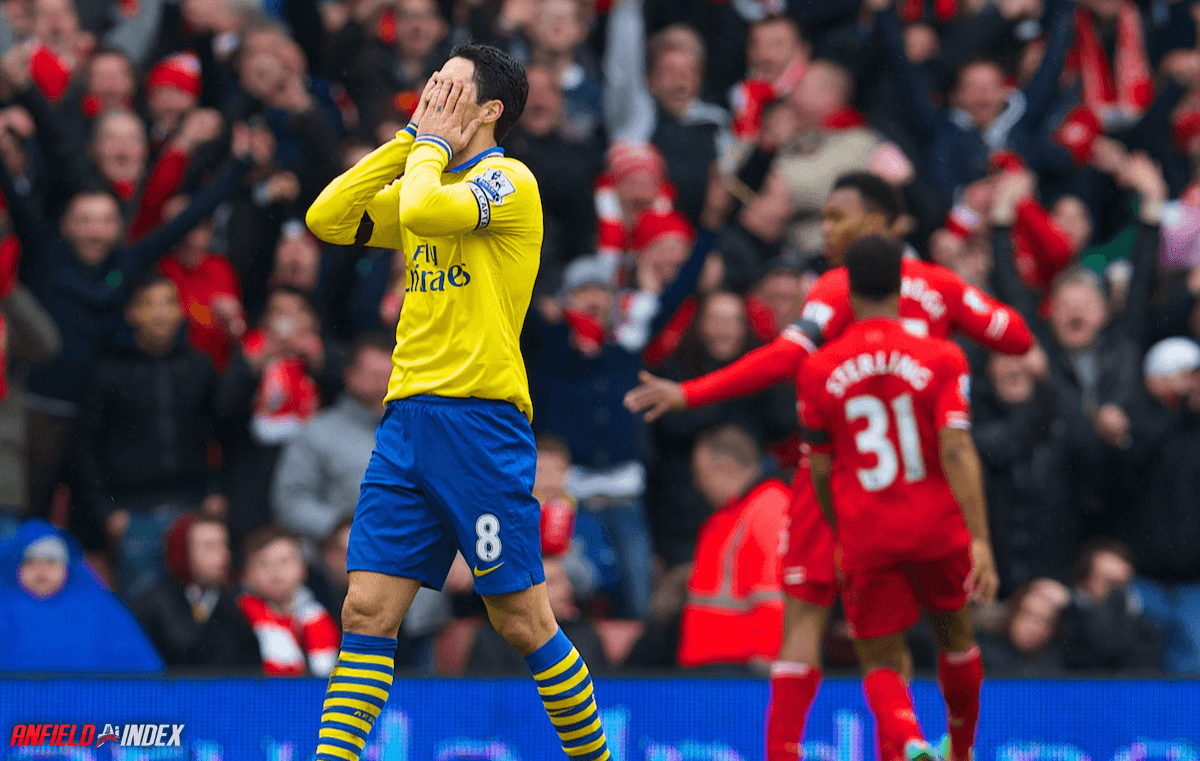 Thankyou Arsenal
In a period where life is still somewhat irregular, a little bit scary and often times frustrating, there is still the odd football moment that brings pure joy.
Last weekend Liverpool entertained a visiting Arsenal side, and their young manager, Mikel Arteta. For Liverpool's fanbase, the pre game was relaxed, and confidence was high. The Reds' injury list was manageable, and the match was very much something to look forward to, after the international break. Arsenal are often a team that folds under the Anfield lights, and last Saturday evening was no different. A 4-0 victory was delivered, and Mikel Arteta gave a very amusing moment of anger, that ultimately cost his side dearly. The score could well have approached that of the San Marino affair (versus England), and Arsenal once more delivered great joy to the Anfield crowd.
When looking back at other matches between these two historical sides, the recent past usually sways in Liverpool's direction. Games and moments can be recalled with ease, and there was of course a time not so long ago, when Arsenal were the best team in the land. That period is now in the past, and it looks like Arteta's vulnerability (and naivety) will continue to cost Arsenal, especially against the reds.

In February of 2014, Mikel Arteta was a scorer against the reds, at Anfield no less. A well dispatched penalty was about the best Mikel could hope for that day, as the Gunners' only scorer that day. Liverpool were able to win that game with ease, with Brendan Rodgers' team scoring five goals, in a completely one sided encounter. The brilliance of Arsene Wenger was well on the wane, and their weaknesses were evident enough. Liverpool's attacking play was able to exploit Wenger's Arsenal that day, in a similar way to last Saturday.
The team sheets were as follows;
Liverpool FC
GK – Simon Mignolet
RB – Jon Flanagan
LB – Aly Cissokho
CB – Kolo Toure
CB – Martin Škrtel
RCM – Jordan Henderson
CDM – Steven Gerrard
LCM – Phillipe Coutinho
FWD – Raheem Sterling
CF – Luis Suárez
FWD – Daniel Sturridge
Subs Used;
Joe Allen, Jordan Ibe, Iago Aspas
Arsenal
GK – Wojciech Szczesny
RB – Bacary Sagna
LB – Nacho Monreal
CB – Per Mertesacker
CB – Laurent Koscielny
RM – Alex Oxlade-Chamberlain
CM – Mikel Arteta
CM – Jack Wilshire
ACM – Mesut Özil
LM – Santi Cazorla
CF – Olivier Giroud
Subs Used;
Kieran Gibbs, Tomas Rosicky, Lukas Podolski
Both teams had some pretty poor defenders on show that day, yet it was Liverpool's attack that was able to decide the game. Luis Suarez was at his world class best, at that point in time. With all the other attacking assets at an elite level, it made the game very straight forward for the reds.
The opening stages of the game saw the home side utterly rampant, with the goals scored as follows.
Liverpool 1 – 0 Arsenal
(Martin Škrtel – 5 mins)
Liverpool 2 – 0 Arsenal
(Martin Škrtel – 10 mins)
Liverpool 3 – 0 Arsenal
(Raheem Sterling 16 mins)
Liverpool 4 – 0 Arsenal
(Daniel Sturridge 20 mins)
Liverpool 5 – 0 Arsenal
(Raheem Sterling 52 mins)
Liverpool 5 – 1 Arsenal
(Mikel Arteta 69 mins – Pen)
The match was a joy to behold, for the reds anyway. The game became one of those rare occasions, where after just 20 minutes played,  we honestly believed Liverpool would score 10 goals. The goals themselves were varied, with the Arsenal defending comical. Every early attack seemed to lead in a goal, and only when Arsenal dropped into damage limitation, did the floodgates close.
With Brendan Rodgers a real candidate for the current Manchester United post, it cannot be overlooked how well he can set up an attack. The problem was with Brendan, he was awful when identifying transfer targets, and he struggled to set up a good defense. When considering the likes of Jürgen Klopp, José Mourinho and Antonio Conte, these are managers that have an identity in their defensive line. José Mourinho has fallen away in recent times, yet all three are confident and consistent in their defensive believes. Massive success has always been built on their ability to shut teams out, and they would not need to deviate too much from their strategies. We are currently seeing Thomas Tuchel employ a brilliant defensive strategy, one that is built upon the regimented system, if not the individuals.
With Brendan, if one bad defensive game crept in, he may very well change the whole system. At Liverpool, there was a real element of self worth in his demeanor and set up, and even now we see common system changes in his Leicester side. Regardless of this, Brendan Rodgers is a great attacking coach. If he is appointed (and he's strong enough to handle the Cristiano Ronaldo dilemma), he could well make the United forward line formidable, once more.
Within the 5-1 Liverpool win (from 2014), Rodgers simply let his team off the leash and allowed the brilliance of Suarez to infect everyone around him. Liverpool were similar in this period to the 1995/96 version, managed by Roy Evans. Opposition teams would be swatted away under the attacking pressure of Robbie Fowler, Stan Collymore, and Steve McManaman. The unfortunate reality in both these versions of Liverpool, was the lack of a good defensive structure, or in the least, a brilliant defensive leader.
Nevertheless, Arsenal were a joy this past Saturday, as they were in 2014. The commonalities of both sides are consistent, in that they seem to fall apart under pressure. In 2014, Laurent Koscielny was considered a top centre back, when he was nothing of the sort. Per Mertesacker was a good defender, yet his pace would make any race between him and Harry Maguire, box office TV. Arsenal were the epitome of inconsistency, and Liverpool were able to savage most teams that season.
In 2014, Liverpool's attacking credentials couldn't quite get them over the Premier League title line, and the hope is that this season will be different. Manchester City and Cheslea were the threats then, and this season they will be Liverpool's title rivals once more. However the season unfolds, moments like last Saturday can always be recalled with a smile. So in closing (and on behalf of the Liverpool fanbase), I would like to thank Mikel Arteta for his fabulous tantrum, and Arsenal themselves.
As a side note, current world class talent Serge Gnabry was on the Arsenal bench that day in 2014. The unused sub was sold to Werder Bremen for £5 million in 2016, after just 10 appearances for the Gunners. His current value is probably £150 million, and he would be Arsenal's best current player, if they hadn't sold him.
May they never change.