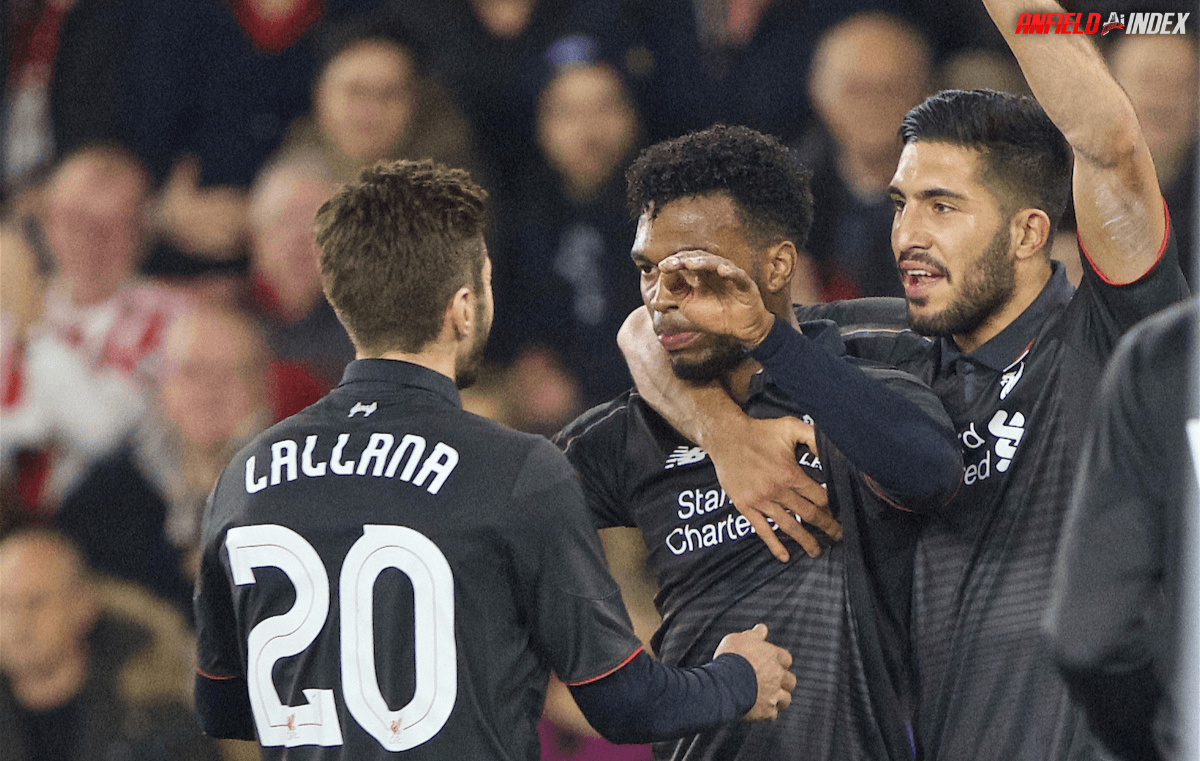 One Night In Southampton
When Jürgen Norbert Klopp arrived at Liverpool, there was a sense of relief and hope. The style of football quickly changed, the tempo of the matches picked up, the gegenpressing began to unfold, and certain players started to fall under the intense pressure.
Brendan Rodgers and his patterns of play were forever changing at Liverpool, with the recruitment (post Luis Suarez) often horrific. That 6-1 defeat to Stoke should have been Brendan's last game, however it is clear that the delay was only due to a certain German's respectful sabbatical. When Klopp final arrived, the normal one started to enforce the changes, that we can fully appreciate to this day.
This piece will revolve around this past weekend's game, and also a game that occurred within the first two months of Jürgen Klopp's Liverpool tenure. Both games were full to the brim with attacking intent, goals, and exciting moments for the fans to applaud. Both games feature some well known faces, and remarkably, the game saw both Virgil Van Dijk, and Sadio Mane starting.

In a few short days, it'll be six years since Liverpool visited St. Mary's Stadium, on December 2nd. The trip to face Southampton was not a league match, but a quarter final of the League Cup. Liverpool have their own League Cup quarter final in a few weeks (against Leicester) at Anfield, and we will all be hoping to repeat the result of 2015.
I remember this cup game very well. The excitement surrounding Klopp was still real, and probably exists to this very day. I was midway through taking an evening training session, whilst keeping on eye on the Liverpool score. The training session was going to be very simple, and after some simple drills, we moved into two small sided games. This coincided with the Southampton vs Liverpool kick off time, so I could open the appropriate app, and stay informed of any scores. Instead of giving knowledgeable instruction to my players from the sideline, I'm pretty sure I fell into a routine of informing any Liverpool fans, of the on going score line. The continuing scoring, probably meant I spent the remainder of training distracting players, instead of instructing.
The final score saw Liverpool win 1-6, in an emphatic and amazing result, especially when you consider Virgil Van Dijk was on the receiving end of the result.
The teams that night were as follows:
Southampton 
GK Maarten Stekelenburg
RB Cédric Soares
CB Virgil Van Dijk
CB Steven Caulker
LB Ryan Bertrand
LM Sadio Mane
CM Victor Wanyama
CM Steven Davis
CM Jordy Clasie
CF Graziano Pellè
Subs Used:
Oriol Romeu, James Ward-Prowse, Shane Long.
Liverpool 
GK Ádám Bogdán
RB Connor Randall
CB Dejan Lovren
CB Martin Skrtel
LB Alberto Moreno
CM Lucas Leiva
CM Emre Can
CM Joe Allen
ACM Adam Lallana
CF Daniel Sturridge
CF Divock Origi
Subs Used:
Brad Smith, Jordan Henderson, Jordan Ibe.
To look at both sides, and how Liverpool have changed, is quite remarkable. At the height of their form, only Emre Can and Daniel Sturridge could possibly find their way in Klopp's current  side. The score in itself is quite absurd, and this was Sturridge showing his lethal ability, before leaving the field. Sturridge would never really cement himself under Klopp, with the continuous injuries curtailing what could have been a truly sensational career.
The scoring was as follows;
Southampton 1 – 0 Liverpool
Ryan Bertrand – 1 min
Southampton 1 – 1 Liverpool
Daniel Sturridge – 25 mins
Southampton 1 – 2 Liverpool
Daniel Sturridge – 29 mins
Southampton 1 – 3 Liverpool
Divock Origi – 45 mins
Southampton 1 – 4 Liverpool
Divock Origi – 68 mins
Southampton 1 – 5 Liverpool
Jordan Ibe – 45 mins
Southampton 1 – 6 Liverpool
Divock Origi – 86 mins
Every now and again, a freak result will grace the Premier League or English cup competitions. The unpredictable nature of our games, often sets it apart from other nations versions. This was maybe the first glimpse of the rock & roll football that had been mentioned, and the rise ever since has been of the highest order.
Sadio Mane would be recruited in Klopp's first summer, with Virgil following soon there after. How Southampton lost by this score line is difficult to fathom, especially with Virgil Van Dijk and Victor Wanyama in that side. The humbling Liverpool received just last season (at the hands of Aston Villa), show anything is possible in our varying competitions.
Where we stand now (and the team we currently have), should never be taken for granted. The squad Klopp received was merely ordinary, with a few bright sparks. The total overhaul of the playing system, and player requirements since his appointment, is nothing short of staggering.
In the aftermath of that game, Liverpool encountered multiple ups and downs, and it has been a calculated journey to the present. This last weekend, Liverpool dismantled a well coached team, and look set to have yet another memorable season. We should enjoy the ride, and always appreciate what Jürgen Klopp has done for this historic football club.
Next up, Everton.