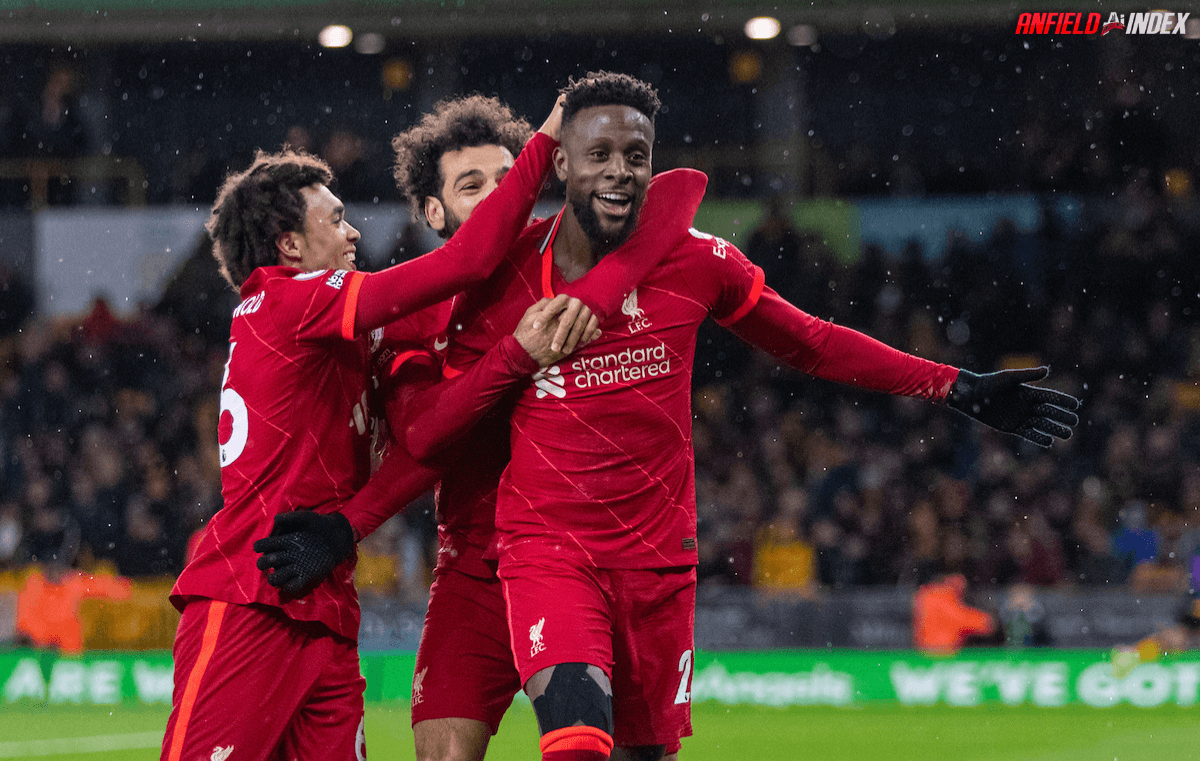 Wolves 0 - 1 Liverpool - The Player Ratings
Alisson Becker – 7.5
Did everything well, and the few chances that came Wolves' way, were dealt with in a usual fashion.
Trent Alexander Arnold – 7.0

Struggled with the deep block and defensive overload, but had next to no issues defensively. A good game, and always frustrating when opposing teams are so organised.
Andy Robertson – 7.5
Kept going, and the appears completely relit. Gave great options and endless running till the end. Nearly made something late on, and should have volleyed at goal late on. Finding himself in good positions through persistent endeavour.
Joel Matip  – 7.5
The ball carrying and on ball moments continue to be a delight, and was assured at the back.
Virgil Van Dijk – 7.5
What a ball for Mo to carry into the box. His decision making and leadership is superb, and he rarely looked worried about what what coming his way.
Thiago Alcantara- 8.0
Tenacious and controlled. Even before the Divock introduction, both he and Fabinho were working as a controlling two. World class.
Jordan Henderson – 5.5
He seems to get excited after a good game, and seemed too carefree in his positioning at times. Struggled to react to counters, and got in the way of his teammates when he should have been maintaining structure. Subbed.
Fabinho – 7.5
Forceful and reactive. He allowed others to surge, and swept in front of his backline with confidence.
Sadio Mane – 7.0
Unlucky at the end, and was limited by a sound system. The average games are inevitably going to come, but still showed himself as a danger throughout.
Diogo Jota – 6.0
Standards in front of goal are now sky high, and he should have scored two. Will be relieved that Big Divvy showed the shooting ability that he lacked. Subbed.
Mohamed Salah – 7.5
Marshalled and frustrated, until one of his markers left the field. So dangerous, and turned a good break into a superb chance. What a touch and burst to assist.
Subs:
James Milner – N/A
Was on hand to do a Wolves, and time waste late on.
Alex Oxlade-Chamberlain 6.0
Will feel annoyed not to have started, and certainly should have. Tough game to come into.
Divock Origi – 8.0
Looked strong, and gave a good focal point at centre forward. This Divock is what the reds fans crave. A great match winning moment late on, again…
The Manager:
Jürgen Klopp – 8.0
Should have brought Ox into the starting midfield, and soon saw the lack of balance and efficiency. Three wins in a week are superb, and the first team should sit back and watch the AC Milan game.
Summary:
Brighton, West Ham and Chelsea all took points through huge organisation, this was nearly another showing of that. Wolves played for the draw, and deserved the painful loss with their constant time wasting tactics.