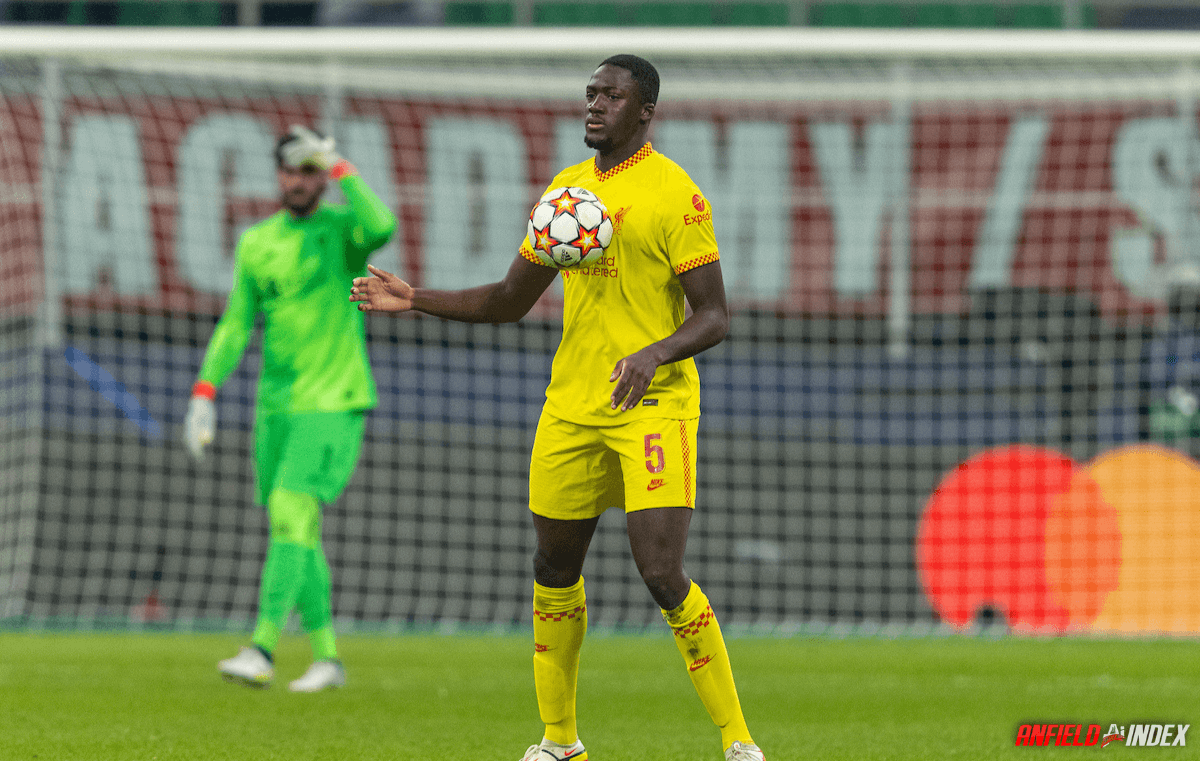 Konaté vs Zlatan
It seems to be common within modern cinema, to pit an unstoppable force against the immovable object. It's often a tale of strength, arrogance, and sometimes a legendary icon pitted against a worthy opponent.
The last few weeks (indeed much of the season), has seen a certain rhetoric take place regarding certain players. The likes of Naby Keïta and Ibrahima Konaté, both possess tremendous attributes as footballers. The former has the potential to be an elite level midfielder, yet injuries have scuppered his previous seasons. This very season has seen Naby Keïta play brilliantly at times, yet the few occasions where he has struggled, often becomes highlighted more than anything else. Hopefully Naby is close to silencing his critics, and his importance can continue to build to levels that cannot be ignored.
Then there is Ibrahima Konaté, a young man signed this past summer, for just over £30 million. This 22 year old is still very young, and is now bedding into his third different league (and country) in a short career thus far. The odd mistake has been made, but the Frenchman has looked both accomplished and bullish in the main. I have been eager to see this young man play more and more, and silence any misguided critics, with his on field performances.

With Liverpool already qualified for the Champions League knockout stages, it gave Jürgen Klopp the chance to shuffle his starting pack in game six. Seeing the world's greatest centre half, Virgil Van Dijk, given a rest was sound judgment. His current first team partner, Joël Matip, also received a smartly timed rest. This left two senior defenders to select from, as Ibrahima Konaté's partner against AC Milan. With Joe Gomez just returning from injury, it made complete sense to start Nat Phillips alongside Konaté.
With Virgil, Joël Matip, and Joe Gomez not starting, this left Ibrahima Konaté as the clear defensive leader against Milan. Having played 66 games for RB Leipzig (in both the Bundesliga and Champions League), this warranted Ibrahima Konaté a first chance to run the Liverpool back line. The early stages of the game saw Konaté assert his power, pace and positional awareness. It became clear that without the guidance of more senior Liverpool defenders, Ibrahima was keen to be that commanding figure in the rearguard.
This current AC Milan is now a mere shadow of the famous sides, that once battled Liverpool in two Champions League finals. The names are less renowned, yet one legendary striker still stands out within their common starting line up. Zlatan Ibrahimović is a couple of months north of his 40th birthday, and his powers are nowhere close to what they once were. The Serie A allows a tempo and style of football that has allowed Zlatan to continue his illustrious career, and it's evident his want to succeed is still there.
The early stages of this group stage match often saw Zlatan and Konaté cross paths, with the young defender showing no sign of being in awe. With Zlatan standing 6 feet 5 inches, and Konaté 6 feet 4 inches, the dual immediately took my attention. Both players seemed eager to overcome the other, and much of the game saw these two giants collide. The result of nearly all the duals, ended with the giant French defender overcoming the Swede effortlessly.
As the game progressed through the first half, I kept recalling a quote from Liverpool's most important ever figure. In 1961 the Liverpool manager (Bill Shankly), spoke at a press conference about Ron Yeats. Yeats had just arrived from Dundee United, and Shankly was keen to sing the giant defenders praises to the room. The now famous quote is as follows, 'Take a walk around my centre-half, gentlemen, he's a colossus!' Shanks would then encourage the journalists to 'go into the dressing room and walk round him!'
It's easy to get carried out by singular performances, but to understand the pedigree of young Ibrahima Konaté, is to truly see what will become. At the San Siro, Konaté was strong and dominant in his work. Often times we have seen famous ex players struggle without a true defensive leader beside them. The likes of Dejan Lovren and Martin Škrtel were routinely lauded for their efforts, yet their best games would often have to be next to a commanding partner. The guidance was vital to their own games, and mistakes common without.
In a high intensity game, within a potentially hostile arena (such as the San Siro), Ibrahima Konaté seemed to revel in the added responsibility and task at hand. His recovery pace was superb, his strength was abnormal, and his command of the defensive line was both brave and precise. The tools and requirements to be a Liverpool defender, are far ranging and bespoke. Certain players could not, should not, and never will be able to play within the system, that so many pundits simply don't understand. The sheer audacity of Klopp's system can be frustrating, yet the beautifully crafted brilliance is underpinned by the courage of those who succeed within.
The technical wizardry and control of Thiago is at times immeasurable. The positional dominance and ball recovery of Fabinho, is just about irreplaceable. The defensive coordination and willingness to cut the pitch in half, is utterly remarkable, and something which only Virgil Van Dijk can achieve with ease. Liverpool looked utterly shorn of their identity when Virgil fell away last year, and the task of Michael Edwards was to find a long term successor to him. The next few years we will see Ibrahima Konaté crafted and guided by the worlds greatest defender, but tonight we caught a glimpse of how good Ibrahima Konaté could be.
Ibrahima Konaté stood toe to toe with the legendary Zlatan, and the giant striker seemed keen to take on the young Frenchman. This kind of battle is of course full of caveats, as Zlatan isn't close to the player he was. Yet the whole scenario and occasion could have seen Ibrahima Konaté struggle, yet the absolute opposite prevailed. In a game where AC Milan absolutely had to win, and with Liverpool rolling out the changes before and during the game, it was a tie in the balance prior to kick off. With Konaté tasked with marshalling a limited partner, he was still able to give a great performance and assuredness to his side.
Ibrahima Konaté is a red, and his development is on going. The next few weeks and months will no doubt see errors occur, but the character of this giant is there in abundance. In Virgil Van Dijk we have one of the all time great defenders, and in Ibrahima Konaté we may just have found the perfect heir to that throne.