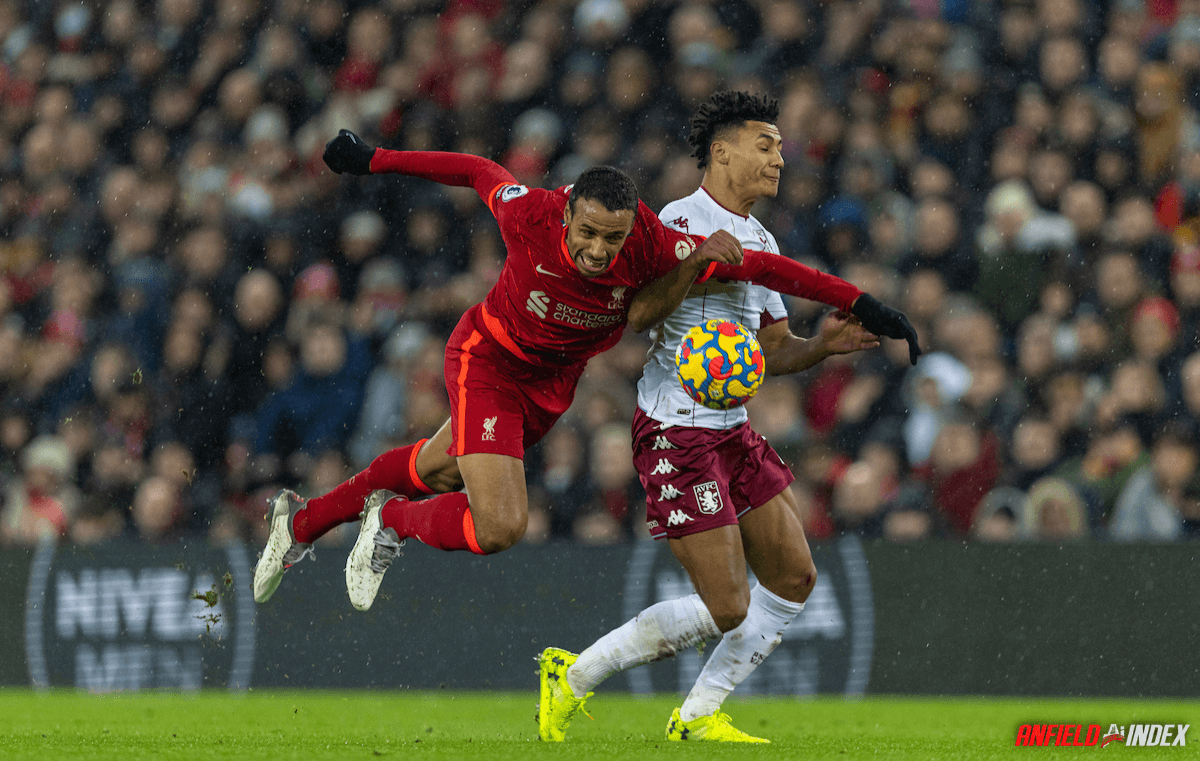 Liverpool 1 - 0 Aston Villa- The Player Ratings
Alisson Becker – 5.5
Long stretches of inactivity and some hairy moments led to an up and down afternoon. If these suspect moments see a clean sheet and a probable kick start ensue (before the next run of games), then that's just fine.
Trent Alexander Arnold – 7.5

The low blocks and overloading of Gerrard's Villa frustrated, but Trents ability and strength from the right are so apparent. Good defensive work also.
Andy Robertson – 8.0
It's not a false dawn, Robbo is back and Kostas has helped to reignite the league's best left back. Busy, busy and and busy some more. So important when he's at his energetic best.
Joel Matip  – 8.0
So underrated by the league, but so good and appreciated by his teammates and fans. Some wonderful ball carrying moments and elite defending make this array of Liverpool defenders, the best in the league.
Virgil Van Dijk – 8.0
A Rolls Royce, a dominant leader, a faultless skill set and nearly a goal from a corner. His presence allows such a safety net and confidence boost to the whole team.
Thiago Alcantara- 7.0
Not his best day, but his levels are high. Effective and often a good outlet to recycle. Doesn't have bad games this year, and this average performance is still better than most. Another win, and another clean sheet for this remarkable system player. Subbed
Jordan Henderson – 7.0
Good after a rest, though needs to maintain levels. Busy and strong off the ball. Kept it simple, but should have been more effective on the ball with so much space. Probably tried to reign in his game after a bad day against Wolves.
Fabinho – 8.0
A master of shutting teams down and cutting any avenues for Villa. Destructive and immense, and alongside his two giant defenders, was able to close out space for Villa to exploit.
Sadio Mane – 7.5
Kept plugging and was dangerous often. This Mane is what we need, with a desire to overcome these low block spoilers. Subbed
Alex Oxlade-Chamberlain – 6.5
He shouldn't start here, and hopefully he gets a midfield start in the week. Played out of position, but worked hard and hard a blazing chance go just over. Subbed.
Mohamed Salah – 7.5
Kept going, keeps scoring and continues to raise the bar. Someone is going to get severely punished soon, in what could be a record break Ming season. Scored the winner.
Subs:
Diogo Jota – 6.5
Should have started, and would have seen the tam overcome sooner.
James Milner – 6.5
Was on hand to ruffle some feathers and upset an Aston Villa flow.
Takumi Minamino- N/A
More involvement.
The Manager;
Jürgen Klopp – 8.0
The fact Ox deserves a start shouldn't lead to him  starting as a striker. A diamond of sorts ensued, and domination showed it was more defence against attack. Kept his team going, and subs made sense. More points and momentum for the Big German.
Summary:
Three points against a low block merchant side. Penalty deprived, bias engulfed and time wasting enduring games, mean three points are even sweeter. Welcome back Stevie.