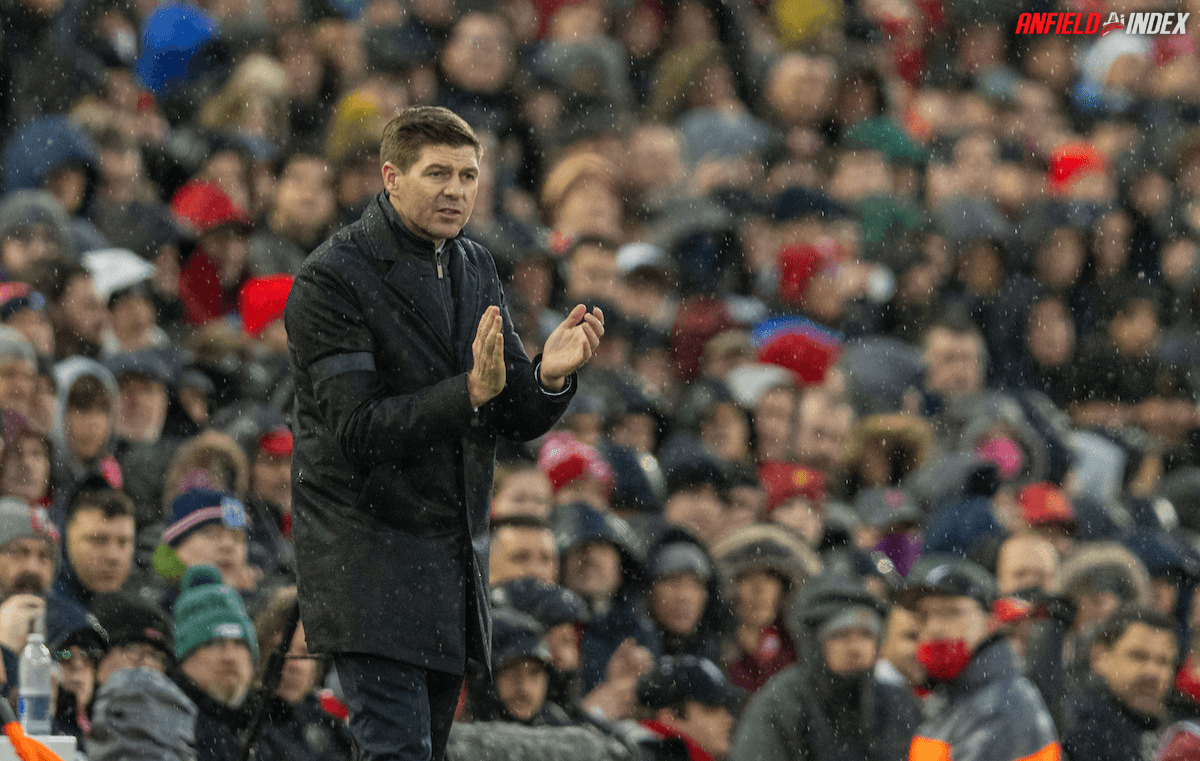 Steven Gerrard's Villa Impact
Stevie Gerrard cemented his role as Aston Villa manager this past weekend when leading his new side into Anfield. The game was full of frustration, and gave mild indications of the manager he is becoming. With an ultra defensive style and formula built to slow the rampaging reds, he showed perhaps too much respect for Jürgen Klopp's side. The narrow 1-0 home win managed to hide the the domination of Liverpool, and the negative approach by the visiting team wasn't at all easy on the eye.
Regardless of anything, it'll take something truly significant for the Liverpool fanbase not to cheer their former skippers' name. Steven Gerrard is an all time great, and much of the Anfield support will keep a keen eye on Villa's upcoming results, due to their new manager's heritage. There was a time of course when Stevie and Villa would combine to produce some scintillating attacking play. Goals, creation, overwhelming domination were once rampant for Steven Gerrard and Aston Villa. In the 2008/09 season, there was a spectacle game that saw both him and Aston Villa embroiled in a 5 goal feast at Anfield, and one which showed the world class of ability of one Steven Gerrard.
On the 22nd of March 2009, Liverpool were still entangled within a tight Premier League battle with Fergie's Manchester United. With just one point separating the sides at the end of that match day, Liverpool had welcomed Aston Villa for game 30 of their campaign. Rafa Benitez was close to finding the formula needed to overcome their Old Trafford rivals, and a strong result was needed to keep pace with the table topping Red Devil's. Manchester United had just recorded an away loss to Fulham (on the day prior), and the Sunday match up at Anfield would show whether Gerrard's men could gain valuable ground in their title run in.

The teams that day were as follows;
Liverpool FC
GK – Pepe Reina
RB – Álvaro Arbeloa
LB – Fábio Aurélio
CB – Jamie Carragher
CB – Martin Škrtel
RM – Steven Gerrard
CM – Xabi Alonso
CDM – Javier Mascherano
LM – Albert Riera
CF – Fernando Torres
CF – Dirk Kuyt
Subs used; Daniel Agger, Lucas Leiva, David Ngog.
Aston Villa
GK – Brad Friedel (Sent off 65)
RCB – Luke Young
CB – Curtis Davies
LCB – Carlos Cuellar
RM – Stilliyan Petrov
CM – James Milner
CM – Gareth Barry
CM – Nigel Reo-Coker
LM – Ashley Young
CF – John Carew
CF – Emile Heskey
Subs used; Brad Guzman, Craig Gardner, Gabriel Agbonlahor.
The Liverpool side at that time was very good, with a smattering of world class and elite players. The main problem at that point in time was the lack of depth, and despite the rest of the side varying from average to good, they simply didn't have enough quality over a long season. Despite Rafa's opening season Champions League triumph, this 2008/09 side was probably the best side he ever built as Liverpool manager, yet still it came up short.
Many will remember Steven Gerrard as a bonafide central midfielder, and England fans especially, will share this misconception. Steven Gerrard was an ultra talented and intense player that was often moved around, given his vast ability. His best individual seasons however, are those that saw him either as a roaming attacking midfielder (10), or from the right hand wing. His ability to drive at goal, deliver crosses and shoot from distance, were what made him such an attacking force of nature. This game was absolute proof of this notion, and the scoring below will highlight his brilliant contribution.
Liverpool 1 – 0 Aston Villa
Dirk Kuyt – 8 mins
Liverpool 2 – 0 Aston Villa
Albert Riera – 33 mins
Liverpool 3 – 0 Aston Villa
Steven Gerrard – 39 mins (Pen)
Liverpool 4 – 0 Aston Villa
Steven Gerrard – 59 mins
Liverpool 5 – 0 Aston Villa
Steven Gerrard – 65 mins (Pen)
In the 2008/09 season, Gerrard played 31 league games, scoring 16 goals. The season as a whole saw a total goal haul of 24 goals in just 44 games. This kind of prolific return was Gerrard at his best, and within the match above, he was able to push his side to an emphatic home win. With a few familiar names, Aston Villa arrived with a relatively strong lineup, yet the reds were able to dismantle them way before Brad Friedel's sending off.
In Pepe Reina, Jamie Carragher and Daniel Agger, there was some real strength in defence. Fabio Aurelio was an ultra gifted left back, and injuries curtailed what could have been an exceptional career. Alvaro Arbeloa playing at right back gave very good dependability, and he was wrongly replaced by the overly expensive Glen Johnson in the following season.
In midfield is where the elite levels really started to shine, with the brilliance of Javier Mascherano allowing Xabi Alonso to control game tempo. The left wing was a common issue, and recently I wrote about the lack of class in that area, since the wonderful days of John Barnes. Albert Riera was a good option, yet it was the right hand flank where the attacking wide man, Steven Gerrard, was so explosive.
The forward line consisted of a tenacious Dirk Kuyt, and the world class striking instincts of Fernando Torres. This team was indeed very good, yet was never quite good enough to win major trophies. This singular day against Aston Villa showed what could have been, but a glance to the bench showed just how limited things would often become. Liverpool had to wait another ten years before they would be considered title challengers once more, and the current incarnation is on an entirely different level.
Steven Gerrard is now a Villain, but there was once a time when he was a tormentor to the claret and blue side. His managerial career (in a major league) is only just beginning, yet we must never forget the player he was, and the moments that have made him a true Liverpool legend.