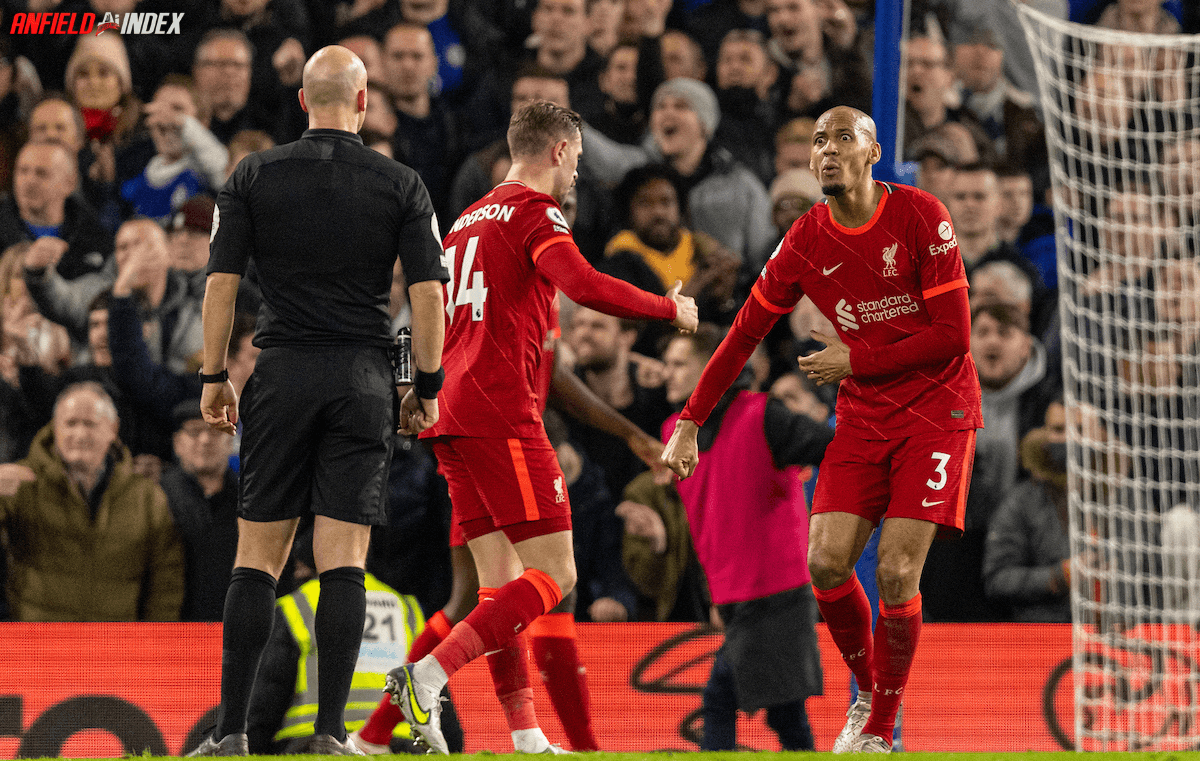 Chelsea 2 - 2 Liverpool - The Player Ratings
Caoimhin Kelleher – 8.0
Could do little for the goals, and was assured throughout. A very good backup to Becker, and given the circumstances, should be proud of his showing. Great stop from Pulisic early on.
Trent Alexander Arnold – 7.0

Another assist for this sensational player, and further showing of his overall game. Solid in defence and elegant in possession.
Kostas Tsimikas – 7.0
A constant outlet and willing runner. This game only lacked some more danger in delivery, and knowing his capacity to find targets, make that a need in such games.
Virgil Van Dijk – 7.0
Not his usual level of performance, and such lofty expectations will be picked apart by some. Similar to his partner, yet more dominant aerially. The high line looked tough to manage today, with only one midfielder playing.
Ibrahima Konate – 6.5
Booked for being big, though his physical attributes again needed for repel counters off the high line. Neither great nor bad, and a sound learning experience within such an electric game.
Fabinho – 7.5
A midfield held together by one man, and against this level of opposition it was tough. Good work and screening, but simply needs more support when Thiago is not dominating with him.
James Milner – 5.5
Looked slow and every inch his near 36 years of age. At 2-0 up it should have been about control, and he lost his head to gift the chance of Chelsea's first goal. A final period substitute is his only beneficial role, and starting such games simply isn't viable in 2022.
Jordan Henderson – 5.0
Struggling once more against effective and structured midfields, and simply doesn't know how to add control to proceedings. Fabinho needs more support, as his captain simply isn't adding anything consistently.
Sadio Mane – 7.0
Looked pumped, and got his goal with a well taken effort. Kept trying to work openings, but avenues were often closed out. A sore miss through AFCON. Subbed.
Diogo Jota – 5.5
Thiago Silva had him controlled for much of the game, and showed he may struggle within games where the reds are not dominant. The odd good moment aside, he struggled to impact.
Mohamed Salah – 7.5
What a goal, what a threat. His ability to take players out of contests is absurd, and 25 goal involvements is why he is the worlds greatest player. Contract needs sorting, and a huge miss through AFCON.
Subs;
Naby Keita – 6.0
Should be starting. A beautiful talent and controller in Thiago was missing, and if Naby is fit, Naby should be playing.
Alex Oxlade-Chamberlain – 5.0
Didn't know where to be, and did little in his time on the pitch.
Curtis Jones – 5.0
Came on late as can score from distance.
The Manager;
Pep Lijnders – 6.0
Who was making decisions (in game) is irrelevant, as Naby Keita not starting this game was a mistake by Klopp. Covid is troubling for all, but to see both Milner and Henderson start ahead of the little Guinean is beyond strange. Decisions have to be made about how to improve this midfield, as Fabinho and Thiago appear the only players able to control games, with Naby apparently not trusted. The subs seemed odd, and though Jota was struggling against Thiago, a switch with Mane would have been more sensible, instead of Ox.
Manchester City won the weekend battle, again.