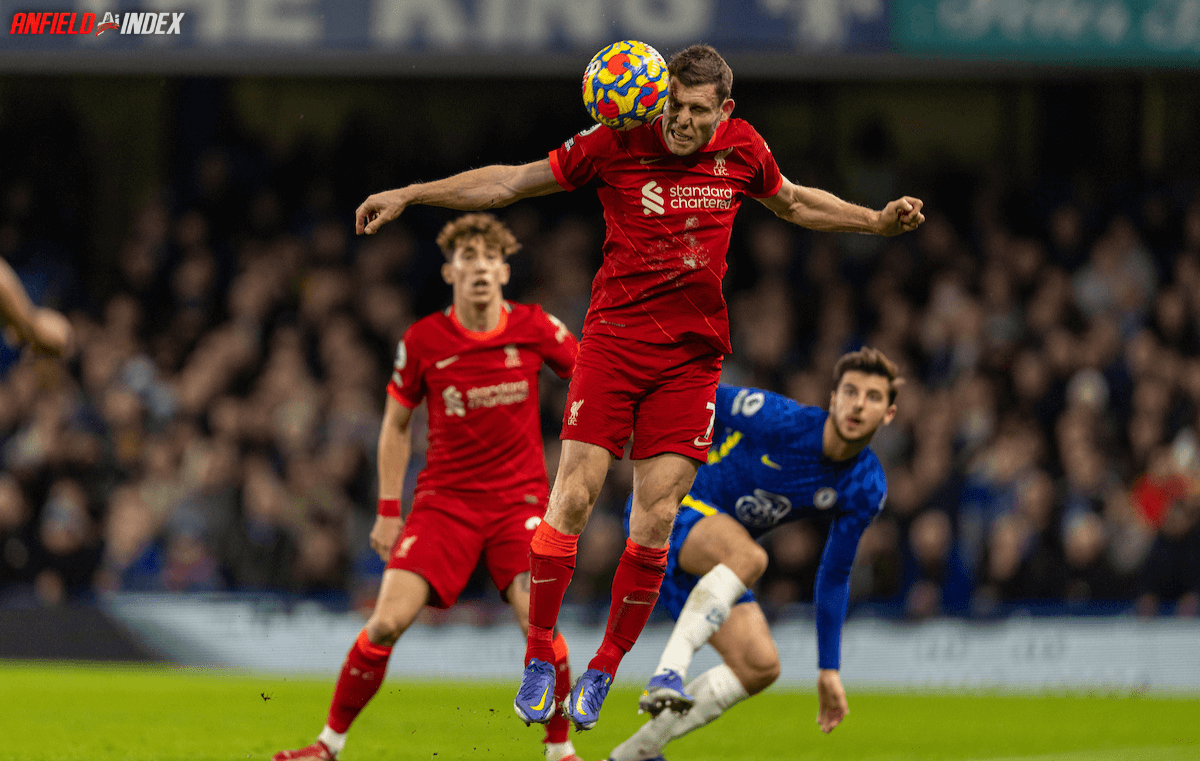 Why James Milner started against Chelsea

There is a misconception that if a player starts ahead of someone else, they are the better one. In reality, they are usually just viewed as the better fit for that game by the manager. Football these days is not a one size fits all sort of thing. It really is a squad game and that is why so many teams spend ridiculous amounts of money adding depth. 
This has been a topic of debate on Liverpool Twitter following the draw away to Chelsea. The fact Jurgen Klopp opted for a midfield three made up of Fabinho, Jordan Henderson and James Milner has been a big talking point. The German tactician plumped for that trio despite having Naby Keita, Alex Oxlade-Chamberlain and Curtis Jones on the bench. 
A lot was made about 36-year-old Milner getting the nod ahead of those players and it only strengthened the claims that Klopp doesn't trust Keita. But when you break down the game plan, Milner starting makes sense. 
Chelsea play a variation of 3-4-3. Their wing-backs are attacking threats and are usually the ones tasked with keeping the width for Thomas Tuchel's side. Liverpool involve their full-backs in their attacks so they can't be limiting what they do to keep tabs on the opposition wing-backs. They need a midfielder who will fill in at full-back and who will act as a facilitator for others. The Reds needed to roll back the years, to an extent, and use a midfield system that was a lot more common in 2017/18. 
Milner spent a season at left-back and covers well for the full-back when he's deployed in midfield. He knows that role and has the engine to be up and down. The on-ball stuff wasn't as important, but we likely assumed we'd not dominate the ball anyway. We've seen Klopp make these calls in the past when he thinks it is going to be a physical slog. 
The former Manchester City man, even at his age, still ticks that box. 
Keita is much better on the front foot. He's a proactive player who is useful in the opposition's half, not in his own. That role in the team is given to the right-sided centre-midfielder. Trent Alexander-Arnold has recently mentioned the understanding that he has with Mohamed Salah and Jordan Henderson on that flank. We're already having to change the left-side of midfield and Klopp craves consistency so he was never going to replace two of the three midfielders for the trip to Chelsea. 
It was always going to be Henderson and Fabinho plus one more. Klopp just had to decide what sort of profile he wanted on the left and then make the selection. 
In hindsight, it looks like a bad decision because it was Milner who pointlessly fouled Kai Havertz in the build-up to the Chelsea opener. The No7 was sloppy in possession, too, finding a team-mate with just 65% of his passes. But he attempted the most tackles on the pitch and made the most clearances. He was there to be disruptive and he was. The hosts finished the match with an expected goals total of 1.2. So they were fairly limited in what they could do. Had we not had those five minutes to forget before half-time, we likely pick up maximum points. There is a method to the madness that is team selection. 
Klopp selects a starting XI that he believes gives his team the best chance of winning. It doesn't have to include the best players.