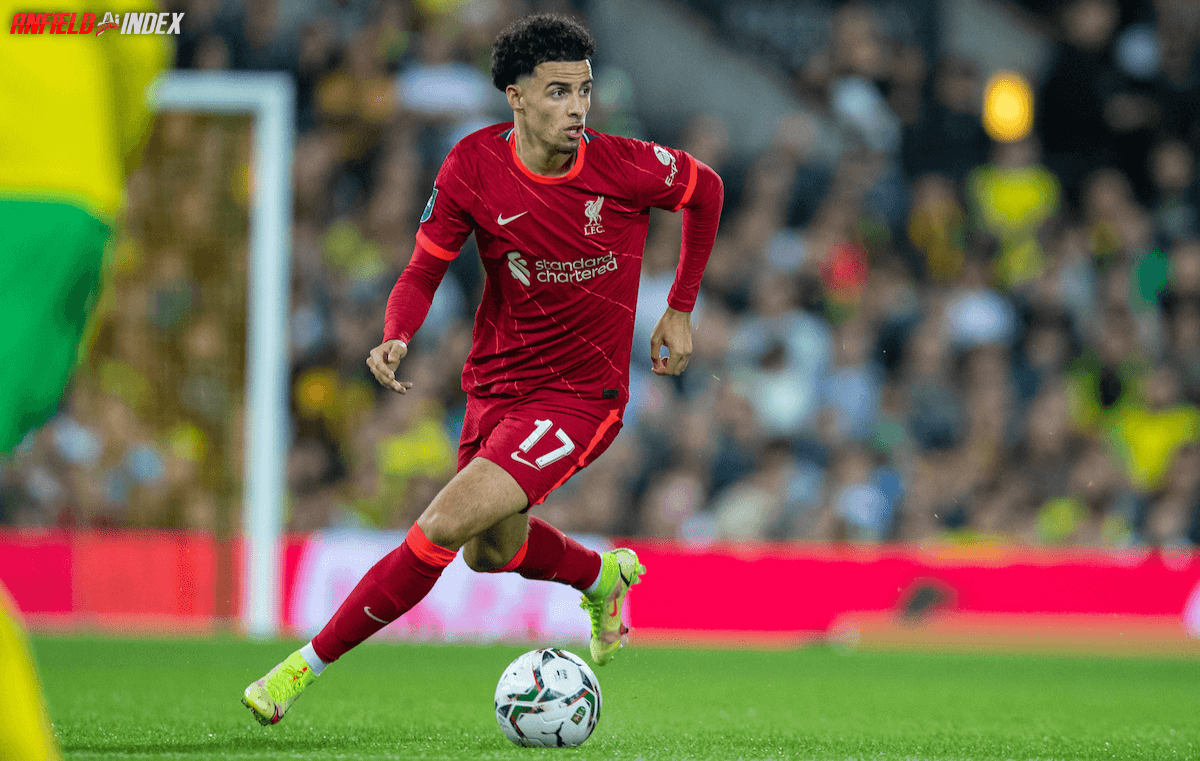 Why Curtis Jones could be Thiago's backup for Liverpool
Curtis Jones has gone under the radar this season. Harvey Elliott's exploits early on coupled with his injury issues has meant people have kind of forgotten about the 20-year-old after an impressive 2020/21 campaign. 
He's back now, but what role can he play for the Reds moving forward? Liverpool find themselves in limbo in the middle third. They have the numbers and you could argue that they have the quality if you're looking at players on an individual basis, but it isn't really evenly distributed. If you break it down properly, Jurgen Klopp has an abundance of right-sided midfield options, two defensive midfielders – though one of these is Jordan Henderson and he seems to be the first-choice right-sided No8 – and one real controller in Thiago. 
When Thiago and Fabinho are fit, Klopp has the luxury of picking one of Henderson, Naby Keita, Alex Oxlade-Chamberlain, Harvey Elliott, Jones or James Milner as the third man in midfield. 

But when one of the former two are out, things get a little complicated. Henderson struggled on the left at Anfield against Chelsea. In a game the Reds needed width, he was intent on turning inside at every given opportunity. Klopp seems to think Keita's instinctive nature is better suited to the right side of midfield, despite a number of decent showings on the left. Oxlade-Chamberlain isn't the same player when he's not on the right, Elliott would be wasted there and Milner can do a job in that role against certain opposition. 
When you think about it properly, Klopp's options are fairly limited. This is where Jones could come into play. 
Though he started life as a wide forward, he didn't look out of place as a controlling midfielder last season. Not only was he assured and press-resistant, but he was also fairly progressive in his play. Perhaps not as incisive or as inventive as Thiago, there is enough there to work with. After all, Jones is closer to the Spanish maestro than he is Henderson or Oxlade-Chamberlain. He isn't a third-man runner. He wants to be in possession.
After the 3-3 draw with Brentford, Klopp singled him out. 
"He showed that tonight, I thought he played a really good game. He won, in the first half, the best balls for us, he was really good in these situations. On top of that he was involved in all football situations. He dropped in the right spaces, was brave in between the lines, so many good things.
"But that's football, and he's still young.
"His consistency is maybe sometimes a little bit the issue, but at this moment he's in a really good moment. I think he's now old enough to keep that moment going."
Consistency comes with regular minutes. Now that he is back from his latest injury, perhaps we can expect to see him more involved. Thiago's minutes will have to be carefully managed and it could be Jones who lightens that load. It could be win-win for everyone involved and it could ease the over-reliance Liverpool have on Thiago right now.