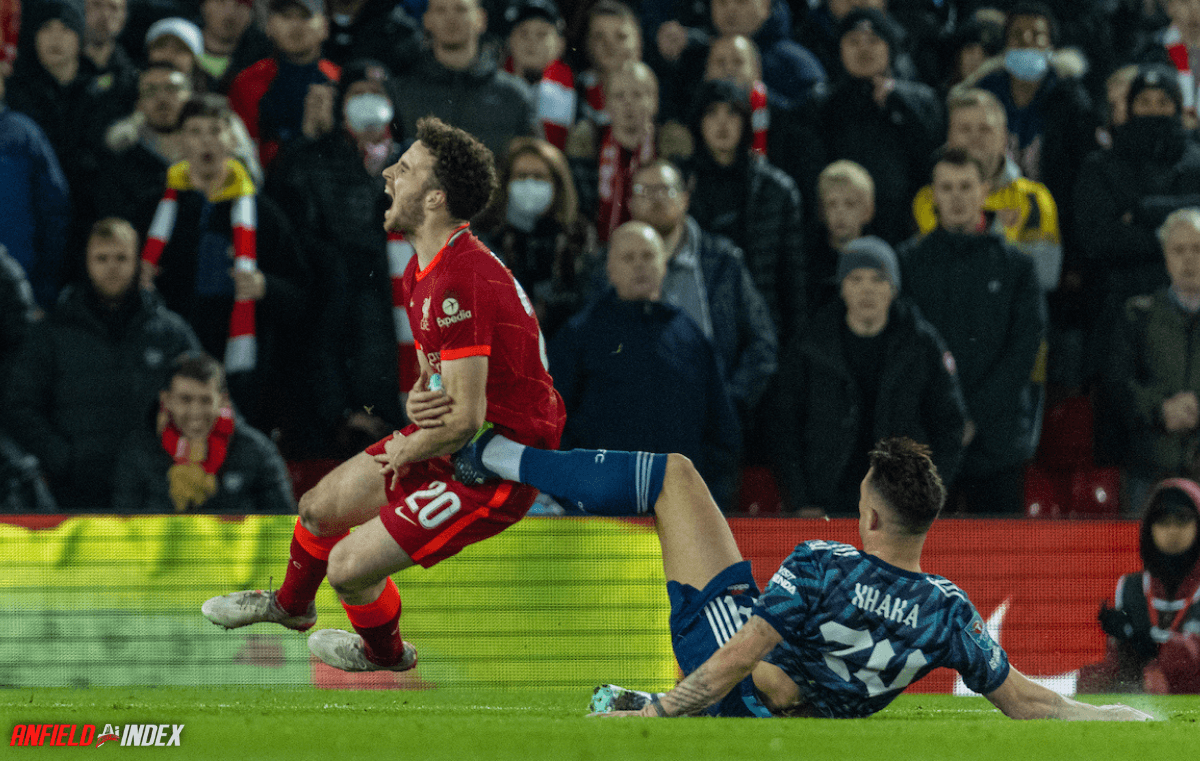 Liverpool 0-0 Arsenal: Player Ratings as Reds fail to punish Xhaka and Arsenal
Takumi Minamino missed a glorious late chance as Liverpool limped to a goalless draw with Arsenal in the first leg of their League Cup semifinal.
It was by far the best of the few opportunities The Reds fashioned following Granit Xhaka's two-reds-for-the-price-of-one dismissal 24 minutes into the game.
Liverpool of course missed the threat, and above all the movement, of Mohamed Salah and Sadio Mane, but this shouldn't be considered an inevitable mid-AFCON slump.

Like the game against Chelsea in August, Jurgen Klopp's side looked entirely bereft of vitality and ideas as their depleted opposition retreated into the trenches.
The difference was that this wasn't the champions of Europe. It was Arsenal, and that made it more painful still. Even their supporters were probably bracing themselves for an unlikely Emirates comeback mission, but based on this Liverpool performance, they should arguably be considered the favourites.
Here, anyway, is how the Reds rated.
Alisson Becker – 7/10
Alisson gets one of the higher ratings after thwarting Bukayo Saka with 20 minutes to go. It was probably Arsenal's most dangerous moment of the match, but as ever, he spread himself superbly after charging out of goal.
Distribution was decent too – five out of eight accurate long balls.
Trent Alexander-Arnold – 4/10
Completely ineffective. Trent attempted nine crosses and not a single one was accurate, so it's probably fair to say this was his poorest attacking performance of the campaign.
He did suffer from an almost complete lack of movement ahead of him, but his pass selection was still hopelessly ambitious. Neco Williams created more in 20 minutes.
Joel Matip – 7/10
Joel joins Alisson on a seven and may well have been Liverpool's man of the match. All jokes aside, he genuinely looked like our most effective playmaker in his 75 minutes on the pitch, although he probably shouldn't try his luck himself.
He also came up with an important block at the other end after Virgil van Dijk's mistake let Saka in early in the second half.
Virgil van Dijk – 6/10
Aside from that error, decent. Long passing was largely pretty good. Joined the attack in the closing moments and challenged Ramsdale, leading to a chance for Neco Williams.
Andy Robertson – 5/10
Five perhaps a little harsh given the quality of the pass that led to the Xhaka red card, but Robbo was only marginally more threatening than Trent. His best moment came with 20 minutes to go when he slipped Minamino in, who lashed a shot across goal.
But his set-pieces were dreadful throughout and he was booked for dragging back the impressive Saka.
Fabinho – 6/10
Not too much to say on Fabinho. There were occasions when he helped Liverpool sustain pressure, which was his principal role in these circumstances.
Jordan Henderson – 5/10
Reasonable first half display apart from one moment where he gave the ball away in his own half and Alexandre Lacazette tried to catch out Alisson. Charged down Aaron Ramsdale but the ricochet was kind to the Arsenal keeper.
Faded in the second half, providing his critics with more ammunition. Attempted a strange lay-off to Minamino before firing wildly over the top in the final 10 minutes.
James Milner – 5/10
A lot of supporters would have preferred to see Alex Oxlade-Chamberlain or Curtis Jones start, and there was nothing here that really justified Jurgen Klopp's faith in the 36-year-old (although, in fairness, it wasn't the kind of game he planned for).
Milner contributed little on or indeed off the ball and was maybe fortunate to last past half time.
Diogo Jota – 6/10
A six because he didn't really do anything wrong. In truth he didn't really do anything.
The chest control before Xhaka's attempted disembowelment was good, but thereafter he just found himself crowded out every time it was fed to him.
41 touches, the fewest of any Liverpool starter.
Roberto Firmino – 6/10
Similar story for Bobby, who made no real impact in the final third. Involved in the move that led to the red? Does that count as a positive?
He'll need to be less shot-shy over the next couple of weeks.
Takumi Minamino – 4/10
Was the liveliest of the front three without doubt, but his rating has to suffer because of that miss. Yes, it bounced to him a tiny bit awkwardly, but he simply has to have the composure and the technique to bury it.
No Salah, no Mane, no Divock Origi (who might be ahead of him in the pecking order) – the stage was set for him tonight. After the late equaliser in the previous round against Leicester, it could have been another big moment in Minamino's Liverpool career.
You might say it was a big moment, but for all the wrong reasons. He'll be hurting, and he might lose his place for the coming games.
Subs
Curtis Jones – 7/10
Maybe did enough in his half-hour to suggest he should have started. Involved in the move that led to Minamino's first chance, caused Gabriel a problem with a dinked cross and had Liverpool's only shot on target.
Alex Oxlade-Chamberlain – 6/10
Needed earlier than the 75th minute? His cross led to Taki's sitter.
Neco Williams – 6/10
A rough start to his cameo after he hooked the ball out of play under no pressure, but he improved. The ball to fell him after Ramsdale flapped in the final stages, but Ben White blocked his half-volley with Firmino ready to divert it in.
Joe Gomez – 6/10
Oh yeah, Joe Gomez came on. Have a six, Joe.