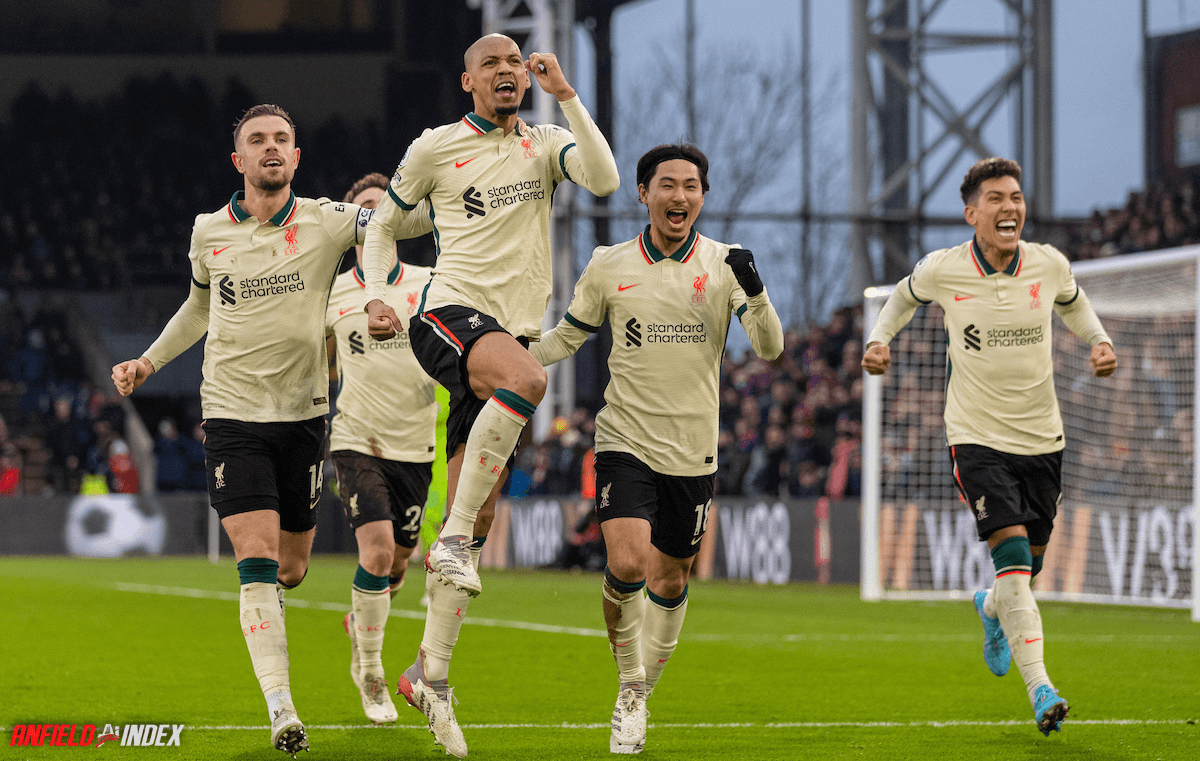 Crystal Palace 1 - 3 Liverpool - The Player Ratings
Alisson Becker – 8.5
Outstanding reactions and moments of class. The tough stuff is done brilliantly, and the routine bits see complete assurance, and this sets him apart.
Trent Alexander Arnold – 7.0

Tough to replicate Thursday's performance, against one of London's stronger teams. His control of tempo and creation in the first half was still very good, his need for defensive cover in the second was required. Subbed.
Andy Robertson – 7.5
Back in the form we love, and gave a very good showing for the second goal, and throughout. The corner for Virgil was perfection, and there's few finer sights than a precise corner onto Virgil's head.
Virgil Van Dijk – 7.5
A great header, and hopefully one that will start a trend. Impossible to criticise, as the demands of the high line mean openings can be created by well drilled sides. Good leadership under pressure, and helped weather a second half storm.
Joel Matip – 6.5
Better than midweek, yet still rattled at times. Held it together and was always prepared to revive the ball and make good decisions. The system can be tough at some points, against certain teams.
Fabinho – 7.0
The goal scoring defensive lynchpin will soon be making a claim for player of the year. A good game, with chaos and the environment threatening to dent Liverpool's lead further. Good pen, reliable overall game.
Jordan Henderson – 6.5
Unremarkable is what this team needs, as a consistent role adds balance to a normally vibrant right side. A couple of good efforts, and a fair game to move back towards some form. Steady is far better than trying to be the player he simply isn't.
Curtis Jones – 6.5
Hard to praise too much, and harder to critique. The control was lost in the second half, but the bright moments in the first were good. A sound deputy for Thiago and Naby, in their absence.
Alex Oxlade-Chamberlain – 7.0
Graft and a goal, this is what marks a good Ox outing. His ability to add width (and thus Trent space) was good. His finish was smart, and he should be the Mo alternative from the right, as well as the Hendo alternative. Subbed.
Diogo Jota – 6.0
Came back to earth like a plucked eagle. The work was there, but the threat was not. Some misplaced passes, and areas where openings were quickly closed, meant for a tough afternoon.
Roberto Firmino – 6.0
The system player was pulled across the pitch, and movement in the first was replaced with work in the second. A good rotation piece, and valuable squad member he's become, if not a certain starter anymore. Subbed.
Subs:
Taki Minamino – 5.0
The back up will now settle into a back up to the back up role.
James Milner – 5.0
Thankfully didn't do a Noble, and take the pen.
Joe Gomez – N/A
Came on.
The Manager:
Jurgen Klopp – 7.0
The starting line up was correct, the first half on point. After a great game on Thursday (v Arsenal), he would have been overjoyed with a 0-2 first half lead. The intensity was perhaps taken out the team, with control asked for. This is perhaps where Patrick Viera was able to dominate the second spell, and only the disputed penalty ended the fight back. The pen was always a pen for the away side, never for the home team. The keeper gave the referee and decision, and it hard to say it wasn't a foul.
Pre Match Prediction:
Crystal Crystal 0 – 2 Liverpool