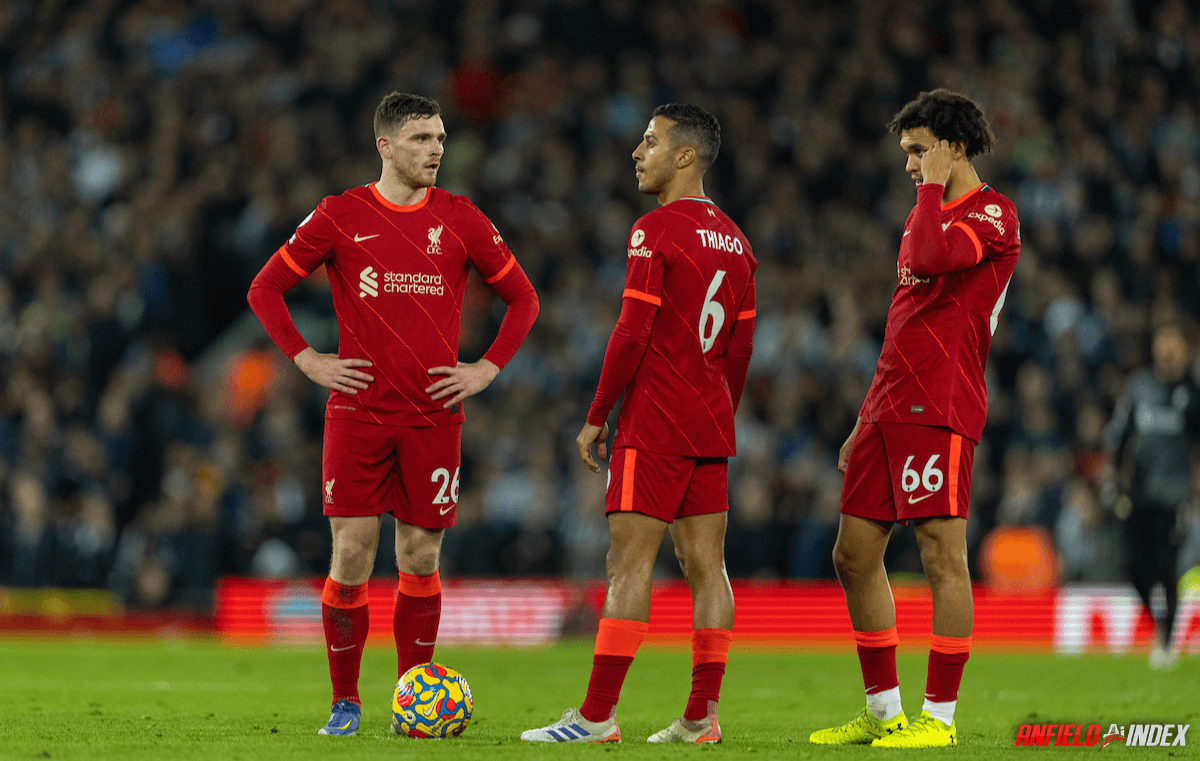 Trent & The Thiago Effect
The familiar stats regarding Trent Alexander-Arnold's assists, appear now in each and every game. His rise to world class status has been truly sensational, and even the most deluded fans (or Gareth Southgate) cannot ignore his exceptional impact on the game any longer.
After displacing Nathaniel Clyne some years ago, the slightly built fullback was allowed time to both evolve and make mistakes. As with any trajectory to greatness, issues must always arise so that they can be overcome. This season is perhaps building towards Trents greatest personal campaign, with his influence finding more ways to impact matches.
This past season has seen some form of evolution within Liverpool's shape, something that was much needed within an ageing squad. The early games saw the introduction of young Harvey Elliott, with the gifted youngster tasked with adding guile and technical ability in between Mohamed Salah and Trent. The indications were bright, and only an horrific injury (to Harvey) saw that project sidelined, for the time being at least.

With a low block continually fielded against the reds, the attacking patterns of play have had to be adjusted in order to overcome the league's spoilers. The space in behind defences became non existent, and the signing of the Thiago Alcantara (some 18 months ago) meant that quick and exquisite playmaking could be incorporated into the reds' play.
Last season saw a defenceless Liverpool scramble in their final ten games, in order to finish a remarkable 3rd in the Premier League. Throughout that final stretch of the campaign, both Thiago and Trent became orchestrators of brilliance, with both able to dictate play from the right side of the pitch. This season (and especially against Arsenal this past Thursday), we saw Trent continually slide inside, to impact play from a more central position. At Manchester City we often see João Cancelo occupy a similar position (on the opposite flank), with the defence and midfield adjusting to allow him (and others) to influence from differing positions, whilst in possession.
Whereas Trent and Cancelo offer different varieties of play, they are both able to impact the game in key moments of possession. Tactical ingenuity is vital to football evolution, and Klopp is astute enough to allow his assistant (Pepijn Lijnders), to help influence such shifts in their system. The shift aside, Trent's ability is the key component of such a change, with his skill set needed to make it feasible. On Thursday night, we saw Jordan Henderson far less involved (in on the ball duties), and this could be by design.
When Georginio Wijnaldum was coasting through games, it was his off ball positioning and recycling of play, which made him the perfect system player. Whereas the skipper does not possess the same tactical nouse of Gini, his role as a facilitator may now become a requirement, especially with Thiago often sidelined with injury. In Trent, Liverpool have a primary playmaker that is rarely injured. With Thiago in and out of the team (through injury), we are starting to see Trent's continuing ability to supply from wide, added to in a more central manner. To have either of these two magnificent players (Trent or Thiago) on the ball in more central areas, is vital in all games, especially those of the frustrating mould.
The way in which Thiago controls, dictates and chooses his passes is simply phenomenal, and I believe his best traits are starting to rub off on Trent Alexander-Arnold. The notion that Liverpool can cross their way to success is short sighted, and variation must be deployed. Trent has begun to move into areas that causes both confusion and alarm to opposing teams. A few years ago, we heard Mikel Arteta marvel at the exploits of Virgil Van Dijk, and his ability to spread play from deep. This ability meant Virgil would become almost impossible to press, with his on going ability to by-pass a number of players, from a deep and central location.
With brave possession play and quick moments of recovery, Trent is being tasked more and more to find the wide and central forwards, from not just a wide position, but now from the middle of the park. His technique is sublime, and is becoming ever more so like something out of the Thiago playbook. Brilliant players must be willing to evolve in order to continually achieve greatness. Trent is maturing into a player that simply demands the ball, and seems keen to find varying ways to exploit his opponents. To have Thiago as some form of mentor (in both style and play), is completely conceivable and totally understandable. To see the brilliance of Thiago in training must be a sight to behold, and fans will often see videos of teammates merely stood watching, whilst Thiago does something quite absurd with a football.
Greatness often emerges when surrounded and complimented by a world class talent. In recent times, we have witnessed the unbelievable impact that Luis Suarez had on the game of others. Daniel Sturridge, Raheem Sterling, and Philippe Coutinho were just some of the players that saw their own levels surge, whilst in the company of the Uruguayan. Deep levels of skill would explode around Luis, and each players game would have to raise exponentially, in order to stay in touch with the genius of Suarez.
At just 23 years old, Trent Alexander-Arnold stands alone as the worlds greatest attacking fullback. He is a good defender, a willing worker, and a world class playmaker. With Thiago still operating at a world class level, we may well see Trent's competitive eye move from Andy Robertson, to Thiago himself. Healthy competition is brilliant for everyone in a Klopp side, and we saw how Diogo Jota was able to benefit against Arsenal and Palace (for the pen). Being able to pump a long ball is one thing, but to apply such wicked precision into a through ball, is something only few can regularly do. To do such things within the cut and thrust of elite games, is what is standing certain players apart, and has to be appreciated.
The evolution of Trent has seen him rise from a talented fullback, that looked to surpass the crossing competition that Robbo offered. Now the hope is that he is tasked with interchanging with those around him, and players like Henderson must simply do what is required in order to extract the best of Trent. Thiago resumes training this week, and Liverpool still have a season full of promise. Mohamed Salah (the worlds greatest player) is back also, and his game has also altered accordingly, in order to become the player what others can only dream of.
The next ten years are an exciting time to be a Liverpool fan, and while I have witnessed the start and end of Steven Gerrard, Steve McManaman, Robbie Fowler and others, it could well be that Trent Alexander-Arnold surpasses them all. Trent may not be the best player in this team just yet, but if his career continues to build, he could end up Liverpool's greatest ever player.