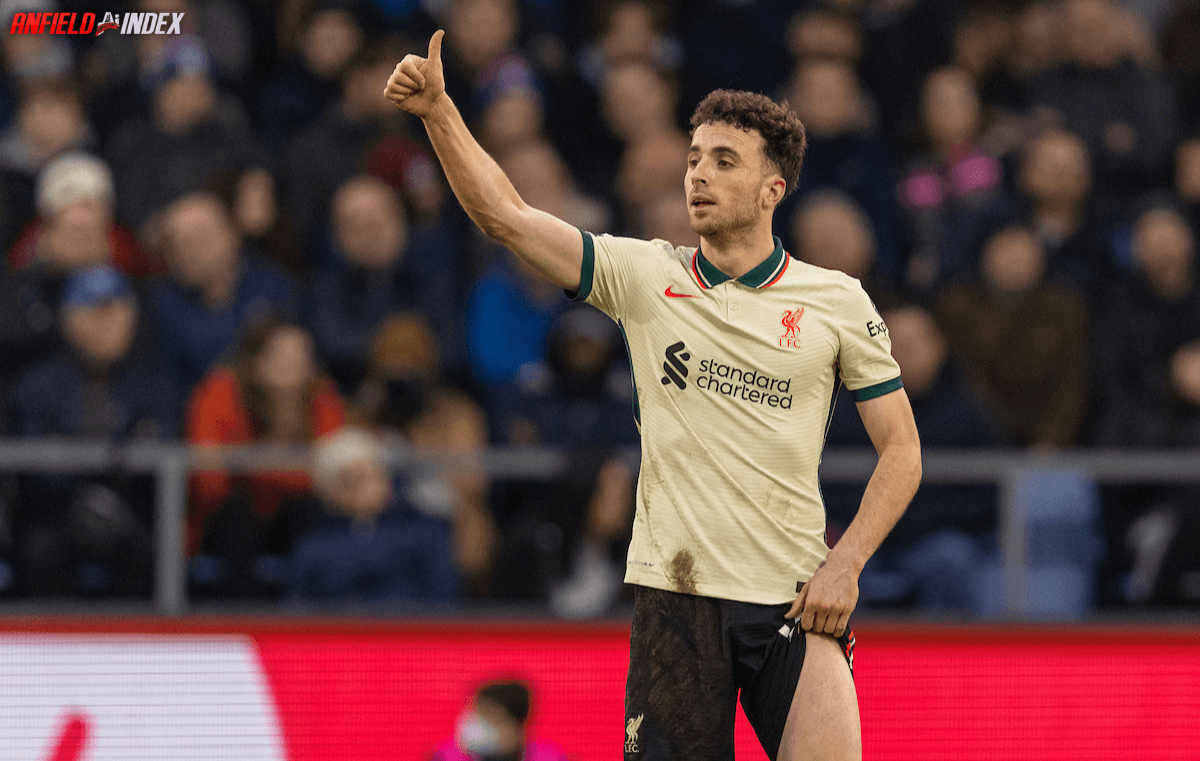 Diogo Jota & His Starting Role
When Liverpool signed Diogo Jota from Wolves, it was a signing that appeared reactionary to the failure to obtain Timo Werner. In the 18 months since he arrived, Diogo has proven to be not only a valuable rotation piece, but a player that can succeed Sadio Mané on the left-hand side of Liverpool's famed attack. The Timo Werner bullet appears to have been dodged, and Jota now holds a value twice what was paid.
This season we have seen Diogo Jota occupy a centre forward role that offers far more potency than the extreme work rate of Bobby Firmino. In terms of Diogo's poaching ability, there are now few better in the league that are able to convert chances. Last week we saw a performance of such brilliance (against Arsenal), that has now raised the question as to whether he and Mane should switch positions, and allow Jota to fully integrate himself into the wide forward role. The fact Jota was able to burst and destroy was reminiscent of a prime Mane, and could be what is needed going forward.
Mohamed Salah has become the world's greatest player in a bespoke system, with a defined role from the right forward position. Mo's ability to play inside sometimes limits his attributes, and thus his ability to engage opponents. The brilliance of Mohammed Salah will usually see him start from a wide position, before carrying the ball towards the box. Last Thursday we saw Jota take on a similar role (on the opposite flank), and it was a joy to watch. Sadio Mané is not the player he once was, and he's unlikely to return to his past level. The recent Jota impact, could mean it is time to refine Mane's role within this team.

Next summer represents a pivotal moment in the Reds' forward line evolution. Mohamed Salah has a contract on the table, that worryingly remains unsigned. Roberto Firmino (though still a valuable asset within the squad), is not the player he once was, and should become a back up option. Sadio Mané also has a shortening contract, and a decision must be made upon the future of the Senegalese forward. To usher Mane into a centre forward position may just suit his current attributes, and allow Jota to fully develop into a long term left forward. Mane is strong and technically brilliant, but his burst is now receding as fast as his hairline. A false nine position would allow him to explode in smaller spaces, and intertwine more with a prime Mohamed Salah.
Diogo Jota must become a fully established starter within this Liverpool team, with players set to return from the AFCON. His ability to play across the line will always allow fluidity within the forward line, but he must now cement a true starting position in Klopp's team. With Mohamed Salah still likely to sign the contract, this would potentially leave the needs for a centre forward, that could be targeted in the summer.
As Liverpool are unlikely to sign an orthodox striker, they will be looking at a player that can play across the line. Whether or not Klopp could transition Sadio into a central role remains to be seen, but Firmino would offer superb backup and rotation qualities for certain big games.
A variation of names are continually thrown out by the fan base and varying journalists, as to who Liverpool will sign next. The logical choice would be a multifunctional forward that can offer both depth and starting abilities, much as Diogo Jota has done. Where the defence looks strong going forward, both the midfield and attack need some finessing, in order to maintain an elite level going forward.
Who the targets are will probably remain a mystery, until they actually sign. The notion of adding a starting forward to the group, will surely mean one of the famous three will leave. However that unfolds, now should represent the time to fully mould Diogo Jota into the player this team needs, and that could well sway the decision as to who stays, and who goes.