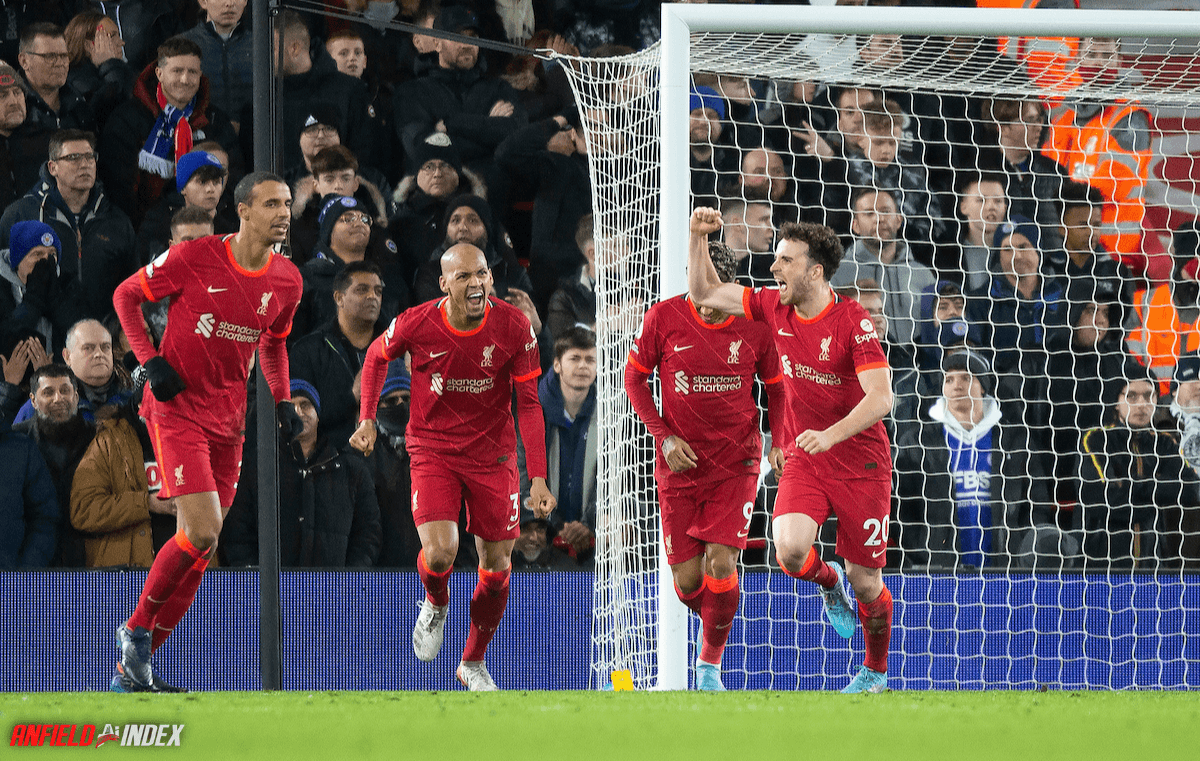 Liverpool 2 - 0 Leicester - The Player Ratings
Alisson Becker – 7.5
Back after international duty, and a good stop early on from Maddison. Was fairly routine after that till the break. Rarely called into action in the second break, but was in command throughout.
Trent Alexander Arnold – 7.5

A little loose with a pass early on presented a chance for Maddison, but recovered to sting the keepers hand with a smart left footed shot. A nice corner to find Virgil created the first goal, as frustration started to build. Good defensive work when called for, and clever use of the ball. Was happy to see Mo back.
Andy Robertson – 7.5
Recalled for this one, and looked to link straight away with Diaz. His crossing seemed erratic and rushed in the early stages, as he grew into the game. Became more efficient and dangerous after flying into the post, with any cobwebs knocked clear. A shot come cross close to the hour caused chaos, and became a dangerous outlet till the end.
Virgil Van Dijk – 8.5
The mainstay and defensive leader. An abundance of composure and strength early on to dispel pressure. A powering header on 34 minutes could only be parried by Schmeichel, allowing Jota a close range finish. So dominant, with dangers shut down with authority. Holds that line like no other could.
Joel Matip – 7.0
Back in Konate's place, and a lovely early stride forward was a delight in the first half. Maybe a little ruffled amongst early breaks in the opening stages, but rallied and improved through the game. A lovely cross field ball for Diaz opened things up for a shot, and was assured through the second period.
Fabinho – 8.0
Lovely to see this defensive monster back after international duty. He started the game with a vigour to win everything around him. Thiago seemed intent in adding control, and they were a joy to watch together. A welcome return.
Thiago Alcantara – 8.0
A wonderful player, and a delight to see his name on the starting line up. Seemed quietly efficient early on, with a want to add further control next Fabinho from the start. The scissor kick seemed to fully jolt him just before the break, as his talents began to show, in retaining and regaining his ball with finesse and swagger. A world class controller of play.
Curtis Jones – 6.5
Given a another chance, much due to Henderson's injury. Bright bits of skill, and moments of holding onto the ball too long was his first period. Was the midfielder with more licence, but could not impact too much.
Subbed on 58.
Luis Diaz – 7.5
An unexpected full debut, and will have lifted the crowd from the off. Some neat footwork early, and bright decisions in possession. He started to explore the pitch, and his fighting desire to ride challenges was brilliant to see. A nice first start, with a great moment of skill and shooting off a Matip diagonal early in the second half. Looks the real deal, and came to life with a smart shot after Mo hit the bar. Nearly scored on 81, with great endeavour in the box, but for another good save.
Subbed on 88.
Diogo Jota – 8.0
A multifunctional forward, this time starting from the right. Doesn't seem comfortable from that flank, and was largely anonymous in the first period, until the poaching ability saw Liverpool take the lead. Right place, right time, as with all elite penalty box strikers. A lovely burst and shot on 47 minutes to sting the keepers hand, as he started the second half from his preferred left berth. Moved into the middle on 58, and began to impact more and more. Again great in box positioning saw him score the long awaited second, with an instinctive finish.
Roberto Firmino – 6.0
The middle man workhorse and system forward tried to link play, but wasn't much of a first half impact. Leicester surrounded the middle areas, and it made his possession periods harried. Lost possession early in the second, to end with a booking in trying to makes amends. Passes seemed short or rushed too often, and his work rate was his best trait before leaving the field.
Subbed on 58.
Subs;
Mohamed Salah – 7.0 (on 58)
A moment of brilliance on 73 almost saw him score, and edged into the game from there. Was halted on 74 in a one on one, which should have been a goal. Hit the bar on 77 with a beautiful curling effort to raise the volume. A nice welcome home win for the AFCON runner-up.
Harvey Elliott – 6.5 (on 58)
Great retention of the ball in coming on, and good awareness straight away. A couple of moments caught in possession, but that will be down to ring rust.
Takumi Minamino – 5.0 (on 88)
Came on.
The Manager;
Jurgen Klopp – 8.0
Surprised everyone with the Diaz start, and looked to be as front foot and attacking in his line up. Sensed the need to get the second, with a beautiful double sub on 58. Will be delighted with how Diaz exploded the more the game went on, and an array of attacking play was a joy to watch. A win that can start a run towards silverware.
Predicted Player to Watch – Mohamed Salah
Predicted Result;
Liverpool 4 – 0 Leicester