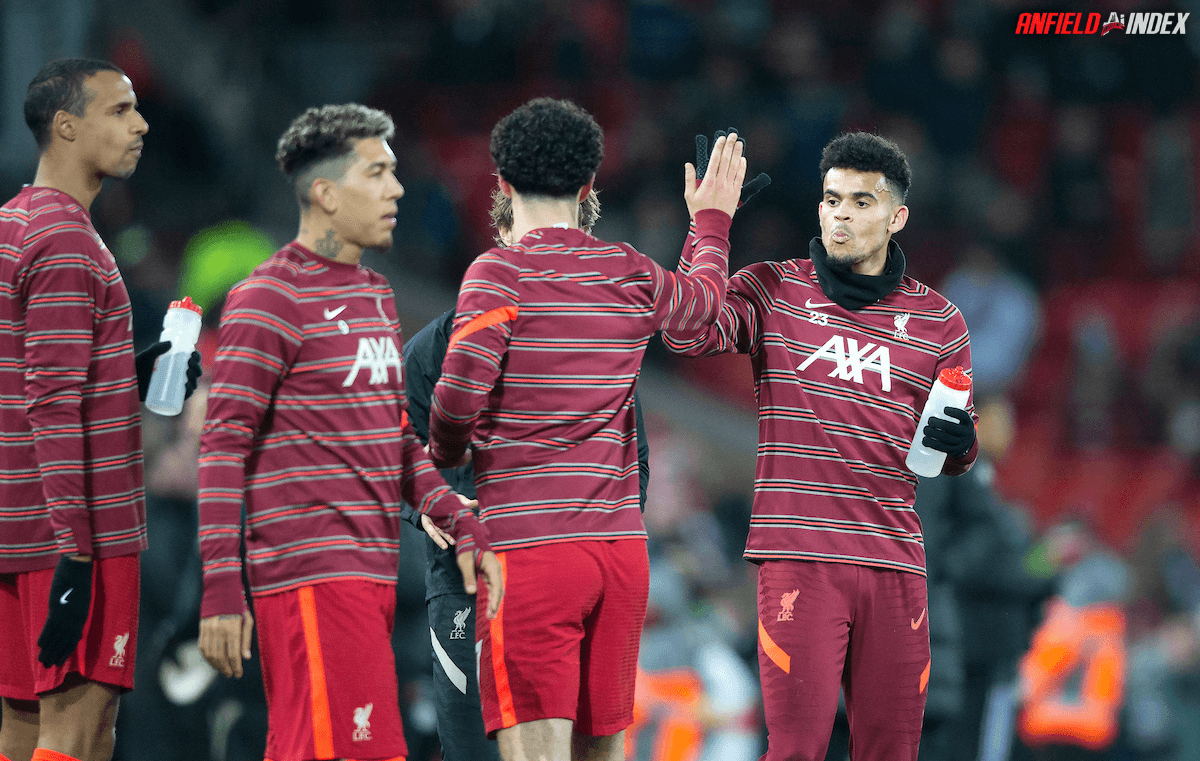 Line-up Porn

It's rare that a line-up is the most exciting thing in a match. It's especially unique when the result is 2-0 for the good guys. Yet on this night, with the addition of one Luiz Diaz, the subtraction of Jordan Henderson, the return of Mo Salah from AFCON and the resurrection of Harvey Elliot and Thiago from long term injuries, the resulting line-up card had us celebrating more than any overhead kick or diving save could ever hope to.
https://t.co/XZ5fQXXiaJ pic.twitter.com/yAFztwpI8A

— Sam McGuire (@SamMcGuire90) February 10, 2022
The line-up even had it's own statistical milestones that seem to come with every Trent touch. The Scouse right-back became the third youngest to make 150 appearances for Liverpool. Given Trent's stellar start to life at Anfield, Micheal Owen is even more impressive in retrospect, hitting the 150 mark almost a full year ahead of Trent's pace.
Youngest players to 150 top-flight league apps for #LFC:

Michael Owen – 22y 134d
Robbie Fowler – 22y 248d
Emlyn Hughes – 23y 106d
⭐Trent Alexander-Arnold – 23y 126d⭐
Tommy Smith – 23y 137d
Steven Gerrard – 23y 190d
Phil Thompson – 23y 211d#LIVLEI

— Michael Reid (@michael_reid11) February 10, 2022
The bench included the likes of Mo Salah, Naby Keita, Chamberlain, Minamino, Konate, Milner and Elliott; easily the strongest in a Premier League match in eons. Klopp even added a note after the match that Gomez and Origi aren't injured, but simply didn't make the cut.
https://twitter.com/blewislfc/status/1491845901765255172?s=21
After a dominating opening five an Alisson save on a Madisson effort was required to remind us this was actually a competitive match and we wouldn't be awarded three points based solely on the team sheet.
And on 11' we watched our new Colombian learning about his teammates in real time. Diaz played a 1 and almost a 2 with Matip but after another of his patented adventures into the final third, Joel got his usual cold-feet upon entering the box was unprepared for Luchito's return ball that certainly would have resulted in a chance.
Matip runs like he's got a spider trapped in a glass and he trying to get rid of it quickly

— Ciaran (@speltcia) December 28, 2021
On to the box-checking formality of actually scoring a goal. Trent corner. Giant human. Jota poach.
And there was much rejoicing…
https://twitter.com/harinder1977/status/1491870065167380484?s=21
Bonus points for repurposing an Everton meme…
— Girl Named C (@NameBeginsWithC) February 10, 2022
We would completely forget about Everton except when stats like this are brought to light. Jota and Mo's goal tally is now more than free-wheeling Leeds, and is leaving the Toffees in the dust.
Mo Salah + Diogo Jota = 27 PL goals

Total PL goals scored by below clubs pic.twitter.com/XwsERkz15W

— Moby (@Mobyhaque1) February 10, 2022
The reviews on Diaz started coming in from all corners before the game had ended and despite some missed chances they were all positive.
https://twitter.com/paulsenior1/status/1491873559416877059?s=21
Set-Piece FC was at it again with the opening goal. On my broadcast, an absent Jordan Henderson was credited, literally with standing in the way, to create scoring opportunities for Liverpool. Whatever the reason, it's working, and a frisky looking Virgil is only going to help as we move into the business end of the season.
https://twitter.com/liverpoolcom_/status/1491873199973445638?s=21
The second half was more pain for Brodge's bunch. You know your club is dominating when you're up a goal and Schmeichel is still time-wasting to try to limit the potential for a beating.
There were massive cheers for Mo and Elliott, inside Anfield and on LFC Twitter as they come on for the final 35
Salah & Elliott coming on? pic.twitter.com/5M0LYWhivh

— Jason Roberts (@JaseRoberts_) February 10, 2022
If you thought everyone was excited for the line-up to start the match… it was turned to 11 after Klopp took off Bobby and Curtis leaving us with what might be our strongest 11, depending on where you think Sadio can fit in.
https://twitter.com/jay82_lfc/status/1491880329069617154?s=21
The lads didn't disappoint and had us all on respirators within moments of stepping onto the pitch.
That Trent-Elliott-Salah connection. pic.twitter.com/qCAKSbrFup

— Paul (@Kolology) February 10, 2022
But, soon enough, we were bored with all of that silk and just wanted some more of that Colombian goodness.
I just want everyone to pass the ball to Luis Diaz.

— – (@AnfieldRd96) February 10, 2022
The main talking point from the actual match was that Salah missed a relatively easy opportunity, was violently cut down and not awarded a penalty despite it being a clear foul in the box. Salah's FPL owners were unforgiving even though he's a Liverpool supporter…
mo fucks up a 1v1

— FML FPL – Fantasy Premier League Podcast (@FMLFPL) February 10, 2022
Top Reds were relieved…
Salah is ok. pic.twitter.com/VZjcW9qV4T

— The Redmen TV (@TheRedmenTV) February 10, 2022
while others were angry at the usual suspects.
Bit of a Tory refereeing this.

— ᴅ'ᴘᴇᴀʀᴄāʏ (@pearcecult) February 10, 2022
Back to Diaz. A late miss, as viewed from Colombia, was not the fault of Luchito. It was really just inconsiderate of the Leicester 'keeper for getting in the way and ruining what could have been a perfect debut.
SMEICHEL HIJO DE PUTA

— El Guajiropool (@Liverpool_Col) February 10, 2022
The key to get Joel Matip to have a final product in the 18yd box is to surprise him with the ball. Luiz Diaz has figured this out in the first match. His 90 degree redirection of Diaz's ball and Jota's insanely quick shot mercifully ended Leicester's hopes.
Matip with assist of the season.

— – (@AnfieldRd96) February 10, 2022
Bonus; it got the FMLFPL Alon back onside.
joel matip flicks a nutmeg through-ball hahahaha your center half would never

— FML FPL – Fantasy Premier League Podcast (@FMLFPL) February 10, 2022
Jota's goal was his 30th in 60 games for LFC and they seem to be improving match by match. Salah, Thiago and Elliot returning were nice stories, but it was Diaz who received a standing ovation from the Anfield faithful as he came off for Taki late in the match.
Luis Diaz leaves to a standing ovation for Takumi Minamino.

— Paul Gorst (@ptgorst) February 10, 2022
The xG story was Liverpool (3.36) 2-0 (0.43) Leicester; a thoroughly dominating performance by Jurgen's Reds to kick off the stretch run of the campaign. All four competitions appear to now be real possibilities considering the players available to Klopp. What a time to be alive.