Liverpool Striking Options | Who's going to fill the onion bag?
A poacher, a Rush, an Aldridge, dare I say it an on form, happy Torres. We must've all wished for one this season. Suarez is a genius but needs to up his conversion rate (currently 7%) and quickly, when he returns. We need someone to convert our chances. The table shows we are in 6th position. If you rank us by number of total chances we are also 6th. If you rank us by the percentage of those chances we convert then we are joint 19th.With Wigan. It's been said before but I think that says it all.
To be honest in any season a team needs someone who doesn't do a right lot but score goals. United – Van Nistelrooy, Shearer – Blackburn, Arsenal – Wright or Smith, Chelsea – Drogba. To be honest I'm probably being unfair to the penalty box beast that was Didier Drogba there.
Rafa was never shy with his opinions when pressed and we lived to regret his reference to his dossier of Drogba diving.  In a time when it seemed like Champions League finals were automatically being pencilled into our diaries, Drogba scored 2 killers in the 2008 Champions League semi 2nd leg. He undoubtedly goes to ground when it suits. But also you had to worry about the tactics of baiting such a powerful forward who still, 3 years later, keeps our one time star striker on their bench.  It was a very sick feeling as he slid to celebrate in front of an impassive Benitez.
However, returning to the heroes of our game. Goal scorers. We can eulogise about great keeping and I already have about Pepe and rightly so. You can praise superb defending performances and last ditch defending heroics, such as the transformed Martin Skrtel interrupting goal machine Demba Ba's run of form.  But the game is about goals. Goals change games. That may be a cliche but that doesn't mean it isn't true. When the moment comes and your man is one on one with the keeper, you want your head and not just your heart to be saying, "Goal!"  Too often we've had the Milan Baros scenario when 9 times out of 10 he would lose it or be hitting it at the keeper. I am not alone in my love for Dirk Kuyt's energy, but even when he was scoring 10 a season, a fair proportion of his open play chances ended up ricocheting off the keeper or being gratefully gathered.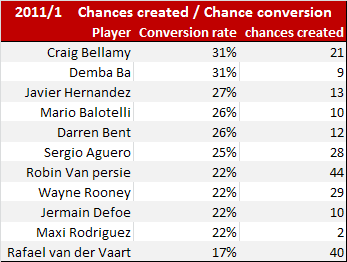 The transfer window has been wide open for days. I would severely doubt we will have the last minute dramas of last year. Suarez in, Torres out, Carroll in. Deflated but happy was my feeling as I watched the drama unfold. Our Uruguayan headline maker hit the ground running. Well not just running but twisting, turning and leaving those in his wake chasing shadows.
The big man with the bigger price tag (8th most expensive player of all time…hard to get over that whatever the dependant deal!) was injured but we waited with hope.
Then Adam and Downing came in and given what we'd seen for Blackpool and Aston Villa you couldn't help thinking the combination would fire. But as yet it's just not clicking. And we don't have time to sit back and watch the champion's league spot slip away. So, who do we get in if they were available?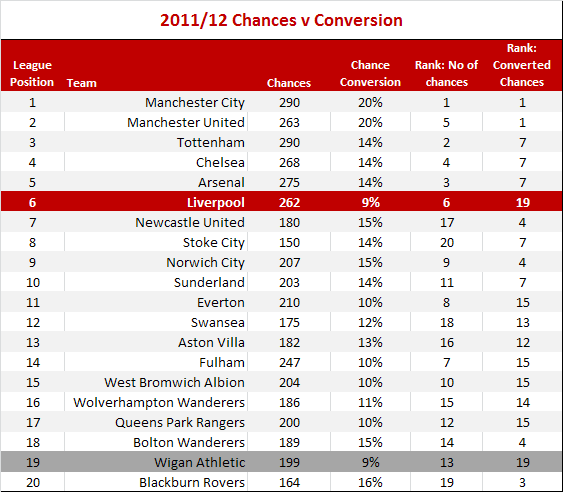 Darren Bent was an early front runner. Rumour mill in overdrive, McLeish saying he's going nowhere (didn't he say that about Downing?), Kenny reportedly telling his Scot counterpart we aren't interested. But then you have his absence from their defeat to the Reds with a thigh injury. It didn't stop him hitting the pre-Christmas sales either. He's quoted as saying 'As long as the chances keep coming, I'm confident I can score regularly.' In terms of chances created, Villa are 16th in the table, down there with Swansea, Stoke and Blackburn. Newcastle are 17th in terms of chances created, but if you look at Demba Ba's conversion rate of 31%, he is the exception proving the rule.
So what would Bent bring to the party? For me I like a little more creativity even for an out and out striker. But goals are what we need. And Bent's conversion rate is right up there at 26%. Put that alongside Robin van Persie (22%), Sergio Aguero (25%), Mario Balotelli (26%), Wayne Rooney (22%), Javier Hernandez (27%), Rafael van der Vaart (17%) and it certainly stands up.
But there is a more unsettled player who I would be more interested in us signing, for exactly the same reason I have misgivings about Bent. Jermain Defoe. He has been vocal about wanting regular first team football and I would say he displays more than just goals in his game, with the ability to beat a player and a knack for finding space in a tight penalty area.
Up to this season, the stats suggest that Bent would be the better buy, with him scoring every 1.68 games as opposed to Defoe scoring every 3.69 games. If you include this season for both players, Bent has a straight goal every 2 games average whereas Defoe scores every 3.1 games. But perhaps the stats don't tell all the story as we know that at Sunderland and Villa, Bent will play if he is fit whereas Defoe has been jostling for a place his whole time at Spurs. Whether he would get the consistent run in the Liverpool side he was after is debateable, but he does have a tendency to pop up with important goals in tight games. That could prove useful when we struggle against the teams from the bottom half who sit back.
But, pending Andy Carroll hitting his stride and the back of the net more regularly, we do have a player that is up there with the big hitters. Craig Bellamy has a 31% chance conversion rate which is right up there at the top end of strikers, with only Yakubu's impressive 38% conversion rate exceeding it. He also creates his fair share of chances with 21 so far this season. Given this exceeds those of Ba, Hernandez, Balotelli and Bent, this is impressive. Even more so considering  he is far from being in every starting line-up, being on the pitch for kick off in only a quarter of our games so far.
I am unsure who the answer is. I like Defoe and feel he would be keen to make a mark and prove a point. He is also the kind of poaching presence we have been missing when the ball breaks loose just on the edge of the box. But perhaps now our captain is back and we are starting to get quality supply to the likes of Carroll and Bellamy we will see a different Liverpool. I can't help thinking Maxi would be my 20 minutes to go option off the bench every time, but he seems not to be an Anfield favourite despite some vital goals.
One thing I am sure is we will improve 2nd half of the season. I have seldom seen Skrtel and Agger looking more composed. Johnson in last game against city (no I'm not mentioning the tackle) looked good defensively. Reina is a rock. Downing is coming so, so close to his breakthrough. I am all smiles going into the window. Oh…I forgot…we have a Uruguayan magician to come back just in time for…well you know! YNWA!