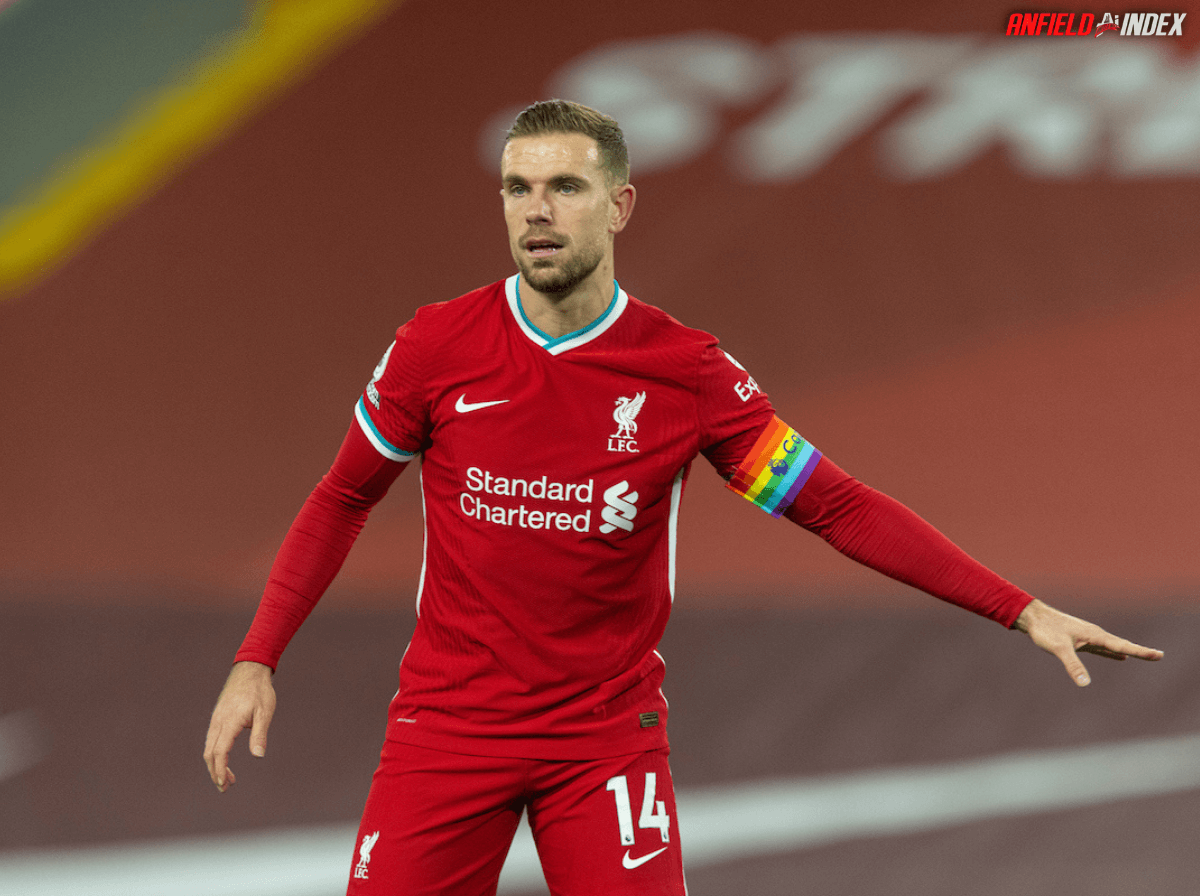 The Henderson Dilemma
There was much annoyance in not replacing of Gini Wijnaldum this past summer. Yet as the season enters its final few months, the main worry is that of Liverpool captain, Jordan Henderson. In a season where emerging midfield talents have come to the fore, there seems to be a dilemma heading towards Jordan Henderson's Liverpool career.
At 36 years old, James Milner is quite understandably dropping down the Anfield pecking order. At 31 years old, Jordan Henderson is now past his prime, and his inclusion is becoming a real area of concern. There is now certainty in the first two choices of the Liverpool midfield, with these being Fabinho and Thiago Alcantara. When Fab and Thiago combine, there is such control of proceedings in midfield, games are literally taken away from the opposition. The right-sided midfield role appeared to be something Jürgen Klopp was mulling over, and is still a position of uncertainty.
There was a lack of clarity in the long-term replacement for Gini, but it seems that left-sided position was always destined for Thiago Alcantara. With the campaign's opening games showing such promise (for young Harvey Elliott), we can safely assume that the teenager was being eyed as the right-sided midfielder, certainly in the long term. A solution was evidently being viewed by the management, with the results showing extreme promise, until Harvey's unfortunate injury.
Without any agenda, it is clear to see that Jordan Henderson has become the odd man out in the Liverpool's best midfield. Having been granted such a long-term and lucrative contract, it's a potential problem to keep starting an underperforming player, regardless of the armband. Over the coming weeks and months, we must see Fabinho and Thiago rotated and rested as required, given their importance. On the right hand side of midfield, Harvey Elliott should be reintroduced as a first team regular as soon as possible. We saw just last week (against Cardiff) the impact this young player can have, and is a player we are all excited to see play.
I've written maybe two pieces this year, questioning the validity of Jordan Henderson's form. In no way should there be a question over his character, or his desire to improve this Liverpool team. There is simply an issue regarding his alarming poor form this season. The logic suggests sentiment has to be taken away, if continued success is to be garnered by the club.
In any top-flight career, there will always be an eventual regression in both form and ability. The crossroads of any footballing career will always present different pathways towards the end. James Milner has evidently accepted becoming a backup player, whilst maintaining his role as a senior player within the dressing room. Jordan Henderson must now decide how he views the final phase of his career, much like James Milner did. If team selection is to be dictated by form (and not past achievements), then Fabinho and Thiago would then be followed by Harvey Elliott and Naby Keita. The next group would consist of Alex Oxlade-Chamberlain, Curtis Jones, and Jordan Henderson, and that is a fine selection of midfielders. With James Milner potentially leaving the reds this summer, it could see Jordan take over as a veteran utility option. Experienced players are an important presence in any elite squad, and Hendo could still perform admirably as a backup to the first team.
With Neco Williams now on loan at Fulham, it can be safe to assume that he will not return to the club. When Harvey Elliott returned to the club (last summer), it was clearly by design that he would be integrated into the Reds' midfield. With regards to Neco Williams, Trent Alexander-Arnold offers perhaps the biggest obstacle in world football, in attempting to dislodge him from his position. Given that fact, there could well be a multifunctional role for Henderson going forward.
We currently have one designated holding midfielder (in Fabinho), and may well look for a more defensive minded midfielder this summer. The integration of new midfielders or fullbacks within the squad has often offered a time period of adjustment. Given this fact, Jordan Henderson could act as a solid back up to both the Brazilian, and Trent Alexander-Arnold next season. His continuing role as a rotating eight, would then almost mirror the role Milner currently holds, and therefore aid the squad as it develops.
Jordan Henderson should absolutely be commended for his period at the club. There was a time when Henderson was offered in a swap deal for Fulham's Clinton Dempsey, under the Brendan Rogers regime. Jordan showed the character and willingness to overcome any and all obstacles, and became a valued club captain. His ability to maintain his stature within the dressing room, is in no way in question. It is merely his inability to perform to an elite level, within an elite footballing side. The evolution of any team requires hard decisions, that may twist or divide a dedicated fan base. The most logical step is simply to ask, who is deserving of a place in this brilliant team, and who deserves to start within such an elite group of players. The excitement regarding Harvey Elliott, Luis Diaz, and Curtis Jones, means talent must take precedence. If Liverpool are to compete with Manchester City during Klopp's final years, there can be no exceptions made.
The way in which many supporters continually back their captain is commendable, and even understandable. I have seen countless versions of Liverpool, and it is always a difficult period to see certain careers start to wane. Steven Gerrard was a player I viewed with admiration throughout his career, yet that game against Stoke is something that still lingers. To halt progress, is to ignore what is plain to see. The next phase of this team must see new players emerge, and that can only mean others stepping aside. Form should always dictate inclusion, and new talent embraced. With what we have viewed this season, both Harvey Elliott and Naby Keita must be the players backed to fill that third midfield role, even if that sees the Liverpool captain stepping aside.