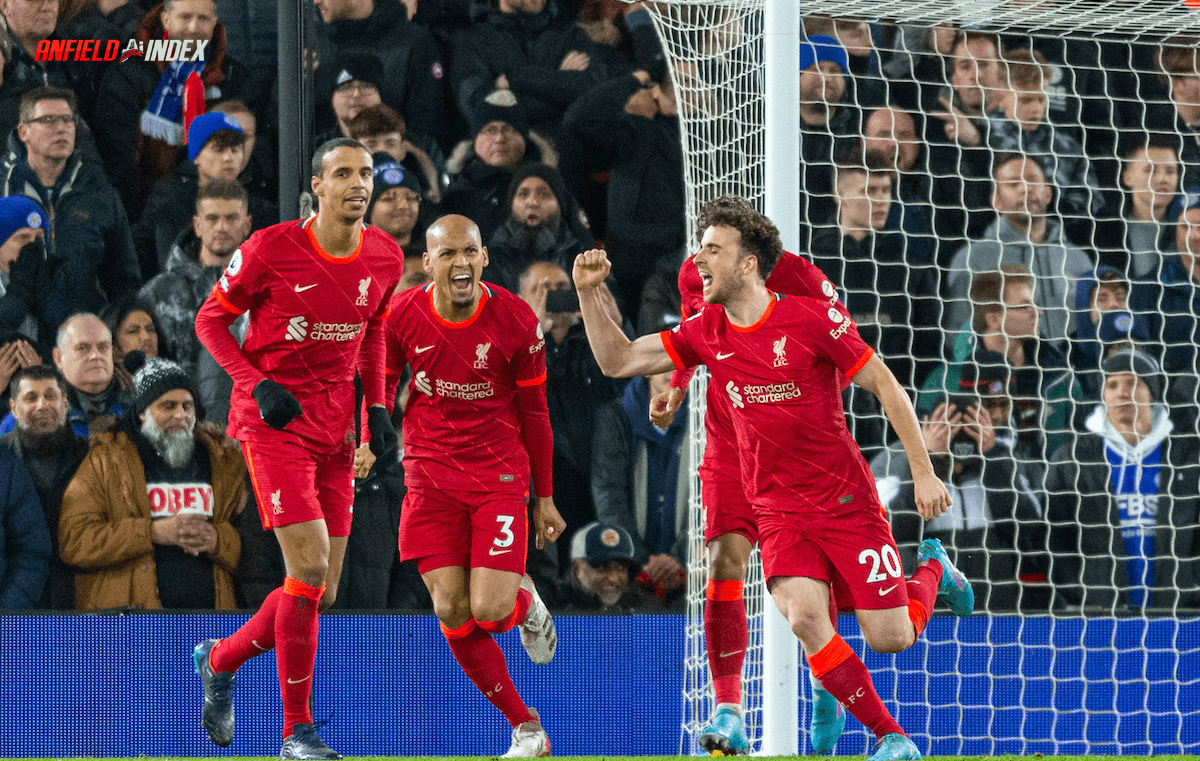 Under Pressure: Fabiago, Perfect Pressing & Aggressive Defensive Lines
After a busy week where the Reds faced Rodgers' Leicester City side at Anfield, and travelled to Burnley to face the team propping up the Premier League, it meant a double header Under Pressure podcast. Gags returned to host and was joined by Dan Kennett, Dan Rhodes and Phil Barter. In a bumper edition there was plenty of detailed statistical analysis including the performance when Thiago and Fabinho start, the brilliant pressing versus the Foxes and the number of offsides that the high defensive line is causing for the opposition this season.
The podcast started with Gags highlighting how long the collection took for the victory at Anfield: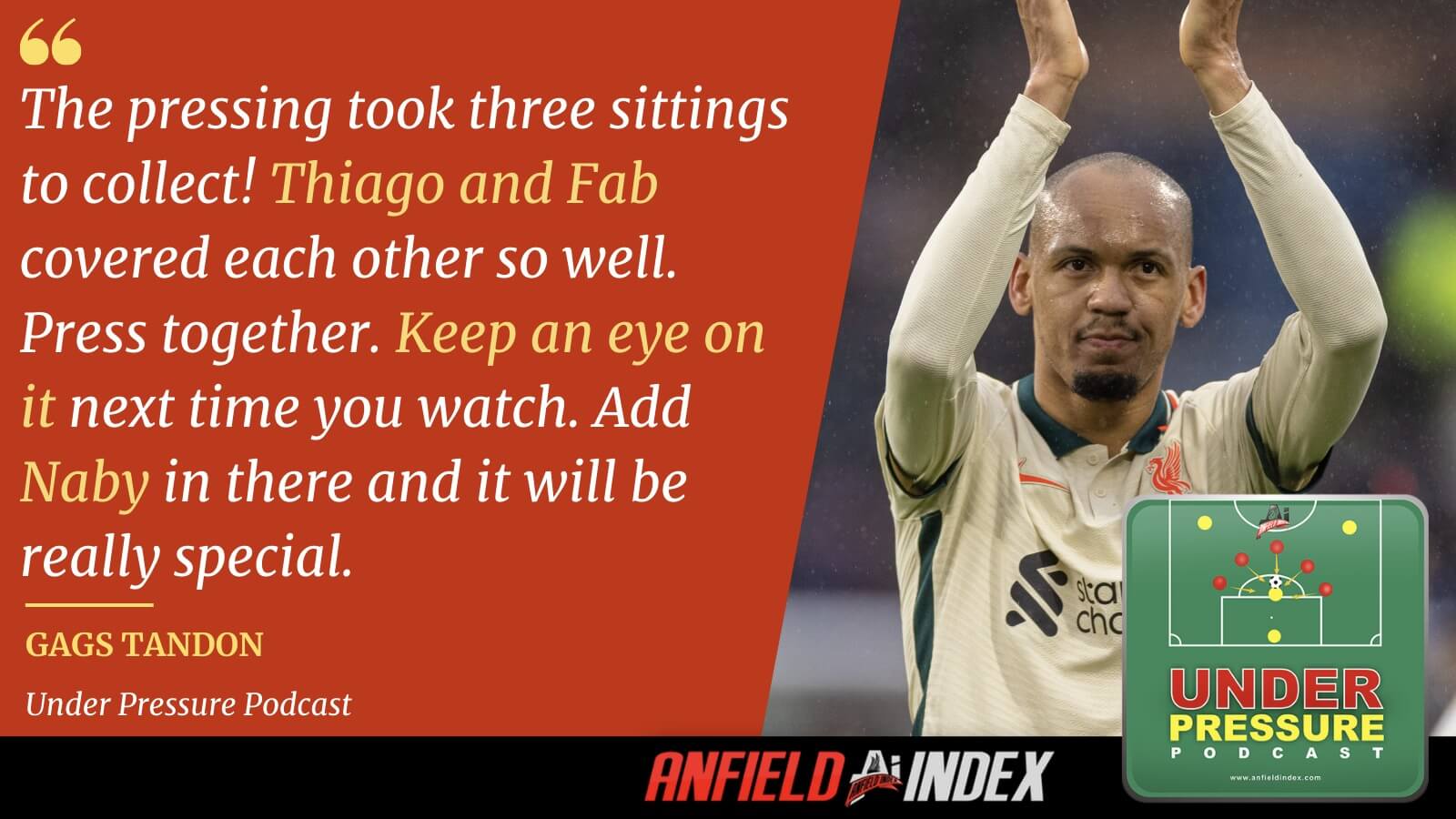 There was also some stats on Fabinho's individual pressing performance:
Fabinho's stats line was impressive: 26 presses, 11 high value, 8 possession wins, 3 led to shots, 2 of which were big chances and 6 led to counterattacks. Phenomenal. Dan K
This was supplemented by some excellent research by Dan looking at how good Liverpool's results – and underlying numbers – have been when Fab and Thiago start in midfield.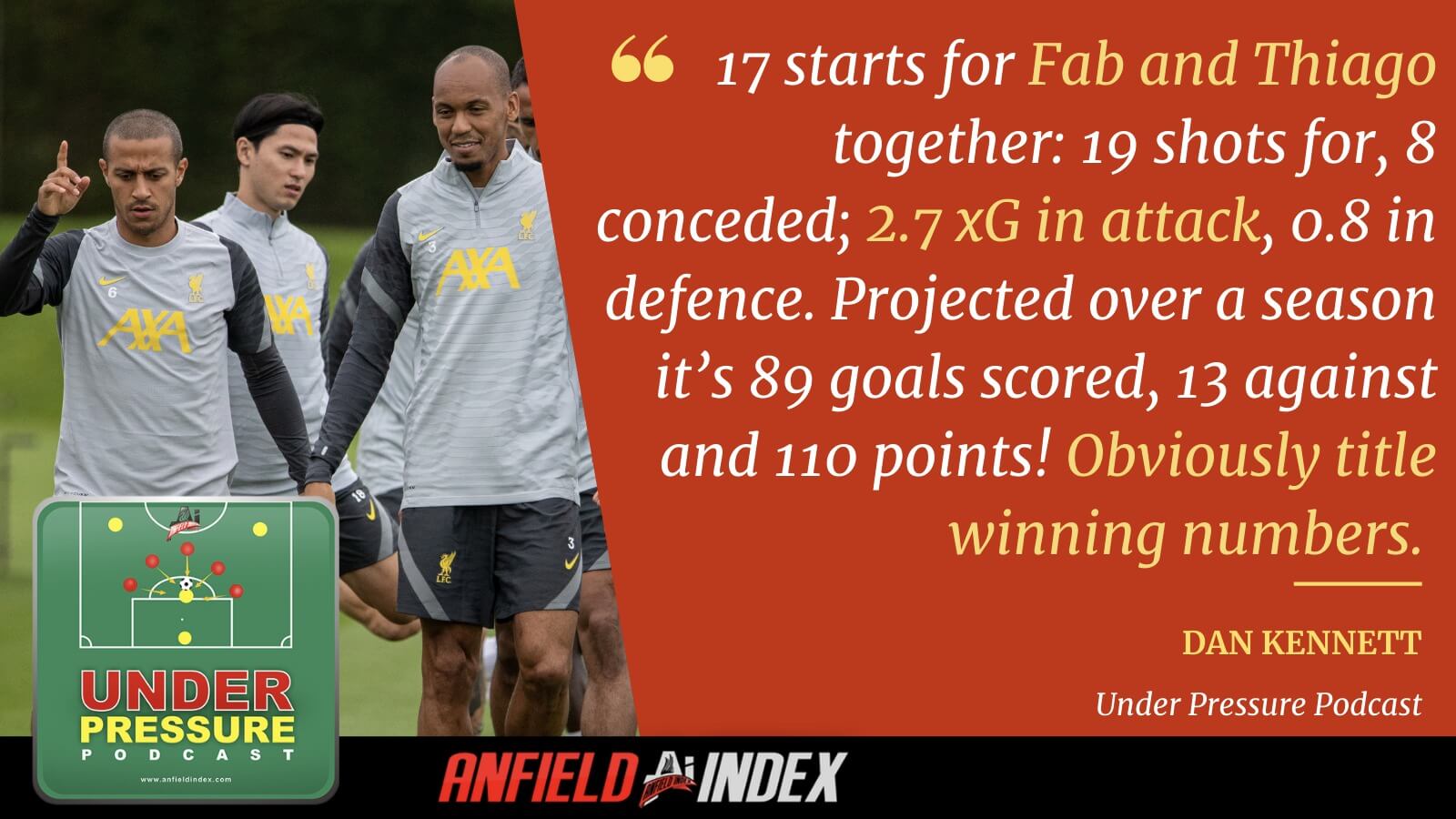 There was a word of caution about how we are overperforming defensively when they start, suggesting there could be some regression at some point. Expecting 110 points in a season is probably unrealistic, but Dan was adamant that with this level we should still achieve a minimum of 95 points if it continues.
Next up was me outlining the overall pressing against Leicester, and how it has to be up there with one of the most productive we can remember.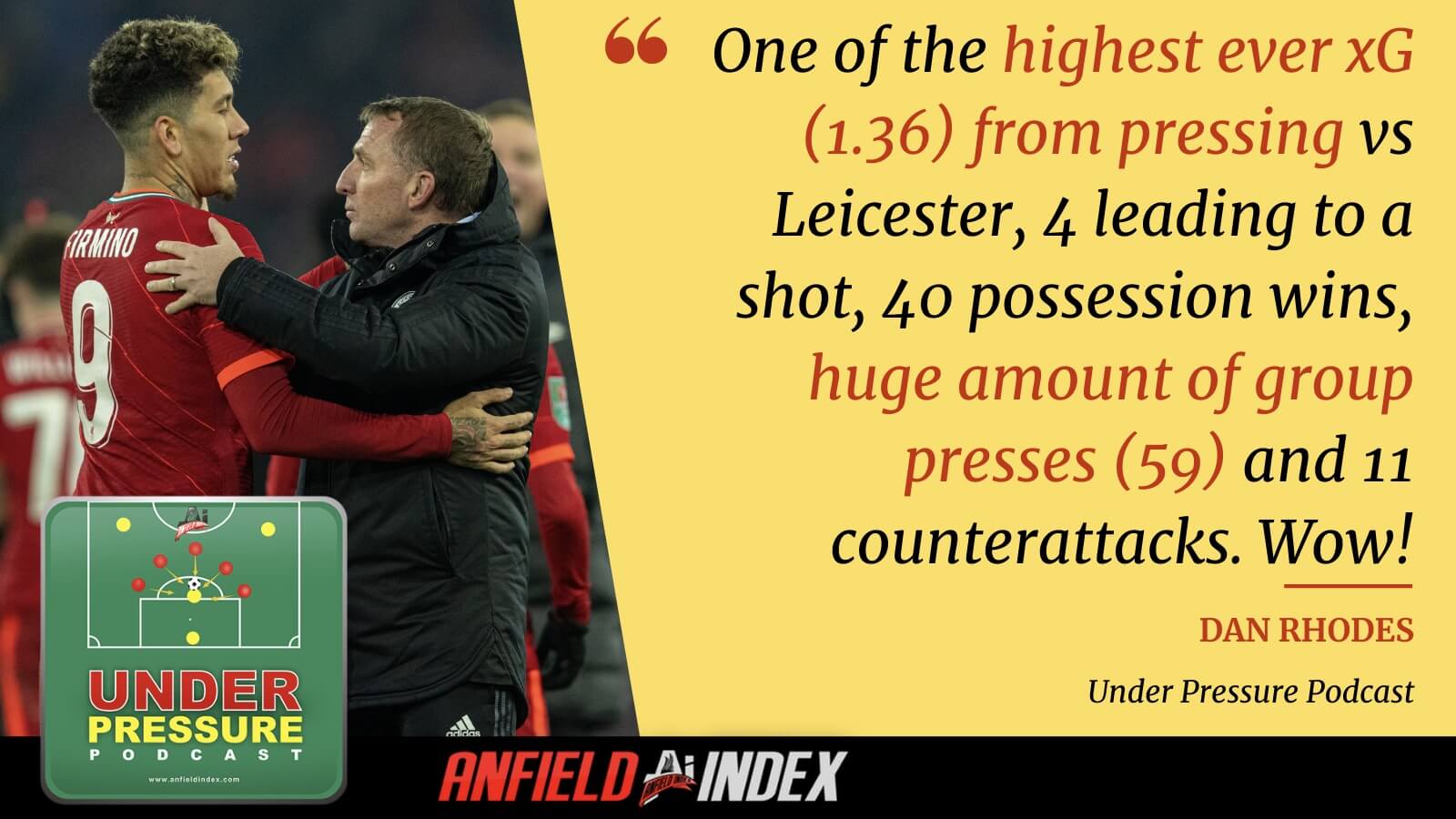 There was also an in-depth look at how aggressive we are with our defensive line, and while there is a chart below looking at the results, it is worth listening to the section in the podcast to supplement it: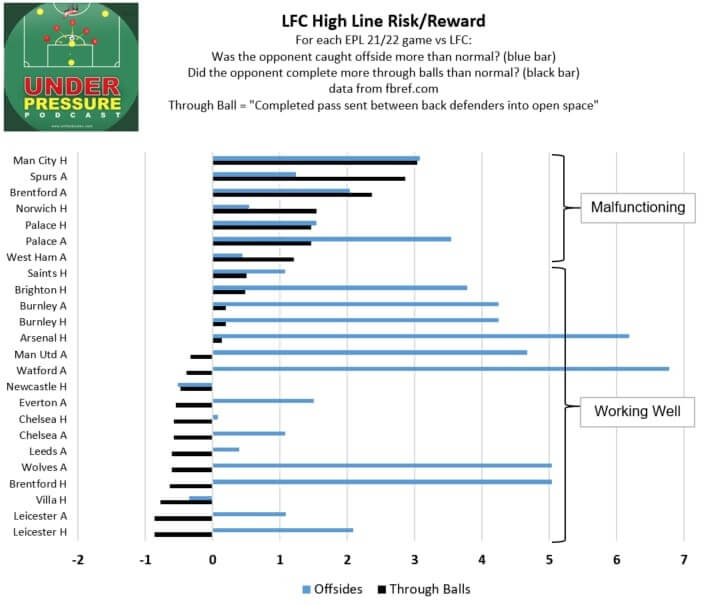 Finally, Phil discussed why perceptions are so often influenced by the new offside rule of allowing play to continue despite the offside flag going up once a shot has been taken.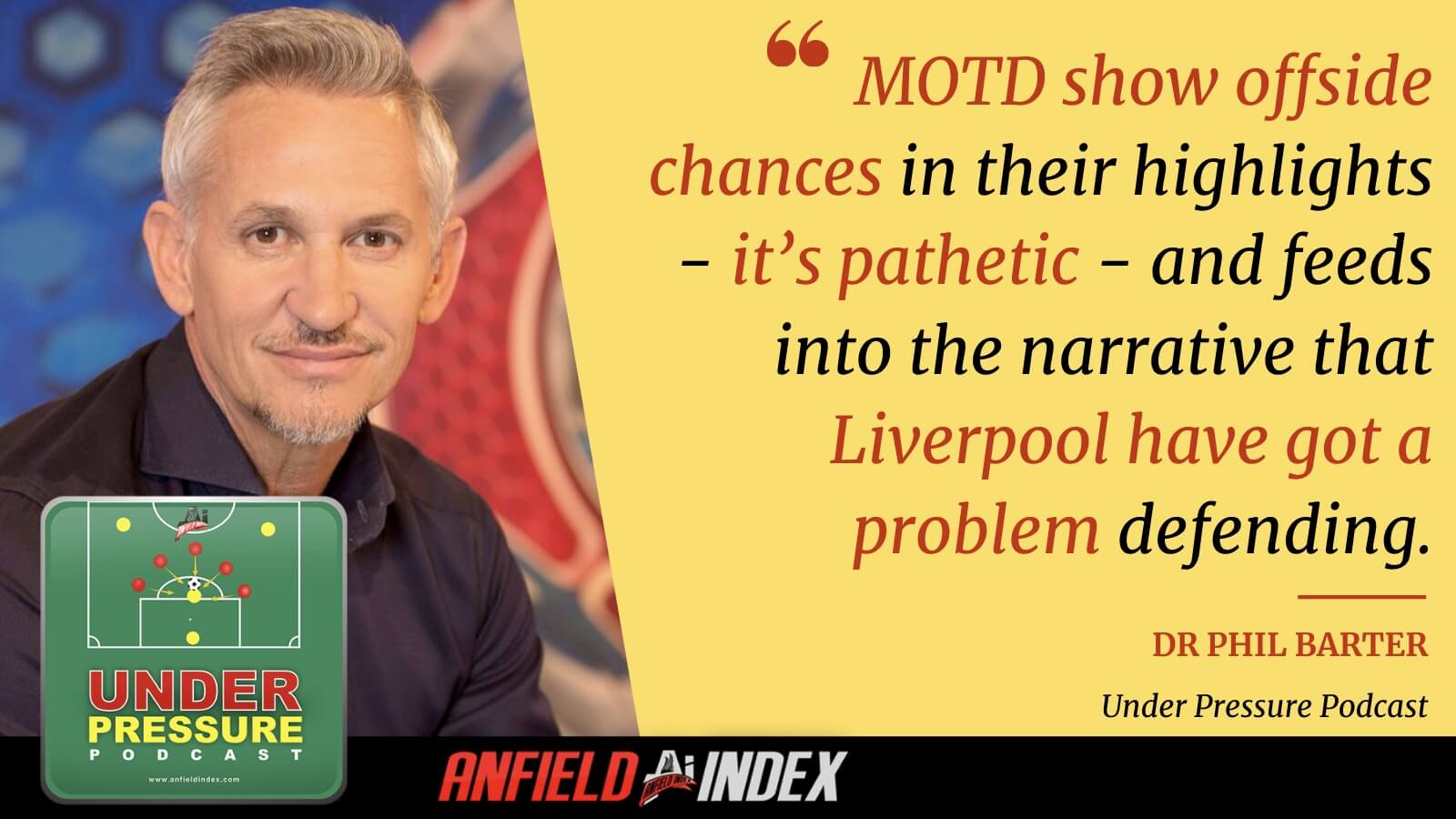 If you want to listen LIVE to any Under Pressure podcast, you can by subscribing to AI PRO here and also joining the Discord channel where all the best shows are recorded, and often includes lots of interaction with subscribers as well as plenty of Data Viz in the live show chat.
You can find a lot more statistical analysis on the UP Twitter feed by following them here, As well listening to the most recent episode on the embedded player below.