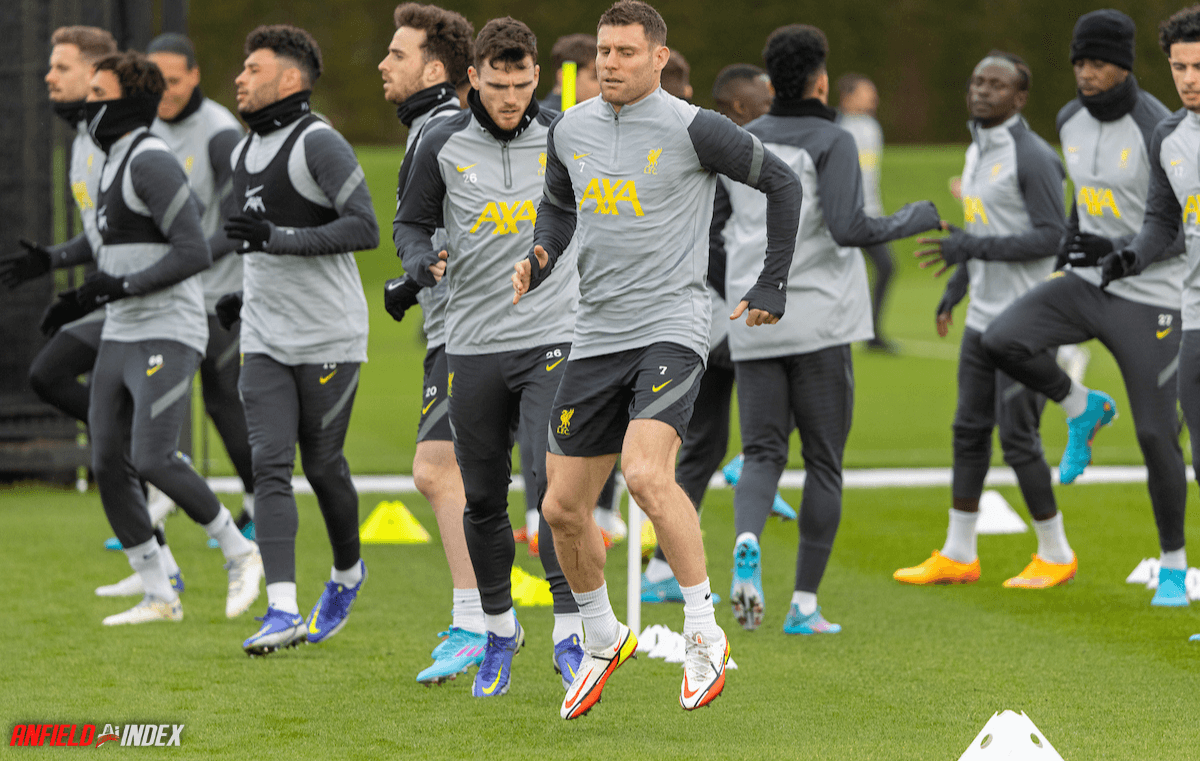 The Curious Case of James Milner

In the past few days, we have seen reports of James Milner signing a new one-year contract at Liverpool Football Club. At 36 years of age, he has become a trusted lieutenant to reds boss Jürgen Klopp, within his elite group of players. The minutes have diminished, the ability has been on the wane for sometime, but the trust in which Jürgen has placed in some of his senior players appears equally as important as on-pitch value alone.
There is little doubt that the fanbase trusts the logic and actions of Jürgen Klopp, and rightly so. Many decisions made, disputed choices decided upon, or acts undertaken can divide certain factions of any supporter group. I believe that James Milner is no longer able to add to this group as a starter, but can be an asset to the squad nonetheless. I have no idea how much this veteran footballer impacts the training ground (on a day-to-day basis), yet can imagine he's significant in pushing those around him. One could imagine that with so many young players, new signings, and future recruits coming to the club, Klopp is looking to maintain a leadership group outside of his own coaching staff.
We have seen Neco Williams leave the club recently, on a loan move to Fulham. We have also seen various injuries disrupt the numbers within this midfield group this term, meaning depth is vital. What we have not seen throughout the entirety of Jürgen Klopp's stay, is rumblings of discontent or disruption within his own dressing room. We all respect Jürgen for his intricacies and personality, yet he is only one man, and his staff cannot control certain occurrences on the training ground, or within the changing room. Jordan Henderson and James Milner remain captain and vice captain of this historic football club, and there is surely a respect of both men that keep them there. The choices may not of been his own, yet Klopp has decided to maintain this captaincy pair, whilst adding people like Virgil van Dijk to the leadership table.
Liverpool's greatest rivals are in pure disarray. Manchester United are the Premier League's greatest ever side, yet have become a club continually unable to stay in touch with the current top two teams. In the past we have seen celebrated leaders such as Brian Robson, Roy Keane, Steve Bruce and Gary Neville all govern the team under the masterful regime of Sir Alex Ferguson. The need for strong leaders within the group surely aided in such an era of dominance, and should be noted as such. Throughout that same era, Liverpool became a club that stumbled through thirty years, completely in their shadow of Old Trafford, and with no title wins to celebrate. Then something changed, and here we are.
In the last few years, the Reds have become identified as one of the world's strongest teams whilst under the management of Jürgen Klopp. Despite FSG not being to everyone's liking, it cannot be denied the way in which they have established a brilliant structure. Any club in world football could look at this structure, and take note of how they have engineered such a well oiled machine. Klopp is evidently the key at this stage, yet the moving pieces and support throughout the club have been vital also.
The playing squad which Jürgen Klopp has built, has an identity that personifies professionalism, hard work, camaraderie, and a bond we have not seen since perhaps the late 80's. To be able to maintain such a strong bond (under such extreme circumstances) must be both applauded and appreciated. With such intense pressure constantly on the agenda, Klopp is now making decisions that ensures that the group stays on point, throughout the remaining days of his term.
I wrote a piece in preseason surrounding that of backup keeper Adrian, commenting  as to how and why he had been given a one-year extension. The simple answer was clear. Adrian was good for the goalkeeping group, and in order to maintain the form of Alisson Becker, the training goalkeeper needed to be settled and what Alisson wanted. Adrian was never re-signed to play for the first team, and the raft of youngsters beneath Becker is very impressive. The continued employment of Adrian was thus bigger than his own on field qualifications, and in Milner this will be an even more apparent case. With Everton and Manchester United doing so much wrong recently, a new contract for a senior pro (to help maintain standards in the squad), seems sound logic.
To recognize the great steps this club has taken under Klopp, is also to respect the choices made to get there. Winning is not about pleasing everyone, it is about managing all areas that ultimately improve our chances of winning. If Milner gets a one year deal (presumably on reduced terms), that fine by me. This team is built to win, and this season could be the most glorious yet, and I'll go with whatever the manager wants in order to get there.
Now get the Mohamed Salah deal done.