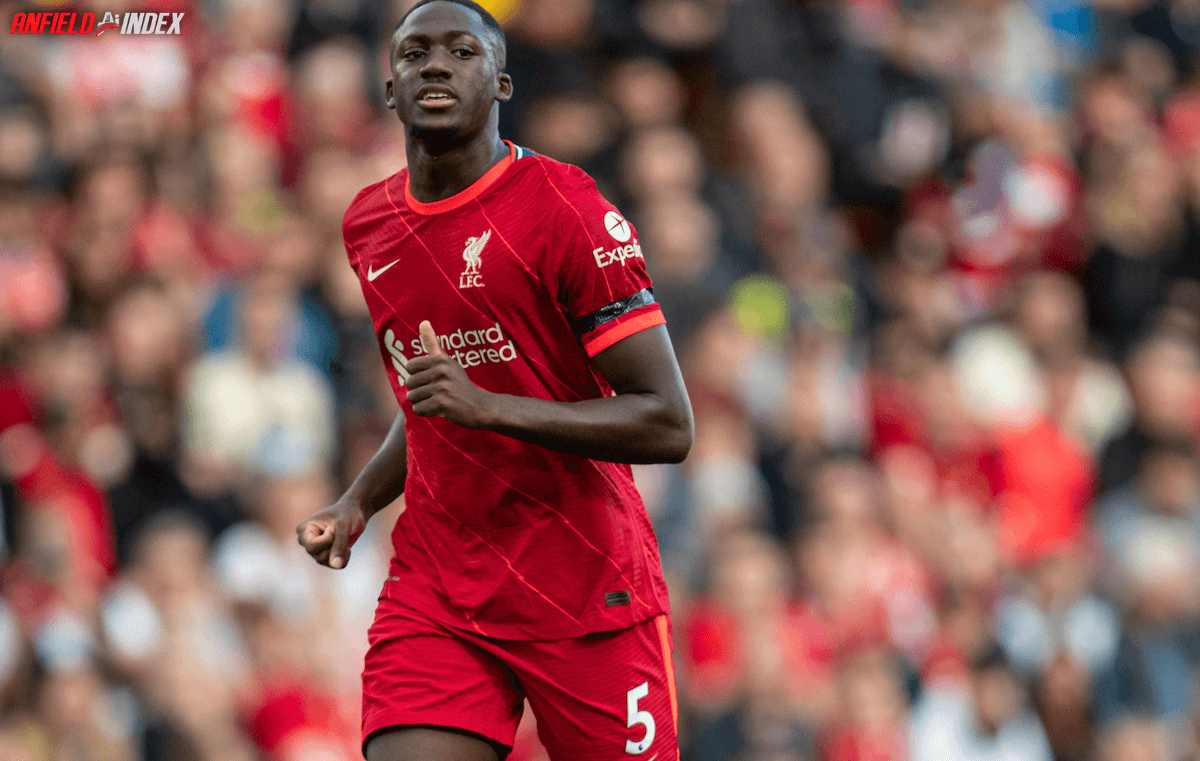 Ibrahima Konaté & The First Team Shirt
When Jürgen Klopp became the Liverpool manager his central defenders consisted of Martin Škrtel, Mamadou Sakho, Dejan Lovren, and maybe a few more youngsters. As we enter the crunch period of this season, Liverpool possess perhaps the strongest array of central defenders in European football. When they won the Premier League two years ago, it was a Virgil van Dijk and Joe Gomez pairing which helped propel the Reds to their first title in 30 years. The year prior, Joël Matip was paired with Virgil Van Dijk, and this too was a brilliant pairing that enabled them to win Europes most coveted trophy.
After last season's horrific list of injuries (in defence), Michael Edwards quite rightly recruited the enormous services of 6ft 4inch Ibrahima Konaté. At the beginning of the season Matip quite rightly resumed his place as Virgil's starting partner. Though Matip has had a good overall season (with some scintillating runs thrown in for good measure), it's becoming very difficult to deny that Konaté should be in the first team. More and more we see teams targeting Matip, especially when there is a strong target man involved. This coming Sunday Liverpool will travel to Wembley to face off against Chelsea and potentially their own imposing striker, Romelu Lukaku.
Ivan Toney and Wout Weghorst are just two of the imposing strikers that have given trouble to Matip this season. When Liverpool played Inter Milan recently, Edin Džeko was the attacking legend that needed to be controlled within that game. When AC Milan entertained Liverpool (also at the San Siro), another legendary striker, Zlatan Ibrahimović, was the attacking threat that day. In each of these European games, Ibrahima Konaté was tasked with dealing with the physical attributes of each. In the League Cup Final on Sunday, Liverpool could be facing up against Lukaku, who like those noted strikers before him is unlikely to target Virgil van Dijk directly. There will be moments of course where the two collide, but given Joël Matip struggled at points this season, he will automatically become a viable target for Thomas Tuchel's Chelsea side. And given this likelihood, Jürgen Klopp should be looking to start it with Ibrahima Konaté, and really start to mould him into the first team starter he looks likely to be.

To imagine that Thomas Tuchel will not have a game plan laid out, that will enable Chelsea to inflict damage on Liverpool, would be wrong. Tuchel would've seen that Joël Matip has been susceptible on occasion, especially to certain strikers. Jürgen Klopp needs to pre-empt any action against his rearguard, and employ Konaté from the very beginning. Ibrahima Konaté is perhaps the best young defender in world football, and is beginning to look outstanding, especially when paired with the world-class Virgil Van Dijk. With Chelsea now feeling the brunt of injuries within their wide options, they may look to use their target man more and more during this game. If Chelsea were to play more directly, and to look at his own strengths, he is more than capable of showing why he's a world-class forward.
Ibrahima Konaté is a future defensive leader, and his pace, power, ability to play a high line and sheer size, means now could be the time to give him a first team shirt. Starts will always come, and when the time comes, he will of course be ready. The situation with any Final, is that they simply do not come around that often, and a huge occasion such as this, may just be the perfect time to fully introduce the immense talents of Ibrahima Konaté.