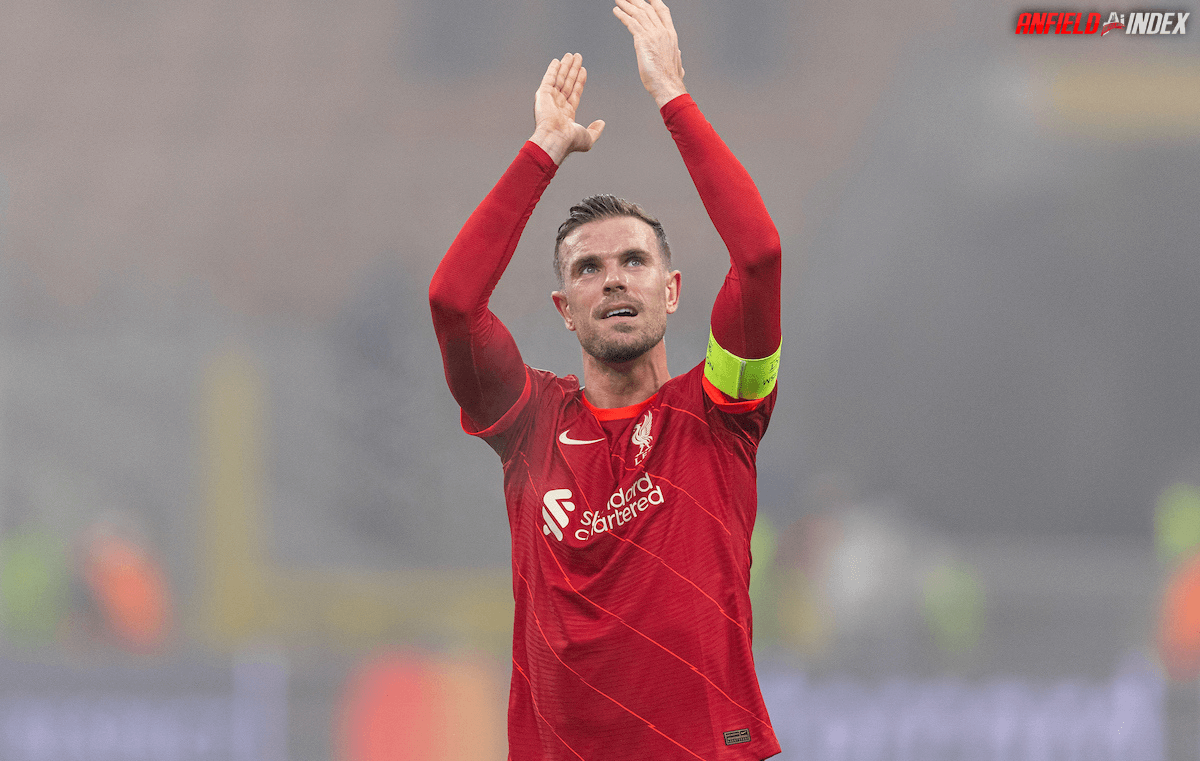 What is Jordan Henderson's best position for Liverpool?

It feels as though we have this conversation every other year. Jordan Henderson will play a different role and there will be a big debate with regards to whether the new position is actually the best one for him moving forward. 
There will then be a fair bit of revisionism as people highlight their opinions from a few years back as if to say told you so. 
We're seeing it now. He came off of the bench against Inter to replace Fabinho as the deepest midfielder and then started there against Norwich City. 
He wasn't as flawless as some are suggesting – that flat midfield was back against Norwich in the first half –  but his use of the ball in both matches was as good as it has been for a while. He's been progressive, probing and positive. 
I've now seen some online say he should start the big games ahead of Fabinho. I realise that this is not the general consensus, I just wanted to flag that this is a narrative that is out there in the world following 120 minutes in this role over the last week. 
If you cast your minds back, the same thing happened in 2019/20 when Fabinho was injured and Henderson filled in as the defensive midfielder. It also happened in 2018/19 when the captain was finally deployed as the attacking right-sided player in a midfield three. 
This might just be a UK thing but every year or so, you discover the toastie maker in the cupboard and you live off them for a week. For the first few days, you wonder why you ever removed toasties from your daily diet but then on day six, you remember that you can't eat if the roof of your mouth is forever burnt and not every meal has to involve cheese. 
Henderson moving roles is like me finding the toastie maker. 
In 2018/19, I remember that Southampton match so vividly. Liverpool, in the purple kit, went 1-0 down. The starting midfield was Naby Keita, Fabinho and Gini Wijnaldum. Keita scored the equaliser before half-time and then Henderson replaced Wijnaldum on the hour mark. 
The skipper was up and down that right flank and he got on the scoresheet with a late run into the box to fire home. His high energy down the right side was the perfect foil for Mohamed Salah and Trent Alexander-Arnold. He was a facilitator and it just worked. 
Fabinho's injury forced him to return to the No6 role a season later and he did well initially. But then you start to see his limitations in that area of the pitch and how it impacts the play. The plaudits turn to criticisms before he eventually returns to the No8 role and the cycle starts all over. 
I think, because of how divisive Henderson is amongst the fanbase, there is always an eagerness to overdo, well, everything relating to him. Good performances are elevated to perfect ones while average ones are declared awful. 
He is criticised more than others but he is always praised more than others. He is simultaneously underrated and overrated. 
For the current iteration of this Liverpool team, Henderson can clearly do a job as a defensive midfielder against certain opposition and he should be used to manage Fabinho's minutes. He can also play a significant part in our success from the right side of a midfield three, but that doesn't necessarily mean he has to be a starter there all of the time.  
There should not be such haste to declare him one or the other. He can be both.