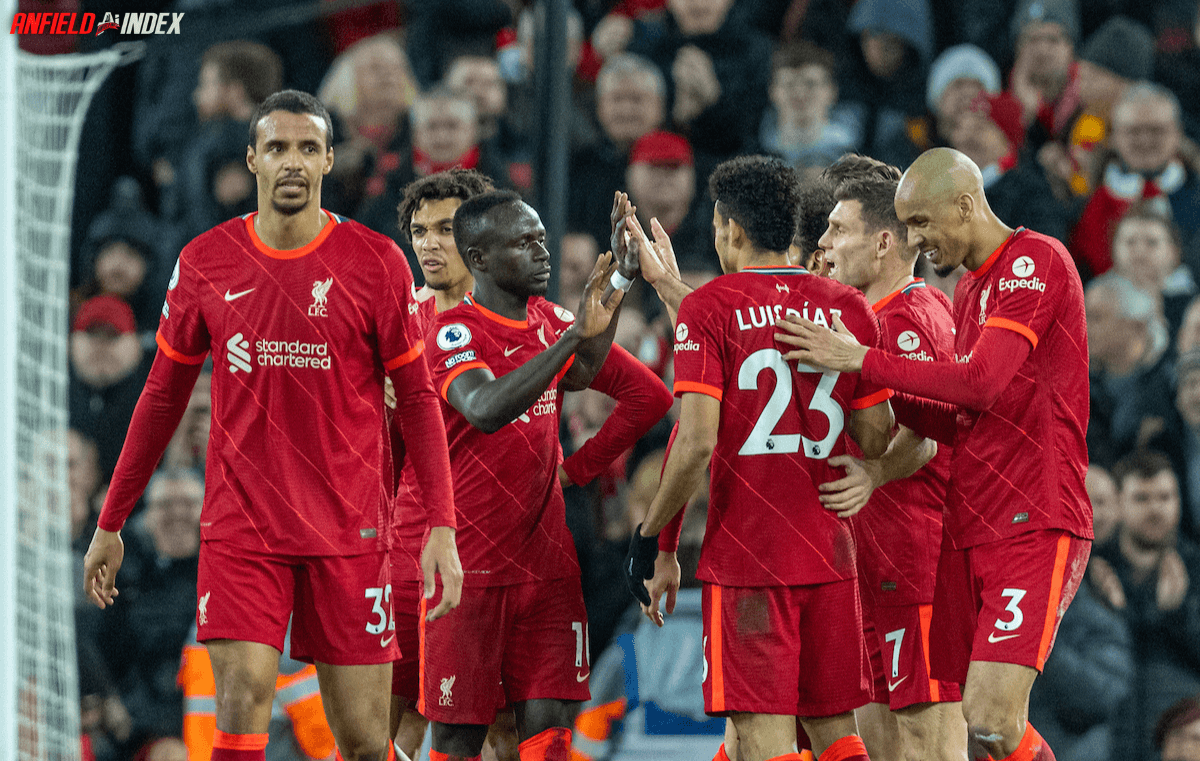 Liverpool 6 - 0 Leeds - The Player Ratings
Liverpool 6 – 0 Leeds – The Player Ratings
Alisson Becker – 7.5
His last start before he makes way for the final, and was a spectator in this one as he will be on Sunday. Continued to watch the game, as nothing much came into the reds half.

Trent Alexander Arnold – 8.5
Back into the team, the playmaker wide man was a welcome starter again. His first half interchanging with Mo was a delight, with his ability to adjust as needed so natural. Attended to all his defensive work in the first half, with rare breaks inevitable. Was less industrious in the second, as Leeds retreated. Had some late joy, as the game rose up again after Mane's goal.
Andy Robertson – 8.5
A position now rotated by two great left backs, Robbo came back in. Played as a left winger (basically), and created the first penalty with a low cross that was handled. Kept up his impressive left side partnership with Diaz, with constant threats through the first half. Still offered good width into the second, but as with so many, held back a little with the game won in the first half. Delivered a perfect corner at the death, for big Virgil to power hole.
Virgil Van Dijk – 8.5
The defensive powerhouse and team leader is simply undroppable. Controlled, snuffed out when needed, and cruised through the first half. Was able to continue catching Leeds offside, with supreme command of his line through the second half. A towering head at the death summed up a great game.
Joel Matip – 8.0
Maintained a starting place, despite huge pressure from the enormous Konate. A touch shaky and then fortunate with the Leeds disallowed goal. Then he strode forward, and finally got the goal his season of attacking adventures had threatened. A great run to instigate, and then lift over the keeper for his goal.
Fabinho – 8.5
Back to add steel, and was more involved in the attacking patterns of play in the first half. Became more a shield into the second half, with his positional play important to stopping any potential breaks.
Thiago Alcantara – 8.0
The midfield magician started, with high hopes he can stay fit till the seasons end. Added sublime moments of game control, and he coasted through the first half. Was more of a keeper of possession before safely leaving the field in preparation for Sunday.
Subbed 67 mins
Curtis Jones – 8.0
Given another chance to impress, and after the quick free kick prior to the first goal, really started to flow through the first half. Continued to impress, and shifted to the left of midfield when Thiago went off. Was keen to score, and gave a good attacking option in midfield before leaving the field.
Subbed 75 mins
Luis Diaz – 8.0
Given another chance to bed in before the final, and his endeavor was a joy to watch. So dangerous, and Ayling was torn inside out before a saved shot in the Gk first. Less space was available in the second, but his importance to this squad is undeniable.
Subbed 83 mins
Sadio Mane – 9.0
His new central role was given another chance tonight, and his moved intelligently around the pitch, with his man marker beside him. Won the second penalty with a smart move, and looked lively in the first half. Got his goal late on, with some smart play allowing him roll into the net. His second goal was deserved, with Liverpool rallying late to inflict full damage to a struggling Leeds side.
Mohamed Salah – 9.0
The worlds greatest looked ominous against Norwich, and was sensational in the first half here. A good first pen, a blistering second pen, and a lovely assist for Matip saw Mo scintillate through the opening 45 mins. Chances were more limited through the second half, as he searched for the third goal. A hockey assist allowed Hendo to feed Mane, as Liverpool finally got their fourth goal late on.
Subs;
Jordan Henderson – 7.5 (on 67)
On for Thiago, and looked to add both tempo and control in a second half far less lively. Was instrumental in the fourth goal, and assisted Mane for his goal.
James Milner – 7.0 (on 75)
On for Jones, to add more solidity instead of attacking strength. Some strong tackling allowed Liverpools more attacking players some late joy.
Divock Origi – 6.5 (on 83)
Was on hand to make sure Diaz remained fit for Sunday. His work allowed Mane to score his second.
The Manager;
Jurgen Klopp – 10.0
He went with an attacking starting lineup, and clearly wants the new look front line to get as many minutes together as possible. The team tactics saw Liverpool utterly dismantle Leeds through the opening 45 mins, and his selection was looking inspired. The second half was a slower period, with Leeds dropping deeper and Liverpool looking to control rather than rampage further. Some good subs to ensure important players stayed safe, and managed the game brilliantly. . The final 15 mins of play was a delight.
Manchester City, here we come.
Predicted Player to Watch – Mohamed Salah
Predicted Result;
Liverpool 5 – 0 Leeds
Steven Smith