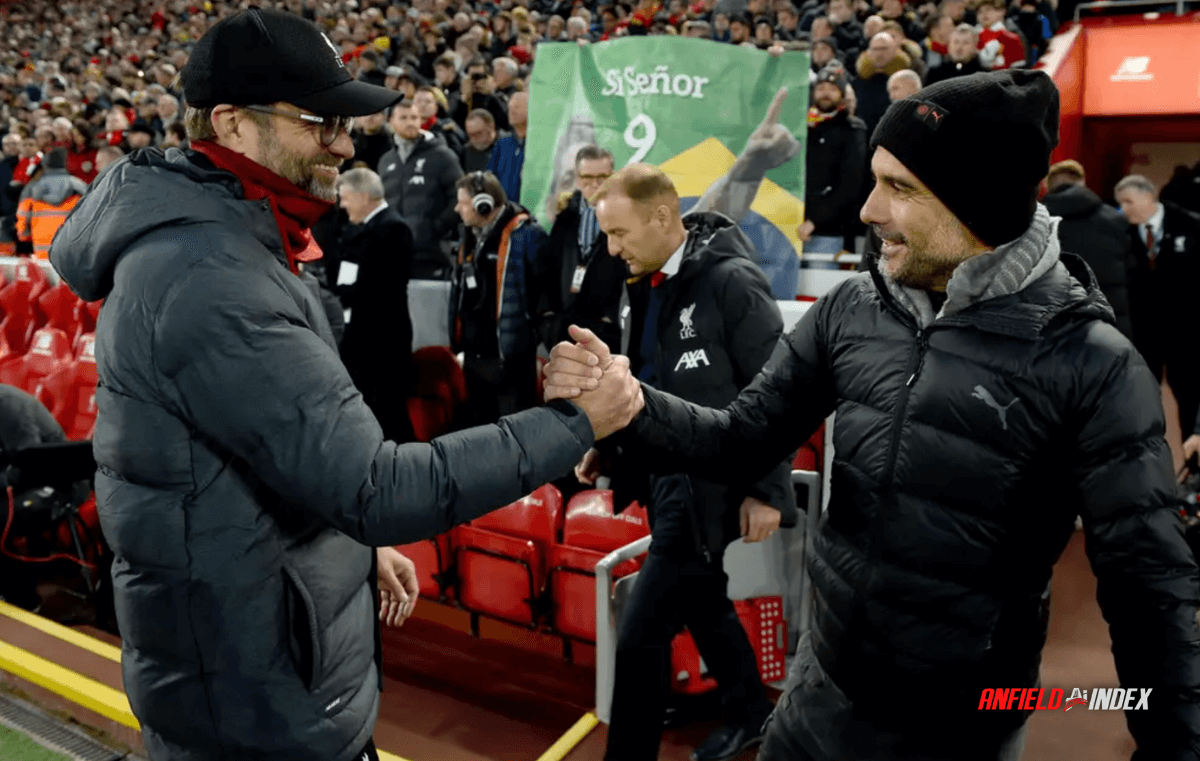 Klopp vs Pep - The Numbers Behind The Rivalry
Is it the greatest rivalry in the history of English football? Jurgen Klopp versus Pep Guardiola, Liverpool versus Manchester City. Records are constantly being broken: the first and only team to achieve 100 points in a league season (Man City – 2017/18); the biggest lead ever in English football at the top of the table (Liverpool, 25 points – 2019/20); most consecutive wins in all competitions (Man City – 23, 2021/22); earliest title victory in history (Liverpool, with seven games to spare, 2019/20); most consecutive away wins in the top four divisions (Man City, 12) but perhaps the most impressive record of them all is the Reds' frankly ridiculous number of points over a 38 game stretch:

If you want to check out a bigger list of the records these two sides have been setting – and there have been plenty of others – have a look here, here and finally here.

But it's that 110 points total that leads me into the crux of this article, and the excellent work done by Under Pressure host, pressing data guru and full time data analyst Dan Kennett, alongside that by Ben Pugsley, co-creator of Statsbomb and one of the first to ever delve into the world of data in football. They both posted some charts and graphs on Twitter that last night, and it is a fascinating look at the rivalry between the two sides.
First of all, here's the rolling points, and what Dan had to say about it:
#LFC firmly on the upward trend again in terms of 38 game performance [Niche nerd aside] it still shocks me that that the vertical axis on this chart goes to 110 and that Klopp's 95th percentile is 100 points. This team has reached heights that even Pep hasn't scaled.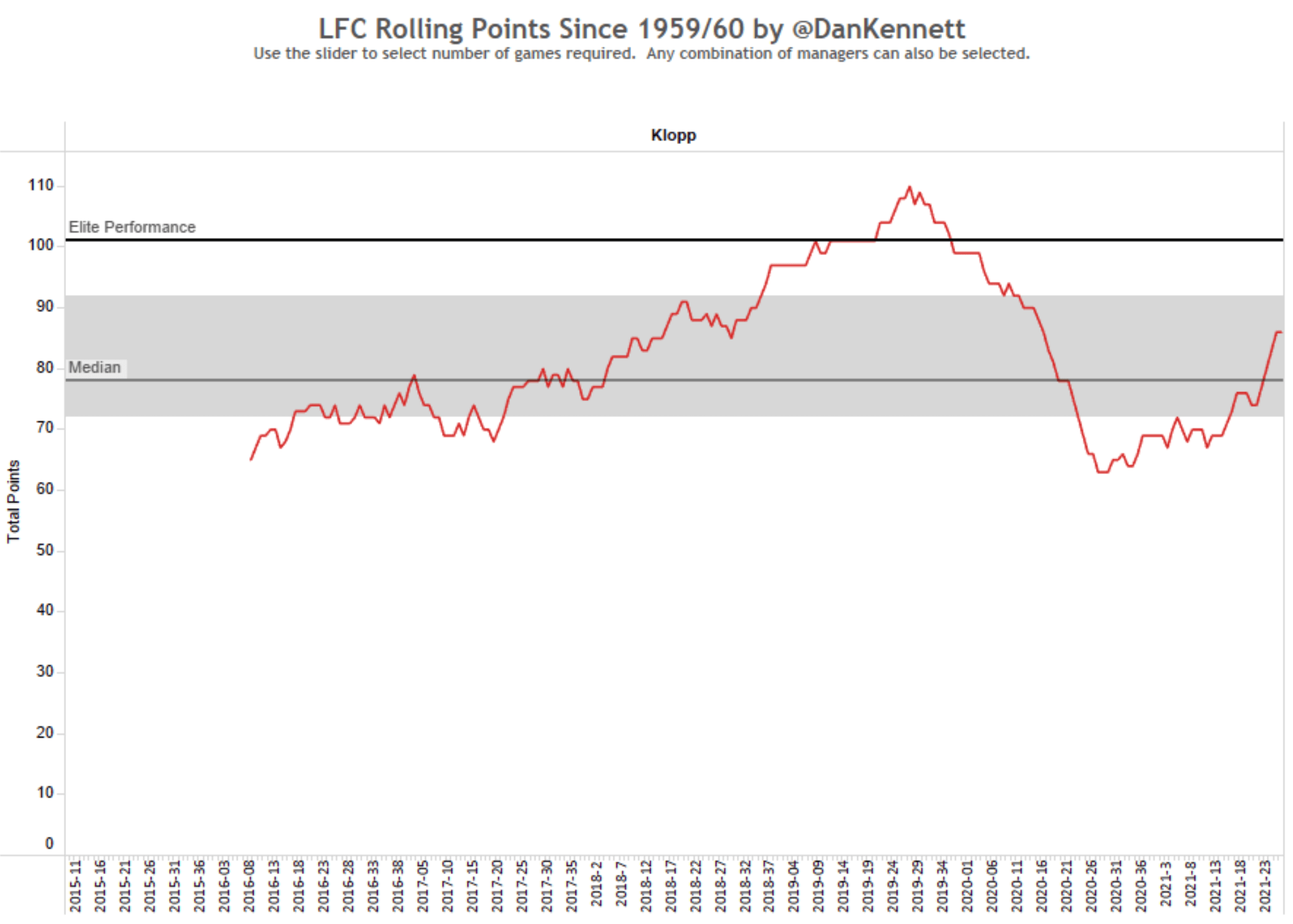 As you can see, Klopp set the almost unbelievable record of performing at over 100 points for a period of time, peaking with the 110 point record mentioned above. When you compare this to a chart by Ben looking at both managers' records it makes interesting reading.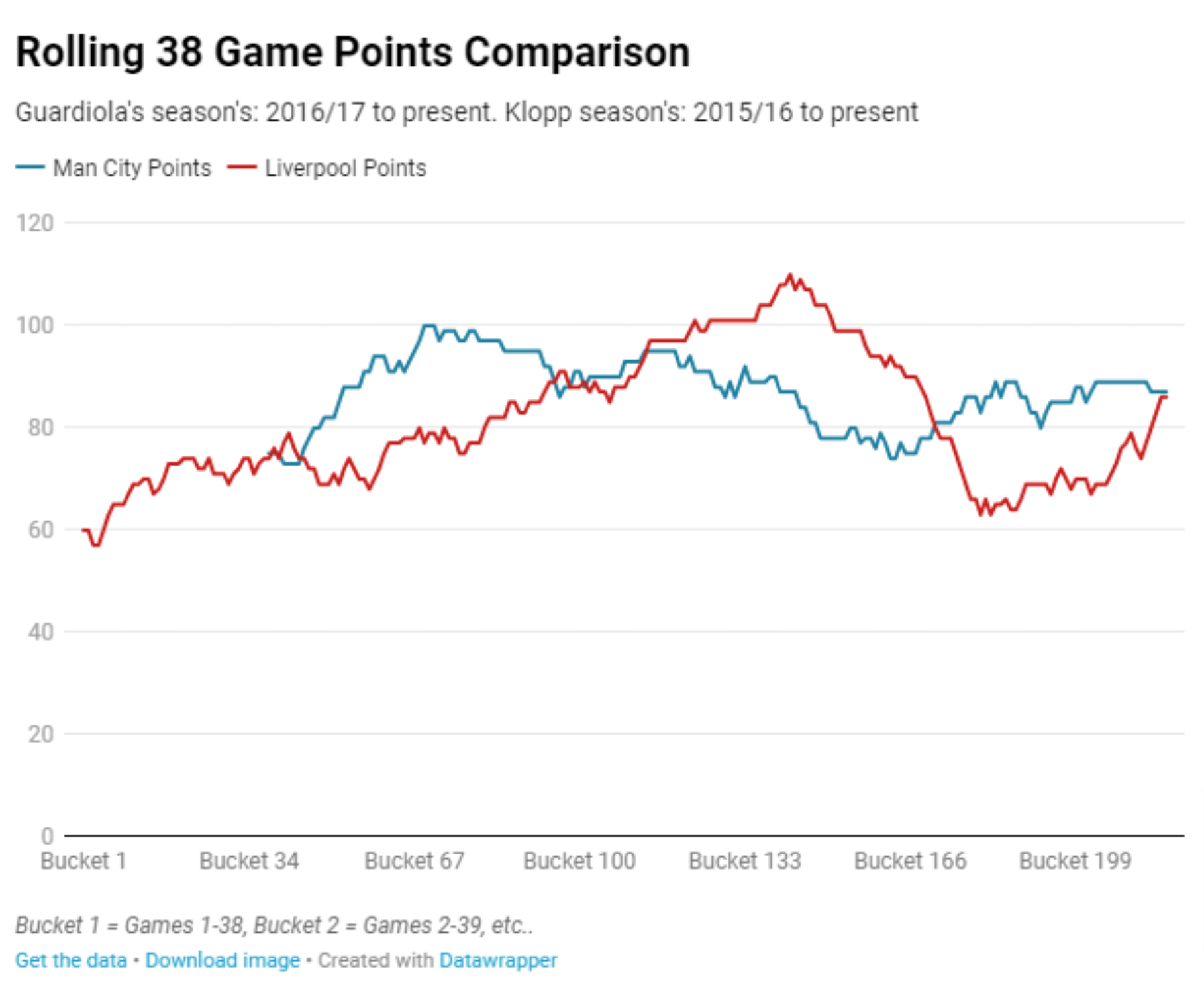 The above chart shows that Man City two clear periods of performance – in terms of points – above what the Reds' have been able to achieve, however, it confirms what Dan's chart showed, and that's Liverpool having reached the highest level of either side – and that was for a sustained period of time before Covid hit. Perhaps more relevant to recent times is that after the dip once the title was won – and last season – we are now back level with the Citizens. Both teams close to a ninety point rolling 38 game level. This is particularly fascinating when you consider how close the league table is at the moment, with Klopp's side to visit the Ethiad in what could be a title decider. The Gif below also confirms that the same level of elite performance is the same across goals scored, conceded and goal difference: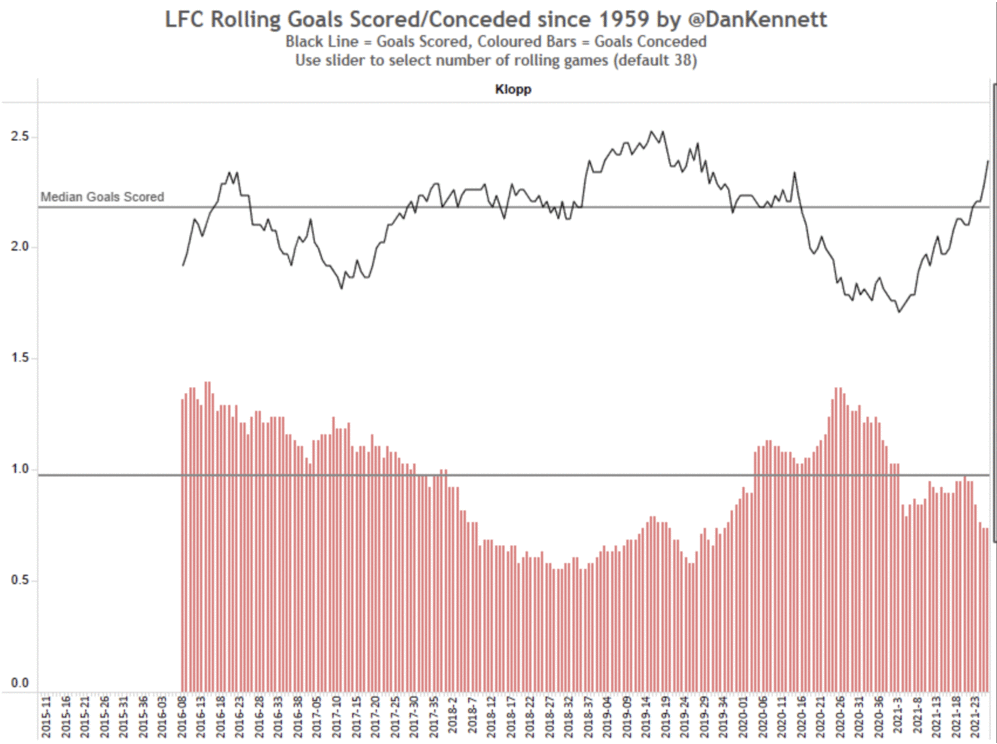 While there was the obvious drop in the Reds' performance last season – due to a number of factors, it is clear that since then and especially since the run-in that led to Champions League qualification, both sides have been performing at extremely high levels; maybe not compared to both sides' peaks under these managers, but certainly on par for ninety plus points. Of course, as 100 points (or indeed 99) has never been managed by any side in English football's top division before, it is tough to keep those levels up – but what's for sure is that at the moment, both sides are neck-and-neck. Should be a fun run-in…
If you want to listen LIVE to any Under Pressure podcast, you can by subscribing to AI PRO here and also joining the Discord channel where all the best shows are recorded, and often includes lots of interaction with subscribers as well as plenty of Data Viz in the live show chat.
You can find a lot more statistical analysis on the UP Twitter feed by following them here, As well listening to the most recent episode on the embedded player below.
Also, follow Dan Kennett here, and Ben Pugsley here.