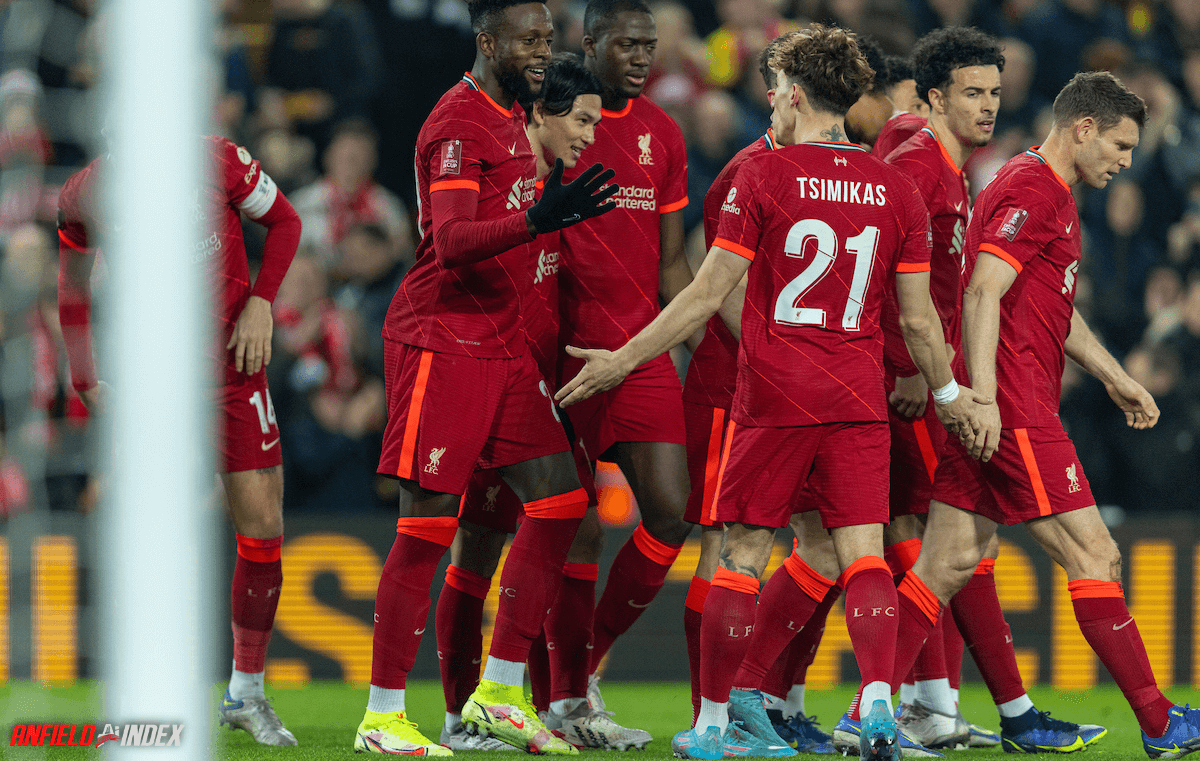 Liverpool 2 - 1 Norwich - The FA Cup 5th Round Player Ratings
Liverpool v Norwich – The FA Cup 5th Round Player Ratings
Alisson Becker – 7.5
Back in nets, with some game time needed before the weekend. Had very little to do through the first half, other than an early and late flurry by Norwich. Wasn't at fault for the goal, and produced a great save late on. His vocal leadership was needed.

James Milner – 7.0
The vice captain, now confirmed as the back up right back, came back in. Seemed to enjoy the position on the flank, with a willingness to cross and feed the front line as required. Carried on, and perhaps faded as the game went on.
Kostas Tsimikas- 7.5
A deserved start for the creative full back. He started by offering great width and energy throughout the first half. Created the opening for the first goal with a probing low ball into Divvy, and his corner resulted in Taki grabbing his second. Continued to work hard, and was a willing worker when needed in the second half.
Joe Gomez – 7.0
Brilliant to see this gifted defender starting. The senior defender in the backline, it was his rearguard to dictate, and he did so through the first period. Started to look really assured after the first goal, with a willingness to carry the ball forward. Was a little complacent for the Norwich goal, and maybe should have stopped the shot. A good overall game, with understandable moments of rustiness.
Ibrahima Konate – 7.5
The giant defender came in, with a great overall season behind him. A strong and commanding presence, he was assured throughout.
Jordan Henderson – 7.5
The role that suits him best, was able to hold well and dictate his zone. Was lively and controlled in his play, and had a good chance blocked in the second half. Rightly taken off, with the game under complete control, and the games coming thick and fast. Liverpool do not need another injury with Thiago out.
Subbed – 59 mins
Curtis Jones – 7.0
A creative maverick, a pleasure to see him involved after missing put on the cup final squad. Was always looking to break with the ball, within a stuttering first period. A good stint.
Subbed – 45 mins
Alex Oxlade-Chamberlain – 6.5
A player that requires rhythm, he struggled to find his feet in the first half, but came to life as Liverpool took control. In amd out if the game, where moments were better than the whole.
Taki Minaminio – 8.5
The popular forward has been a mainstay in much of the domestic cups, and looked lively through the opening stages. His goal opened the scoring on 26 minutes, after some great control by Origi. A single touch and strike by Taki left the keeper with no chance, as Liverpool took a deserved lead. The second goal on 39 minutes was pure joy, with his confidence and form really starting to flow. A blast into the roof of the net was brilliantly taken, and allowed the reds to take full control.
Diogo Jota – 6.5
Starting once more, in order to gain some post injury form. Took up a left forward position, and started quietly. Started to come into his own in the second half, and saw a great jinking run and shot blocked by a dubious handball.
Subbed – 83 mins
Divock Origi – 7.0
The obvious choice, with his central play often best seen in knockout games. Tried to offer a focal point through the first half, and on 26 minutes was able to control a low Tsimikas cross brilliantly, before assisting Taki at the far post. Was close to making a one on one, but for some smart Norwich defending early in the second period.
Subbed – 83 mins
Subs;
Harvey Elliott – 7.0 (on 45)
Came in for Jones at the break, he looked to create and surge with the ball straight away. Had a snap shot that was easily saved on 59 mins, and was a danger in possession.
Tyler Morton – 6.0 (on 59)
Neat and tidy, without too many moments of concern.
Sadio Mane – 6.0 (on 83)
With the game needlessly on a knife-edge, the need for Mane came about late on.
Luis Diaz – 7.0 (on 83)
Probably wasn't planned, but his introduction was to try and kill off the game. Had a great moment of skill and shot on 86 minutes, that went wide. Looked dangerous whenever he saw the ball.
The Manager;
Jurgen Klopp – 8.0
Went for a near full rotation, with only Jordan Henderson retained. All spots were filled with senior players, with a clear intent to win the game in regular time. His selection was proved correct, and after a slowish start, the opening goal saw his reds take off. The second goal should have seen the game end as a contest, and allow the manager to make some smart changes. The Norwich goal changed that theory, and the visitors back into the game, with the score line once again close. Had to call on the big guns late on, with Norwich throwing caution to the wind.
Will be overjoyed with another cup run, and the fact that so many players are getting good game time.
Predicted Player to Watch – Curtis Jones
Predicted Result;
Liverpool 4 – 3 Norwich
Steven Smith