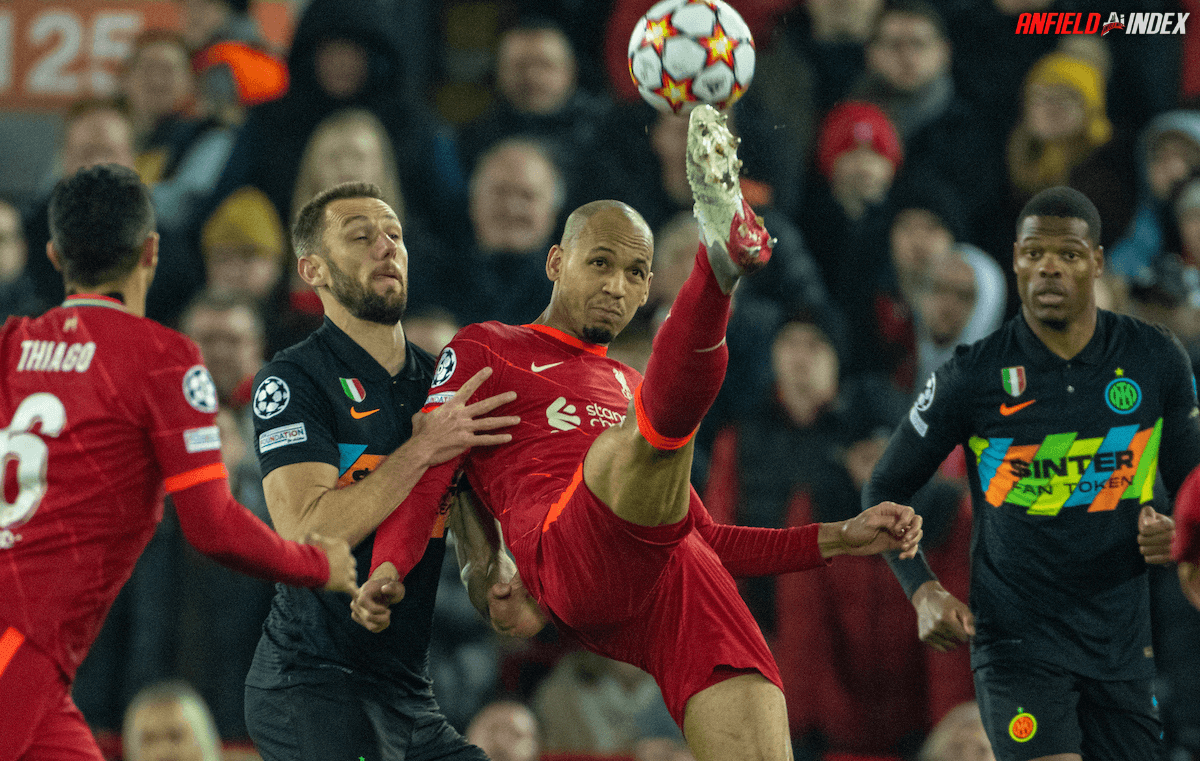 Key Stats as resolute Reds bolt the door on dangerous Inter Milan
Liverpool made it through to the next round of the Champion's League despite losing 1-0 on the night to Simone Inzaghi's team. There were no goals despite a plethora of chances, but a stubborn defensive display and a well-timed red card saw Klopp's men into the quarter finals. But what were the key stats as the Reds stood fast?
A Miserly Match
Despite the nerves undoubtedly frayed by Liverpool fans across the globe as the game wasn't put to bed at any point, there were not actually many good chances for Inter, and Klopp may count himself slightly unlucky not to have won on the night. The match xG was Liverpool 1.65 – 0.30 Inter Milan. Liverpool had 12 shots to 6, and 3 big chances to 0. To get through a door bolted this tight required the finest of lockpicks, which is exactly what Lautaro Martinez provided with his stunning strike that brushed just past both Van Dijk and Alisson. Meanwhile, the Reds hit the woodwork 3 times, including two big chances from Salah cannoning off both posts.
A Careful Counterpress
As we have often seen this season, Klopp set up with his second line formed by Thiago, Fabinho and Trent in the final third. This meant the trio were responsible for Liverpool's counterpress, and all three did so superbly. They had the most recoveries of Liverpool's outfield players (Trent 9, Thiago 8, Fabinho 7), the most tackles (Fabinho 3, Trent and Thiago 2 each), and the only players to register interceptions (Fabinho 3, Thiago 2, Trent 1). It was a particularly impressive athletic display from Trent who often had to sprint back to cover Peresic, and it was no surprise that after the red card, Klopp brought on Keita and Henderson, pushing Trent up into the attacking line so that he could rest while Henderson took over the rest defence responsibility.

Red Mist
There has been something of a trend this season with teams getting a player sent off against Liverpool. Sanchez was the 9th player to see red against the Reds in 21/22, the 3rd in the Champion's League. There has also been 3 in the Carabao Cup and 3 in the Premier League, but none in the FA Cup (so far, anyway). None of them have been particularly debatable, so perhaps this just goes to show what can happen when opponents are placed under the intensity and strain of facing the mighty men of Merseyside.
Liverpool won't mind how they get through, so long as they do. They now have to pick themselves back up for the weekend, when they hope to get revenge on Graham Potter's Brighton…