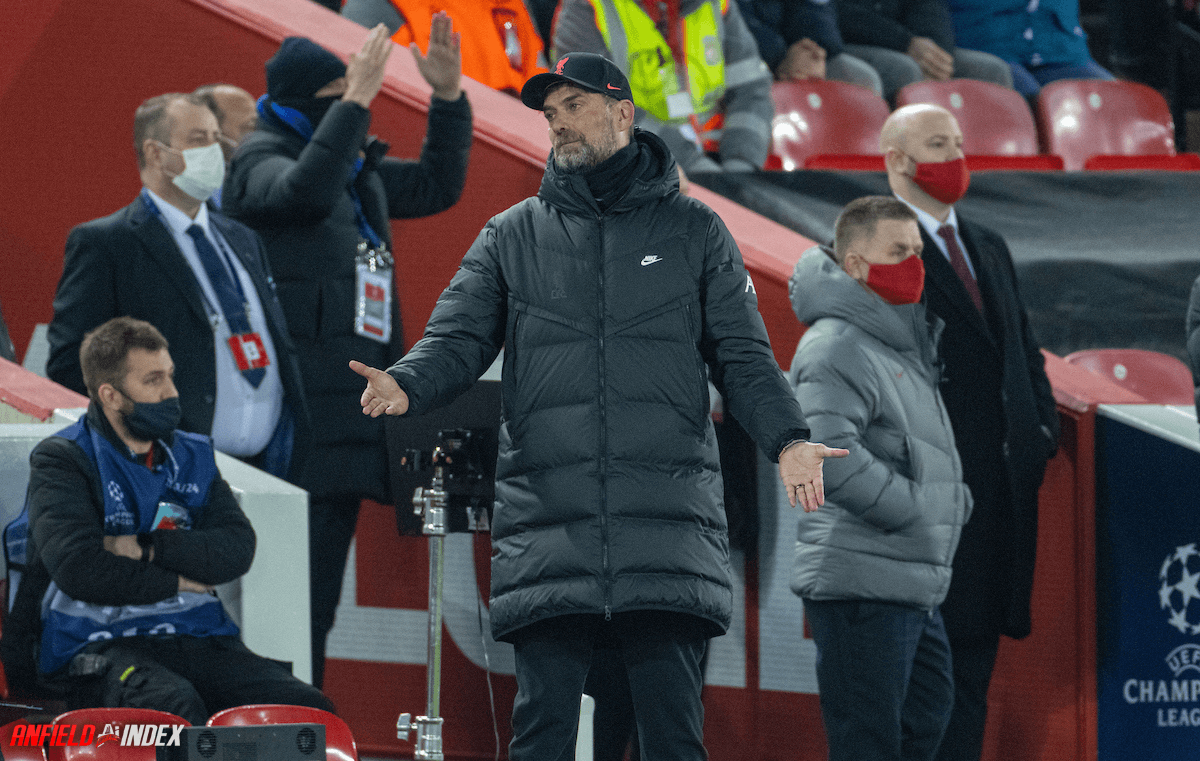 Liverpool 0-1 Inter (2-1 agg.): Observations as Reds edge past I Nerazzurri
Liverpool are through to the quarter-finals of the UEFA Champions League after beating Inter Milan 2-1 on aggregate.
Lautaro Martinez ripped one beyond Alisson just after the hour but Inter had the wind in their sails for all of two minutes before Alexis Sanchez picked up a second yellow.
The reigning Serie A champions retreated, hoping for a counterattacking opportunity that never really materialised.

They proved themselves to be an excellent side over the first two legs, and can take some solace from the fact that they've inflicted a first home defeat on Liverpool in 12 months.
In fact, this was the first time the Reds had lost in front of their supporters since the infamous Atletico Madrid game three years ago. Thankfully, it matters little.
As in the first leg, Simone Inzaghi implemented an intelligent structure out of possession that was able to restrict Liverpool, especially in the first half.
But it's worth stressing that Jurgen Klopp's side still had more than enough chances to preserve their Anfield unbeaten run, striking the woodwork on three occasions and 'winning on xG' by 1.87 to 0.26.
Let's get into some of the talking points (starting with the negatives so we can finish on a high).
Matip punished
Almost every time a goal is scored, the attacking team has done something right, and the defending team has done something wrong. It's inherently a bit of both. That might be the most basic analysis you've ever read, but it's about finding the balance between credit and blame.
In this case, it's probably about 80, 85% in favour of Martinez. Let's be clear: this was one of the best individual efforts against Liverpool in the Jurgen Klopp era. He channelled his inner Papiss Cisse.
So what of the other 15, 20%? Well, those around the Argentine do bear some responsibility for failing to close him down, but Joel Matip was the no. 1 culprit, having given the ball away when he attempted a pass down the line.
Now this might come across as searching for a reason to be critical. After all, you'd ordinarily expect him to be bailed out in that situation. Nine times out of 10, that Martinez shot boomerangs into the Anfield Road.
But the broader problem is that Matip has surrendered possession cheaply in his own half on a number occasions recently, and got away with it. This time, he was ruthlessly punished. You could argue it's been coming.
Frustration for Salah
I'm starting with the negatives here just because it's better to a finish on a positive note.
Is it fair to say this is the first real frustrating spell Mo Salah has endured this season?
The first time he hit the post here, he wasn't really unlucky. He should have scored. The second time, however, he did everything right. It was so nearly a perfect finish.
The bigger issue with Salah's performance is that he tried to do much on several occasions. Inter often triple-teamed him, and instead of passing – there's bound to be space elsewhere as a result – he tried to dance through their challenges.
Now, of course, he has previous for this, earning the right to try it, but it's about picking your moments.
Salah has only scored two goals from open play in eight appearances since he returned from AFCON, and has looked just ever-so-slightly out-of-sorts.
This is the first time we've really seen him slow down in this historic season. In fairness, it was probably impossible to sustain the extraordinary level we were witnessing for an entire campaign.
He's very rarely given a chance to rest but could that make a difference, and is it a luxury that Liverpool can afford now that they've signed Luis Diaz? That's the call Klopp has to make ahead of the run-in.
This is admittedly Mo Salah we're talking about, though. "Maybe in the next game I'll score three," he said in his post-match interview. Nobody would be surprised if he did just that.
A Jota reminder?
Last negative now. Diogo Jota struggled to impact this game, losing possession 12 times despite only recording 40 touches.
There was one fairly nice piece of play in the build-up to the second big Mohamed Salah chance, but that was pretty much it.
Now I've seen people on Twitter rightly point out that he's played like this but still wound up scoring previously this season.
But it's when he doesn't find the net that you appreciate the need for an evolution in his game in the coming years.
That's to be expected, of course. This is only his second season as a bonafide first-choice option at an elite club.
Rock-solid Trent
Onto the high points, then. Trent Alexander-Arnold came up with a crucial goal-line clearance in the win over West Ham last weekend and though his defensive interventions this time weren't quite as spectacular, they were still important.
He was diligent from start to finish in his own final third, impressively thwarting a late foray forward from Ivan Perisic.
This was a mightily assured performance, one that his critics will almost definitely ignore because it doesn't suit their narratives. Such is the way.
Thiago's comprehensive class
It was certainly a surprise to see Thiago Alcantara back in the starting line-up just a week and a half after pulling out of the Carabao Cup final, but there were no signs of any ill-effects.
This was a display that featured trademark calmness in possession, expertly-timed sliding challenges and a sublime poked pass through to Diogo Jota that so nearly led to a goal.
Klopp took him off after 65 minutes, and you don't imagine he'll see out a full 90 very often before the end of the season. But that's just something we have to put up with. He's a player who demands protection.
Set-piece outlet
Sometimes our analysis revolves too much around goals. Because Joel Matip hit the bar and Milan Skriniar produced a heroic block to deny Virgil van Dijk, there'll be little talk about Liverpool's set-piece threat after this one.
But once again we saw the value of the work the Reds have done. In the first half, they struggled to find a way through from open play, but still they were mere inches away from effectively sealing the tie through a dead-ball opportunity.
In the first leg, remember, set-pieces were pretty much Liverpool's saviour.
And make no mistake, they're key to hopes of further silverware.