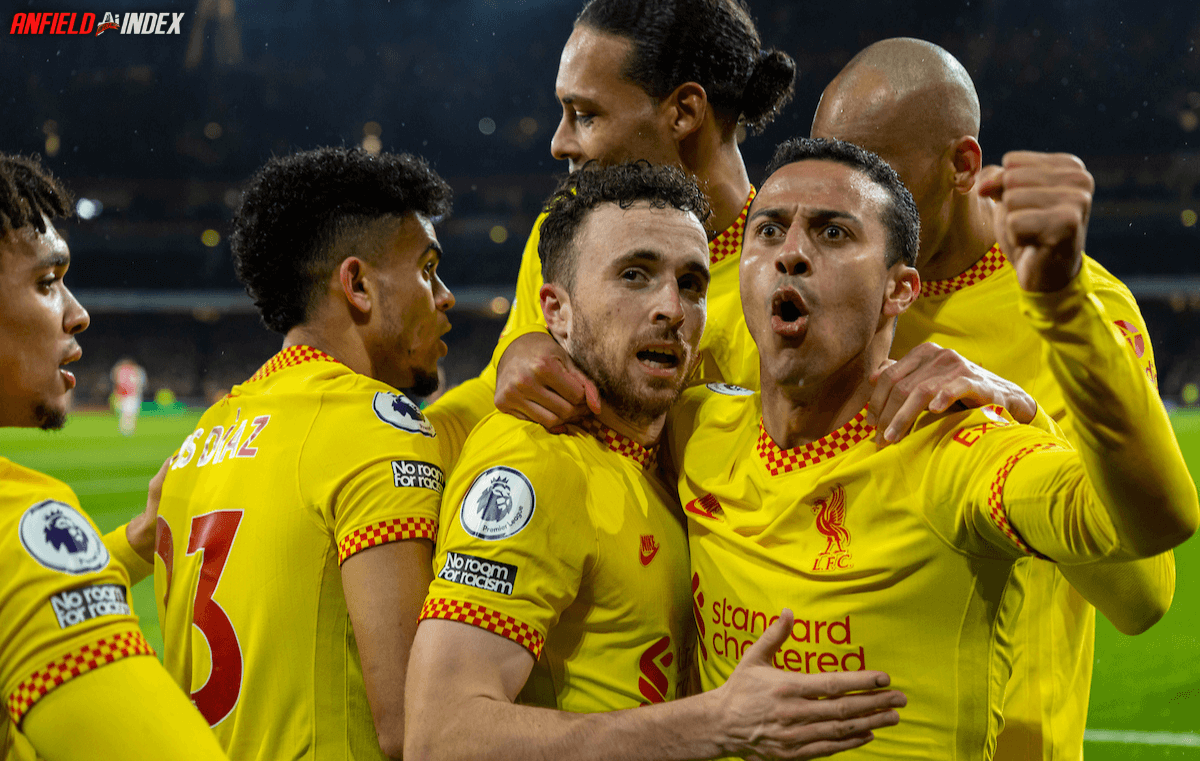 Arsenal 0 - 2 Liverpool - The Player Ratings
Arsenal 0 – 2 Liverpool – The Player Ratings
Alisson Becker – 8.5
A pretty routine first half for the giant Brazilian, with possession of the ball more apparent than anything else. Made a great stop early in the second half as the game opened up. Didn't have much to do after that, but his moments were once again critical.

Trent Alexander Arnold – 7.0
Martinelli certainly gave him worrying moments in the first half, with his smart movement. A few clever driven balls into the box, and some well taken corners, added to some neat defensive work. Martinelli continued to cause issues until Liverpool took complete control. Grew into his defensive work, and cruised through the remainder of the match.
Andy Robertson – 8.0
Was often caught by a wide Saka in the opening period, but the switch never really caused danger. Was wasteful at times in his delivery through that half, as the reds struggled to take a grip. The assist for the second goal was the Scot at his best. A great interception and brilliant low ball across the goal for Bobby, and a top second half display ensued.
Virgil Van Dijk – 8.5
Came close with a well-rehearsed corner, but his low header was firmly parried away. Dealt well with the press, and was firm throughout the first half. Was once again assured and commanding as Arsenal had moments of danger snuffed out. A great leader.
Joel Matip – 8.5
Was shifted around a little, with Arsenal showing good movements and endeavor through the first half. Became completely dominant in the second half, and ventured a couple of times upfield to create havoc. Strong performance, and was a constant cover for Trent against the brilliant Martinelli.
Fabinho – 8.0
Didn't struggle in the first half, but certainly found Arsenal's quick play hard to overcome and dominate as usual. Became more bullish as Liverpool looked to take control, when the midfield became his. Broke up okay when needed, and showed steel when needed.
Thiago Alcantara – 7.0
Attempted to dictate, but the first half kind of drifted away at times. Nearly gifted an open goal with a horrid pass back, but then produced a great through ball for shots to break the deadlock. Helped control the middle through the second half, and stop anything that came his way.
Subbed – 88 mins
Jordan Henderson – 7.0
Was a keen presser, but perhaps should have shown more support against Martinelli through the first and second half. Kept On pushing, and offered good energy further up through the second half.
Luis Diaz – 6.0
A frustrating first half with little opportunity to break clear. Plugged away till he left the field.
Subbed – 56 mins
Sadio Mane – 6.5
Could have scored at the death of the first half, and drifted along the front line to little effect. Scored in the opening moments of the second half, only to be ruled offside. Moved to the left on 56 mins, and looked far more comfortable.
Diogo Jota – 7.0
Again a little subdued and ineffective in the first half. Broke and fired at the near post to score the opener, thereby dragging his score up before immediately leaving the field.
Subbed – 56 mins
Subs;
Bobby Firmino – 7.5 (on 56)
A game built for his work and pressing. Great movement and touch for the second goal.
Mohamed Salah – 6.5 (on 56)
Didn't impact too much, but offered another dimension for Arsenal to be wary of, and was neat in possession.
Curtis Jones – N/A (on 88)
Came on.
The Manager;
Jurgen Klopp – 9.5
The big decision was to rightfully rest Mohamed Salah, after a weekend knock. Went strong, and deployed a team to win. The first half was frenetic at times, with Arsenal often dictating possession, but with little creation. Liverpool seemed settled in letting them keep the ball, and maybe too patient on the ball through the first half. Clearly demanded more intensity at half time, and his team responded. His subs were spot on, and the game needed Bobby's talents. A first half that was about going head to head with the home side, before taking control in the second.
Pre-match player to watch – Thiago Alcantara
Predicted score;
Arsenal 1 – 2 Liverpool