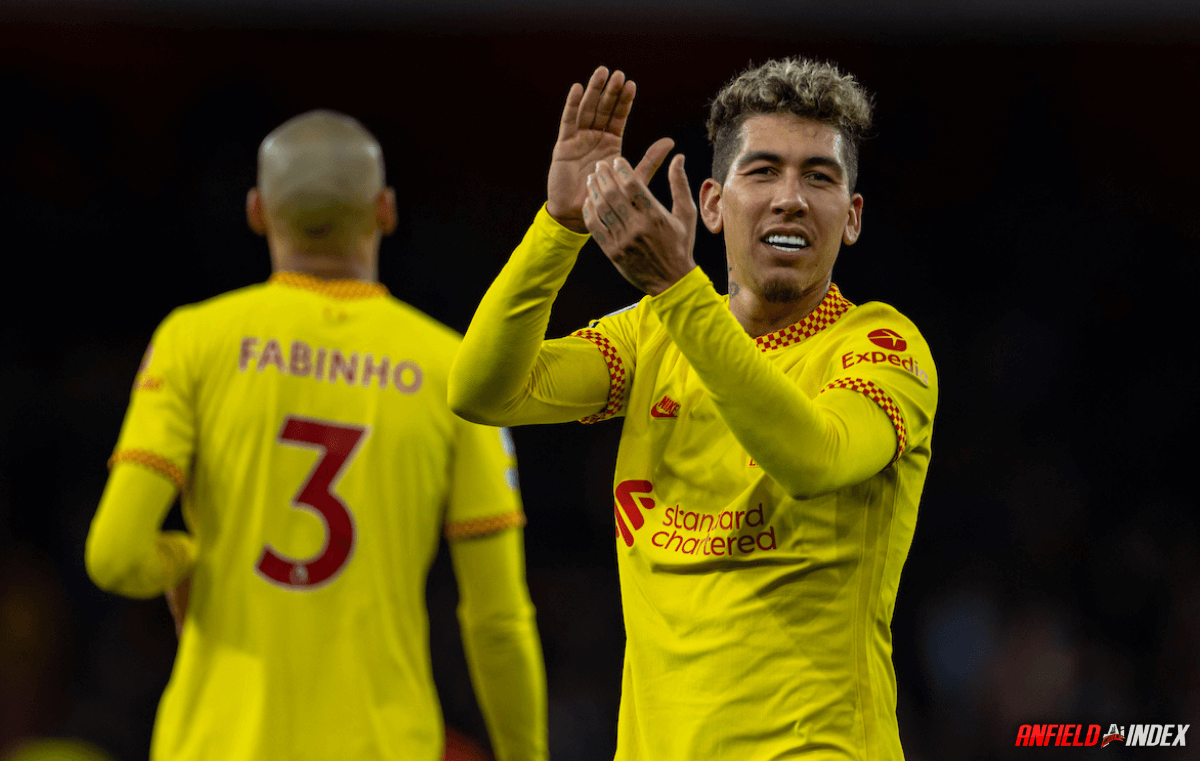 Observations: The Reds, like a boulder rolling down a hill.
Against Arsenal, Liverpool had one of their slowest first halves of the season. It seemed like the Gunners had a real foothold in the game, and although they didn't create much, neither did Liverpool. But we will not be stopped. No matter what you throw at these boys, they'll plant their feet, grit their teeth, and walk on.
It was another superb line-up today, as we are slowly getting used to having week in and week out. Even the sight of Salah on the bench rather than the pitch couldn't prevent this team looking scary to any Arsenal fans looking on. Klopp and Ljinders set up with a game-plan to build down the left, and keep Robertson deep while Alexander-Arnold pushed much higher than we have traditionally seen him this season. Oftentimes Henderson would even drop back into the Right-Back position, which is unusual for this year. This didn't really work out though. Arsenal clogged up the centre of the pitch, and the Reds weren't able to get the ball to Trent often enough.
Usually, this would be supplemented by Klopp's famous pressing to create danger, but this was thwarted by Arsenal using a hyper-cautious plan. All four defenders stayed in a flat back line during build up. With our wingers unable to close the passes to their full backs, Arsenal were able to very slowly but surely move up the pitch without losing it. The trade-off, of course, was that they barely threatened to create chances against the Red's defence.

So, a stalemate. Not the worst thing to happen against a top 4 side, away from home…
But we can't afford to settle for draws. The standards at the top are too high. Every game is a final, as the cliché goes. So something needed to change, and it did. Enter Andrew Robertson, let off his leash to run relentlessly at the Arsenal defence. Suddenly, what looked like caution in the first half, became fear in the second. Cedric Soares couldn't cope with the pressure. This was perhaps best exemplified by the second goal, with a succession of intense counter presses down the left overwhelming the Gunners.
In my 9 years of collecting pressing stats, I've never seen something like this.

3 shots via pressing in a passage of play and one that leads to a goal.

NEVER seen it before. Pure counter-pressing this – absolutely love it. https://t.co/YhhgQcNayE

— GaGs (@GagsTandon) March 16, 2022
But let's not get ahead of ourselves. Before that, we saw two moments that showcased everything that makes this team so special. First, our midfield maestro, Thiago, made a rare error, with a  backpass leading to a great chance for Odegaard. But rather than panic, Alisson stood tall, stayed calm, and dealt with the danger. Walk on through the storm. And rather than let this effect him mentally, just a few minutes later, Thiago sauntered through the midfield before picking out his best pass of the day to Diogo Jota. You know what followed.
It was inevitable really. This team have so many gears, so much control of themselves, they can play at any pace to match the situation. Against a tough opponent they just kept clicking higher and higher until they were motoring well enough to make the breakthrough. And then, with a 2 goal cushion, they wound it down to close out the game. Easy.
It's a good time to be a Red. No matter what happens in the remaining games of this season, we are so blessed to witness this team. Walk on, boys.