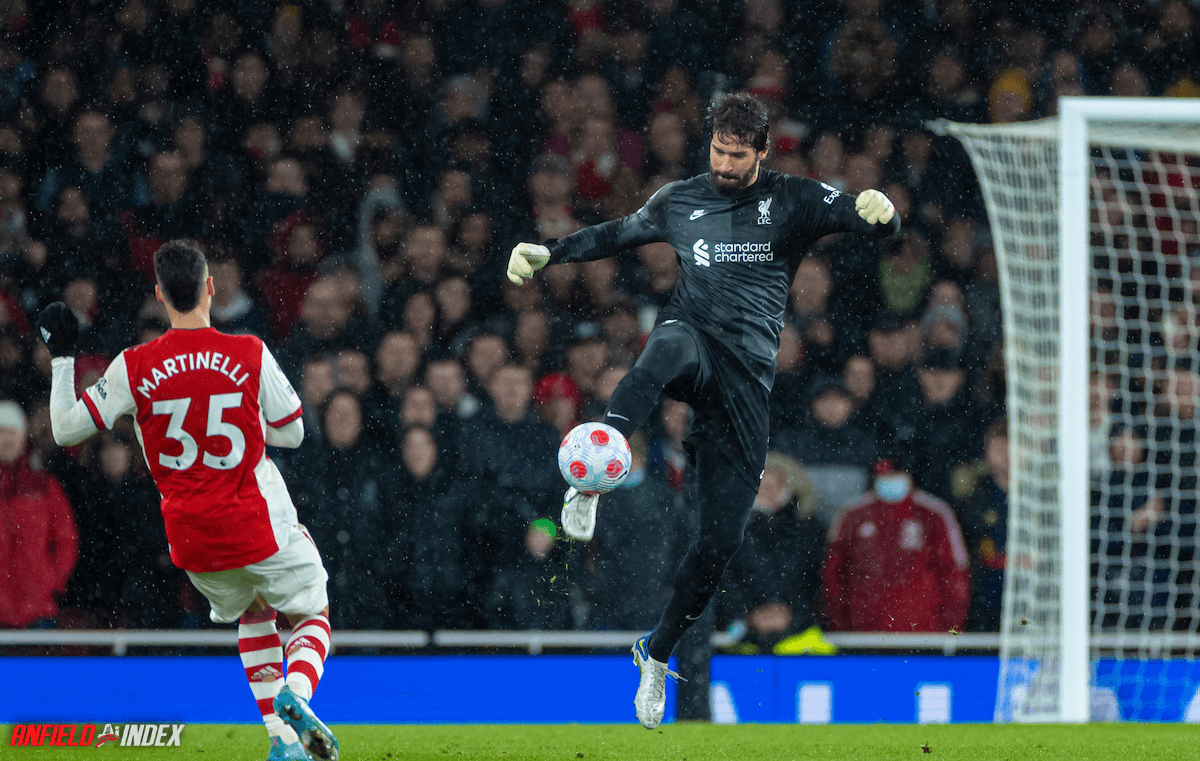 Key Stats as Liverpool disarm the Gunners
The juggernaut rolled though the Emirates and didn't stop, thanks to goals from Diogo Jota and Roberto Firmino. But what were the key stats as the Reds got to within one point of Manchester City?
Silence, then thunder
Arsenal 0 : 2 Liverpool

▪ xG: 0.69 – 1.25
▪ xThreat: 0.85 – 1.41
▪ Possession: 49.0% – 51.0%
▪ Field Tilt: 53.8% – 46.2%
▪ Def Line Height: 47.4 – 48.0#msbot_eng #epl pic.twitter.com/p1FFAbjteO

— markstats bot (@markstatsbot) March 16, 2022

Not much happened in the first half. Both teams had few shots, none of which was particularly dangerous. The xG scores were 0.10 to Arsenal and 0.19 to Liverpool, a good indicator of how little action there was in both boxes. The game then came to life in the second half as the Reds chased the game. But while both teams managed 9 shots, 7 of Liverpool's were in the box, whilst just 4 of Arsenal's were. You need both quality and quantity to win this game, Mikel.
Flat back four
Arsenal played a conservative style, with Tierney and Cedric both staying well back, as can be seen on the pass map above. Jurgen Klopp tried to push Alexander-Arnold high while Robertson stayed back, but after the game admitted that "We had too many on the wrong side of the ball". This can be seen in Liverpool's pass map, but it was remedied in the second half, with the flying Scotsman rampaging down the wing in select moments. He created 0.56 xA from 2 key passes, a fine attacking contribution from limited forays up the field.
Mega Matip
Joel Matip put in an excellent defensive display to keep Arsenal's possession and territory from turning into genuine danger in the box. He made 7 clearances, the most of any player in the game. Another stalwart defender was Thiago, who made 4 interceptions (1st) and 8 tackles (5 successful, both numbers 1st of all players). This all continued a theme against Arsenal this season, as the Reds have now played 4 games against the Gunners without conceding a single goal.
What's left?
9 games to go. 27 points to play for. Just 1 needed to reach Manchester City. 90 minutes at the Etihad, with 3 points on the line. The only stats that count.
Take some time to relax over the international break, as we'll be back to an intense finale. But before that, its a trip to Nottingham forest, for the next round of the FA Cup. See you then…