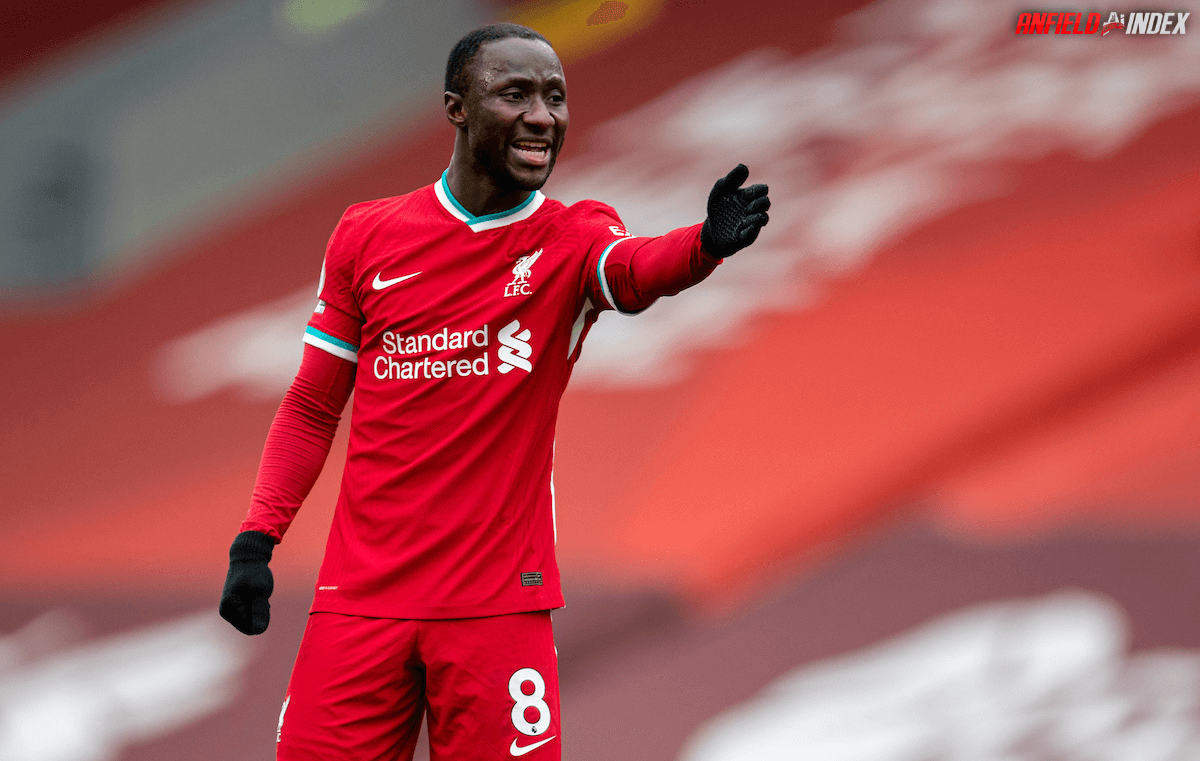 Naby: The Big Game Player
Naby Keita has been one of Liverpool's best players this season, and perhaps the Reds' most underrated performer. His impact is so understated, I even marked him a little low in the match ratings on Tuesday, as the Reds bested Benfica 1-3. It's only on a rewatch (and after viewing his match stats), that I saw how endlessly effective he was, and the 7.5 I marked probably deserved a solid 8.5.
The perfect Klopp facilitator, appears to be the little man from Guinea, and the fact Jurgen Klopp started with both Fabinho and Thiago Alcantara was a great sight in the pre-match. With a slightly different game to Thiago, he can sometimes (harshly) be overlooked in this brilliant reds team. Periods when the Benfica game descended into chaos, saw perhaps the best parts of Naby's game emerge. His ability to maintain brilliant tactical positions was ever apparent, with his game intelligence so high. He's a player that never seems rushed, never appears out of his comfort zone, and always wanting for the ball.
Whereas certain players (within the Reds' squad) often struggle with control, Naby rarely seems out of position or unsure of how to best the set the tempo. Much like Gini before him, he now is able to choose his moments, and maintain the required structure. So many times we have seen the Ox, Curtis, or the captain attempt to force the issue, and thus lose possession of the ball. With Naby, every thing looks measured and almost too easy. Thiago has these attributes in spades, but will also look to control Liverpools progressive play.

With Naby, it is endless smart play. He affords himself a keen patience to drive forward only when the time is right, and that attribute stands out a mile. In Keita, Liverpool have perhaps the perfect third midfielder (behind the world class Thiago and Fab), which is why all three so rarely play together. The injuries of Thiago and Keita are too often a case for concern, and to lose both would create a loss of control that the reds so often need. On the right hand side, Trent is always able to dictate play, which leaves one of either Thiago or Keita as the control merchants from the left.
The front three has seen more rotation than ever this season, with the introduction of both Diogo Jota and Luis Diaz. This added depth is making the front line almost impossible to predict, certainly from game to game. To see Naby so often rotate out of the team with Thiago, is absolutely by design, and marks the importance of having either tempo player in the side. This summer must see a few players depart, in order to further increase the availability of quality midfielders, players that are bespoke to this evolving unit. The signing of at least one more midfielder is crucial, and essentially must be one that can also help maintain control.
I said recently that Naby needs retaining beyond this season, and this weeks Champions League match only reinstated that fact. His brilliance is there for all to see, and finally we may be seeing the true player that was bought for such a hefty fee. With so much still to play for, it will be interesting to see how the boss continues to rotate his players, with big games coming thick and fast.
Whereas Naby was once on the outside looking in, it must surely now be the case that he's an integral part of the first team 'group', and he could well be one of the most important performers during this intriguing and potentially historic run in. Naby is a red, and now must been seen as one of Klopp's big game players.