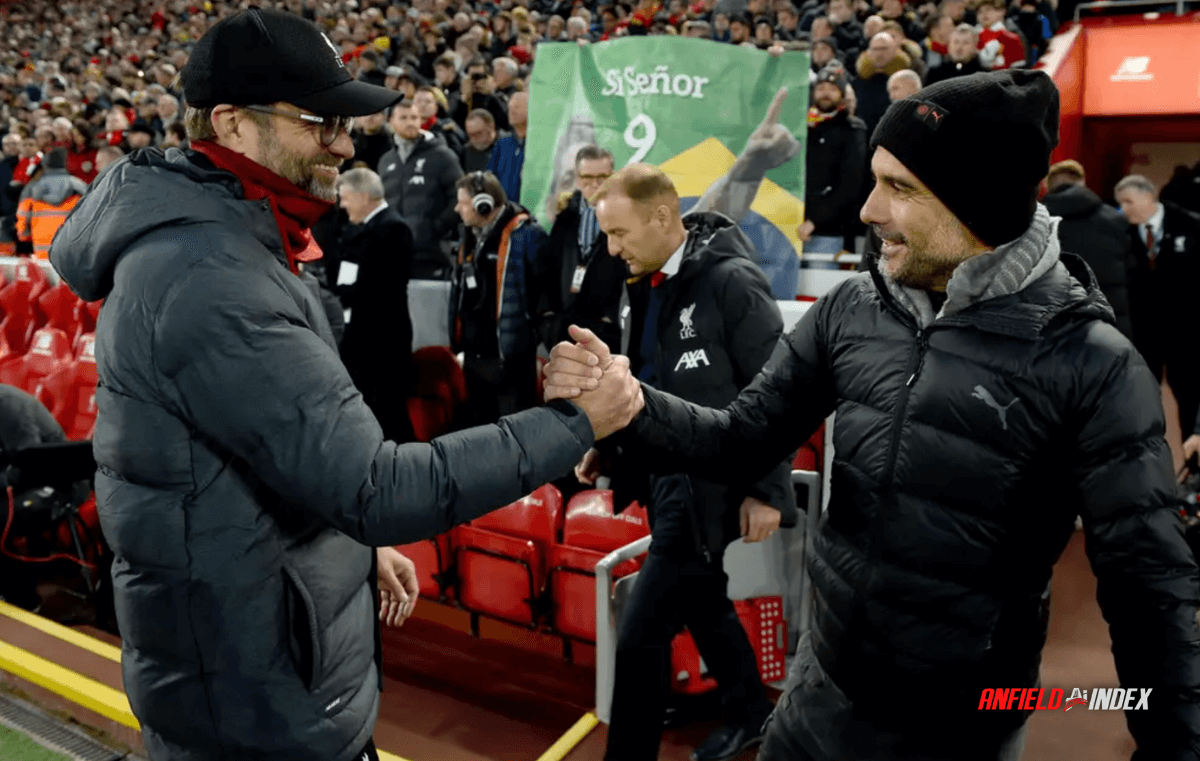 Operation Man City

So Liverpool took total control of their Champions League last eight tie with Benfica, whilst Manchester City crept over the line against Atletico Madrid. Both teams won, that is fact, yet the second leg for each will be offering much different scenarios for their respective managers.
Liverpool have delved into full rotation mode, essentially since the turn of the year. City were 14 points clear, and it's apparent that a post AFCON game planned was ushered in (by Klopp) to try and maintain some degree of freshness across all competitions. There clearly had to be some form of change, with City so far ahead after Christmas. Indeed, if Pep did the same thing and failed, he would be accused of other-thinking, again. When looking at Klopp's increased squad use, he has almost incorporated his high line approach to his team selections. The high line is about trusting the players, knowing the higher risk play will pay off, if implemented correctly. Klopp has done this, knowing that certain games (even certain periods of matches), could see his side lose rhythm. We would all like to see the 'strongest' team start every match, but then you would be sacrificing players to injury very quickly. There is of course a major caveat as to why the reds rotation is proving more effective, certainly more than at other clubs.
Liverpool's method of selection is continuing to be proved correct, simply by choosing to play Virgil Van Dijk as much as possible. Virgil is a colossal defender, and the best of his generation. His skill set (as a modern day defender) is unmatched throughout Premier League history, and maybe Europe. He is the high line controller, the leader, the ultimate covering defender, and he is Liverpool's most important player. With his presence, Liverpool can weather most storms. Certain recent games where the Reds have apparently been outplayed, are simply untrue. Defending is an art, and such storms are usually little more than some mild gusts of wind.
Entering this Sunday's game, Liverpool can perhaps be more confident over the coming week. A home tie against Benfica is looking like something the Reds can navigate with confidence, and it would take a complete catastrophe for them not to reach the Champions League semi finals. Manchester City on the other hand, have a very precarious second leg in Madrid. The narrow 1-0 lead they hold means Pep will have to go full strength in that game, with the Champions League still the one major trophy they have not yet won. Sunday's game at the Etihad will therefore have to be more considered than he would prefer, and this can sometimes lead Pep into overthinking territory.
Football is a game of confidence and momentum, especially at the highest level. Real Madrid afforded themselves a day off against Barca recently, with their eyes firmly set on Europe. That heavy loss meant nothing to them (with La Liga pretty much won), and seeing the Madrid giants taking Chelsea apart, definitely proved that point. Managing so many elite matches and competitions means rotation is sometimes key, and allow the greater picture to prevail later on. Seasons cannot be defined in history by anything other than achievement, and the likes of Pep and Klopp will know this.
With a mere 75 hours between Liverpool's and City's next two games, that period could well shape how each competition unfolds. Pep's tactics board will surely be in overdrive right now, with both City games needing so much attention. Whereas Liverpool will in no way ignore the requirements against Benfica next Tuesday, I can imagine Klopp can at least focus solely on City in the lead up to that game. Where a loss would all but end the Reds' league hopes, City may well feel that same fate would still give them a good chance of retaining the title. These small thoughts can creep into any teams mind, and could well shift the dynamic this Sunday.
To see City lose this Sunday would probably create the greatest end to any Premier League season. With places very much up for grabs within Klopp's squad, he has probably created the best possible mindset for this game. The quadruple is something that surely can't happen, but if the reds come away with two wins over the next five days, who knows what could happen.