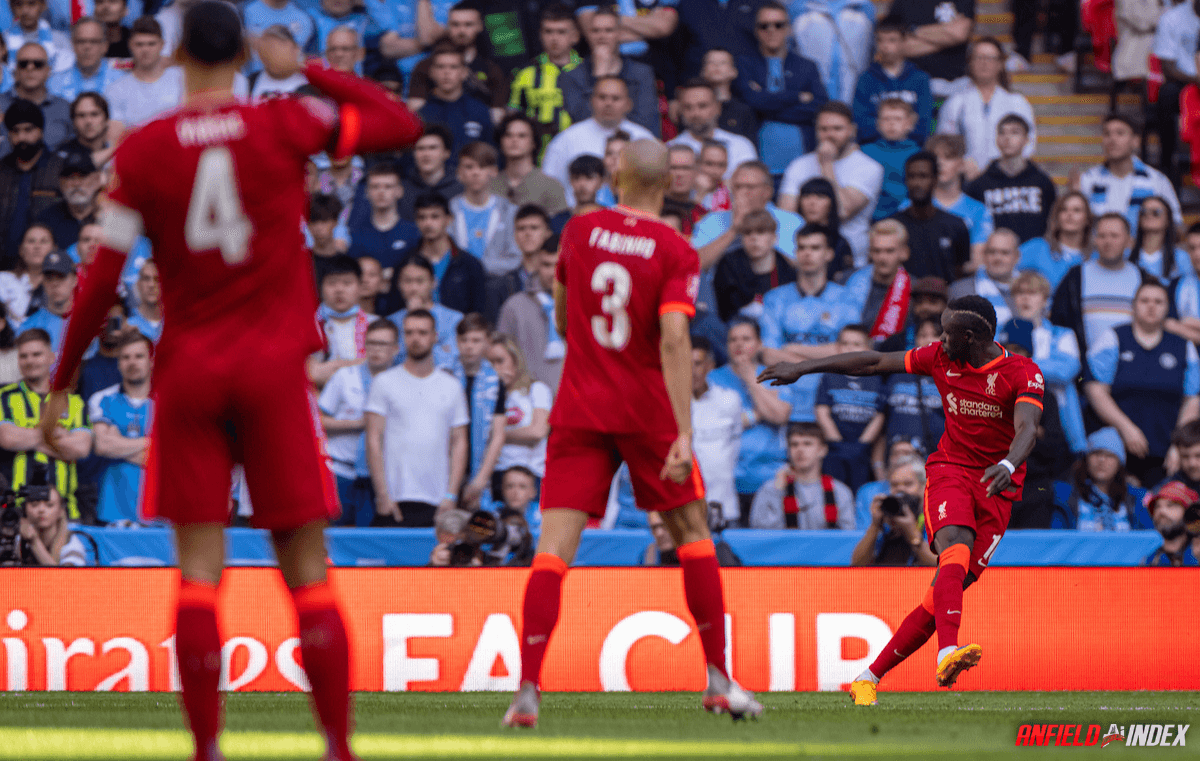 Observations: Liverpool book their place in the Final
The most notable factor in the buildup to the FA Cup semi-final was the team selection of Man City. The absence of Kevin De Bruyne and Kyle Walker was expected after their midweek knocks, but Pep Guardiola also rested Rodri, Ederson, and Laporte. This ended up being crucial, as City no longer had their three best tempo controllers from deep positions. Whilst in the league meeting, City had done an excellent job of neutering Liverpool's press before launching comfortable long passes, here they could never evade pressure long enough to even attempt the same strategy. The second goal, from Sadio Mane, was the most emblematic of this, with Steffen's miscontrol next to his own goal a stark contrast to the assured touch of Ederson in the same situation the previous week.
Klopp's selection, by intention or coincidence, matched up excellently against this. Particularly appropriate was the inclusion of Naby Keita in midfield, who had a fantastic game. Against City's weakened buildup, he was a pressing savant, constantly turning the ball over in high areas and not allowing City to gain any control over the match. Although he was subbed in the second half, having played nearly the full match against Benfica as well, his performance during that time was still enough to put him in contention for the best player of the day. It was a much improved display from Fabinho and Thiago as well, who both excelled in the first half especially. Thiago was unplayable at times with his distribution.
At the back, it was a nervy display on the ball once again from the Red's most expensive players. It's highly unusual so can be easily written off as a couple of bad days, but Alisson and Van Dijk didn't looked to have recovered from their issues in the league game. Alisson was misplacing constantly in the first half. The good news was that these issues were isolated to their passing, as both put in fine defensive displays, with Alisson making a number of crucial saves that ended up being necessary to keep the win as Man City threatened to equalise late on.

It was more energetic effort from the Liverpool forwards today, with Diaz and Mane running rings around the City defence at times. Mo Salah, meanwhile, is clearly paying some sort of cosmic debt for his excellent finishing at the start of the season, as he continues to be thwarted in his attempts to score from open play despite actually playing quite well. A few times in this match he did some excellent work, skinning his man and opening up the box, only to tamely bobble it into Zack Steffen or curl it wide of the post. One will go in eventually, and hopefully that will open the floodgates for a deluge of goals as the season enters its final weeks.
Liverpool's fans were in fine voice today, as the atmosphere seemed more like a home game than a neutral venue for most of the match. Before kickoff, however, the minute's silence in memory of the Hillsborough disaster was interrupted by chanting from some of the City supporters. This disgusting display will hopefully be investigated and punished by the proper channels. It does speak, however, to a rotten streak running through much of football fan culture. We all know about the chants aimed at fans of many clubs that rely on bigoted ideas. Both in the stadiums and on social media, you'll find cretins who think its funny to call Scousers victims. The tolerance and even celebration of this sort of thing that you find within certain circles of the larger fan culture is what encourages the mindset behind today's display. Authorities can do their part to find and punish the perpetrators, but there also needs to be an awareness for fans to call out and condemn this type of behaviour as they see it, even from their own.
But at least for the sporting events, it was a good day for the Reds, one which keeps the dream of a quadruple alive and maintains that oh-so-intangible momentum as even the most marginal of psychological gains can be so important. The Reds are going to the FA Cup final.