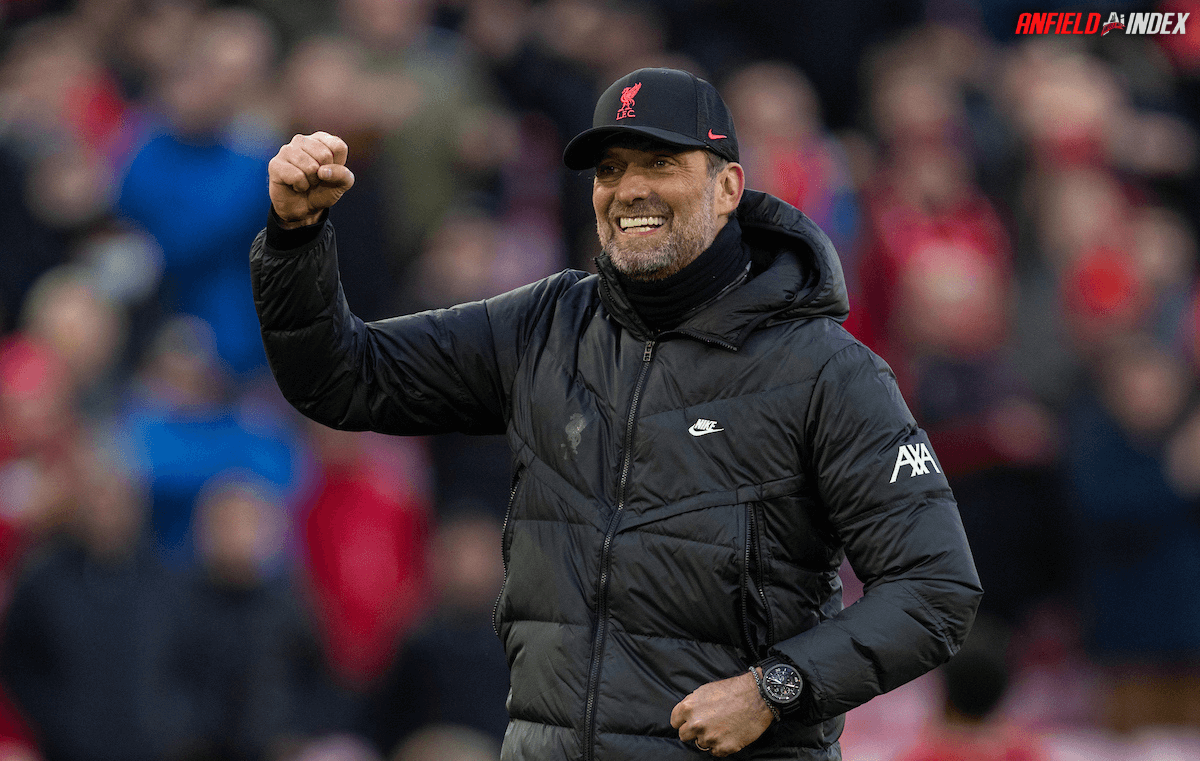 Put Some Respect On Klopp's Name
I tend to only glance at social media these days, essentially if I'm checking on team sheets, injuries and transfer gossip. If I like a story, I'll tend to believe it, and if I don't, it must surely be false.
I wrote the following words on Sunday morning, and was happy to later hear Dave Hendrick state the very same thoughts on the latest edition of RAW. I could have deleted and rerouted my words, but I think the thoughts and words deserved extra comment.
In the aftermath of the most recent Manchester City v Liverpool game, I can only imagine the agenda-based tripe that has intoxicated various social media platforms. As well as avoidance of such drivel, I was subjected to a short period of 'expert opinion', by the often times clueless Trevor Sinclair. Now as a child of the 80's, I grew up very much appreciating the talents of clever Trevor, with his stint at QPR still memorable. Gerry Francis, Les Ferdinand, Andy Sinton and a few others made that club a group to be appreciated. Sinclair's spectacular scissor kick from the edge of the box stands as one of the Premier League's greatest ever goals (check it out on YouTube), and he was even semi decent for England.

His footballing talents aside, he sits among so many ex pros that make for absolutely awful pundits. My opinions can very much be taken or left, but some of these ex players are paid enormous amounts to spout complete dross. I'm not going to delve too much into the individuals that sit on these panels, but needless to say, I'm a 'turn on the telly just before kick off' kind of supporter now. As a youngster, I was subjected to Keys and Gray, and 'the jobs for the boys club' seems so toxic within these shores, it's made punditry a complete turn off.
I was even told once that my opinion shouldn't count, as I was not a pundit. My friend was adamant that David Moyes was not in the midst of a brilliant spell, and that all things considered, Thomas Tuchel was enjoying a far greater stint. I still stand by my words, and at the time, Tuchel was being lauded by pundits as the manager that would break the Manchester City and Liverpool battle in two, and walk the league. We are where we are on that point.
Going back to the City v Liverpool semi final, there seemed a pundit driven agenda to paint City's billionaire side a cheaply assembled group from the depths of the Championship. Manchester City's vast wealth of squad was dismissed, and excuses already being made as to why City might lose this game. Before analysing these points further, I'll just list the two teams, and the cost that was laid out to assemble each.
Poor City first, and this is not counting the high add on that would have inevitably followed.
Zak Steffen – £6.4m
João Cancelo – £58.50m
Oleksandr Zinchenko – £1.75m
John Stones – £50m
Nathan Ake – £40m
Fernandinho – £36m
Bernardo Silva – £45m
Phil Foden – Academy
Jack Grealish – £100m
Raheem Sterling – £57m
Gabrielle Jesus – £29m
Total – £423.65m
Liverpool FC
Alisson Becker – £56m
Trent Alexander-Arnold – Academy
Andy Robertson – £8m
Virgil Van Dijk – £76m
Ibrahima Konate – £36m
Fabinho – £40.50m
Thiago Alcantara – £20m
Naby Keita – £54m
Mohamed Salah – £38m
Sadio Mane – £37m
Luis Diaz – £40m
Total – £405.5
The figures are extraordinary, and to make excuses before the game were eye brow raising to say the least. The fact that Klopp has continually overachieved (with his moderate net spend), too often gets overlooked. City fans have become spoilt, expectant, and ready with excuses at the drop of a hat. This is very much like their manager, Pep Guardiola, who has been given the biggest war-chest football has ever seen, but would have pundits and fans believing their clear sports washing enterprise, is no more than a competitive brand that struggles like all others.
This season has so far seen Jurgen Klopp take his side to League Cup glory, with a confirmed FA Cup Final versus Chelsea to come. They sit in the semi finals of the Champions League, and if they do beat Villarreal, they will have to compete in every possible game they could have, in reaching yet another cup final.
We are all rose tinted at times, and bias comes as part of club allegiance, yet the respect that is often lacking (when looking at Klopp's achievements) are close to ridiculous. He was written of a title challenger in Pre season, due to their third place finish last season. The fact they played nearly the entire season without centre backs was dismissed, with pundits and opposition fans alike seeing their league hopes as fantasy at best.
When this season ends, Klopp will have at least one trophy, and taken every competition tackled to the wire. This has been done with financial control, and insane levels of coaching. The time has come to except this Liverpool era is one of football's greatest ever, and Klopp is one of the all time greats. Pundits will quickly forget their previous words, but to become so brilliant to catch such recognition is absurd.
Manchester United come next, and the hope is that Klopp can continue the on going dream, and show the world he is one of the all time greats.