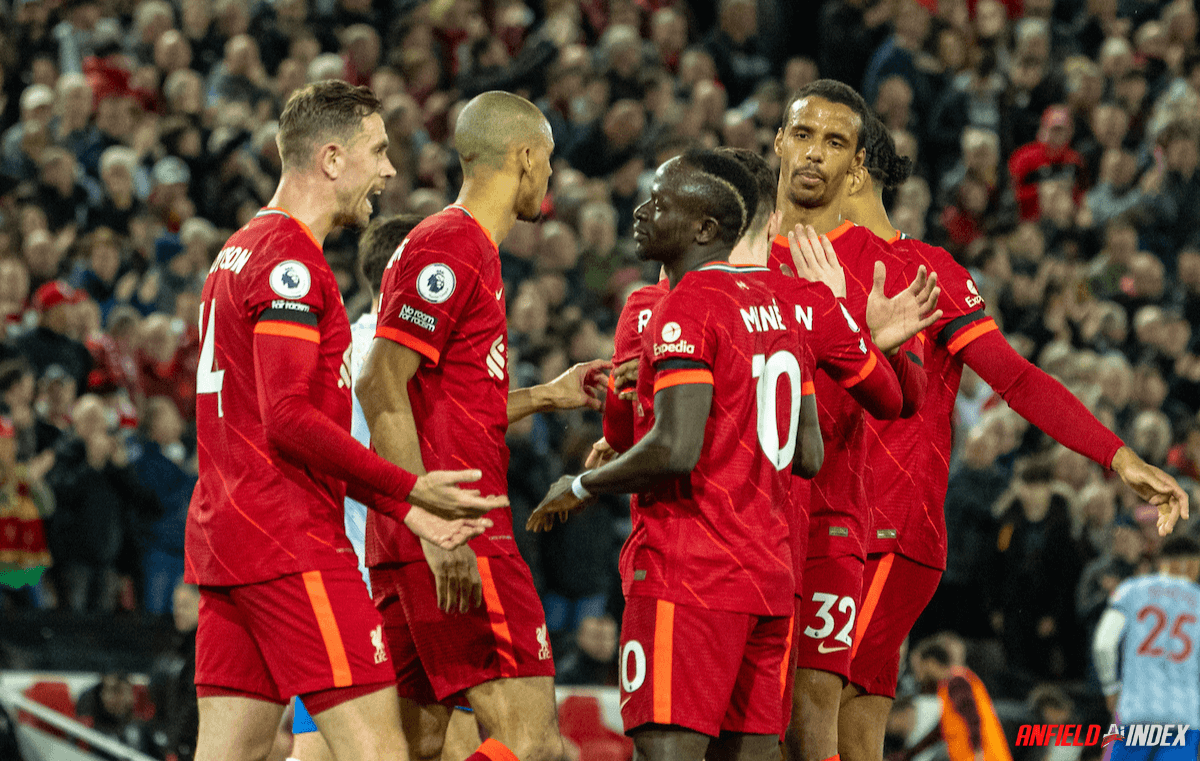 Liverpool 4 - 0 Manchester United - The Player Ratings
Alisson Becker – 8.0
A relative spectator for the first half, and did fine things in possession. Was able to stay focused throughout. A very nice outing as sweeper keeper.
Trent Alexander-Arnold 8.0

Brilliant work early on, with a rampaging urgency to help create the opening goal. Was a keen tracker when Sancho came on, and showed fine defensive ability to snuff out that threat.
Andy Robertson – 9.0
Up and down as always, his enthusiasm wasn't entirely matched by his end ball in the first half, but his havoc creation was on point. He exploded into the opposition half for the third goal, showing that drive, and again for the fourth.
Virgil Van Dijk – 8.0
Marshalled with a precise nature, and didn't look troubled against a team lacking direction. An assured performance from the worlds best defender.
Joel Matip – 8.0
Back into the side, and controlled his zone throughout. Didn't have much in the way of work, even as United upped their game (briefly) in the second half.
Fabinho – 8.0
Dyson was there to cut out any threat, and was a great shield to stop any breaks. A nice cooling performance that allows others to destroy.
Subbed – 85 mins
Jordan Henderson – 7.5
Worked hard amongst brilliant play, and was a keen presser to create havoc. Did the simple work well, and was a good conduit for the attacking assets.
Thiago Alcantara – 9.5
The master controller was in his element through the first half, as Liverpool ran through United. He was able to excite in the first half and continue controlling through the second period, in a sublime midfield performance.
Subbed – 79 mins
Mohamed Salah – 8.5
A great assist for the opening goal was quickly followed by a superb take and finish. Had a relative quiet spell through the second, as the game settled. Always willing, and perhaps too eager to break through, and then he did. 84 brought the best from Mo, with a beautiful goal to make 4-0.
Sadio Mane – 9.0
Becoming unstoppable, and his assist for Mo's first goal was irresistible. A very well taken goal for the third reinvigorated the reds, as his good run continued. A big player coming into great form at the right time.
Luis Diaz – 8.0
Showed tremendous urgency to score his first, with his game ever evolving within this rampaging team. A fine assist for Mane's goal helped push the reds to an assured win in a very good performance.
Subbed – 69 mins
Subs:
Diogo Jota – 7.0 (on 69)
Was a bright lover and driver with the ball, and a lovely assist for the fourth goal.
Naby Keita – 6.5 (on 79)
One controller replaced another to maintain rhythm.
James Milner – 6.0 (on 85)
Brought some nice needle in backing up his teammates late on, when United started to get frustrated.
The Manager:
Jurgen Klopp – 9.0
Went strong, and clearly had his team pumped to end the game quickly. Is getting so much right at the moment, and his side were able to shift up and down the gears at their leisure. Was keen to encourage when needed, as he demanded a game of zero complacency.