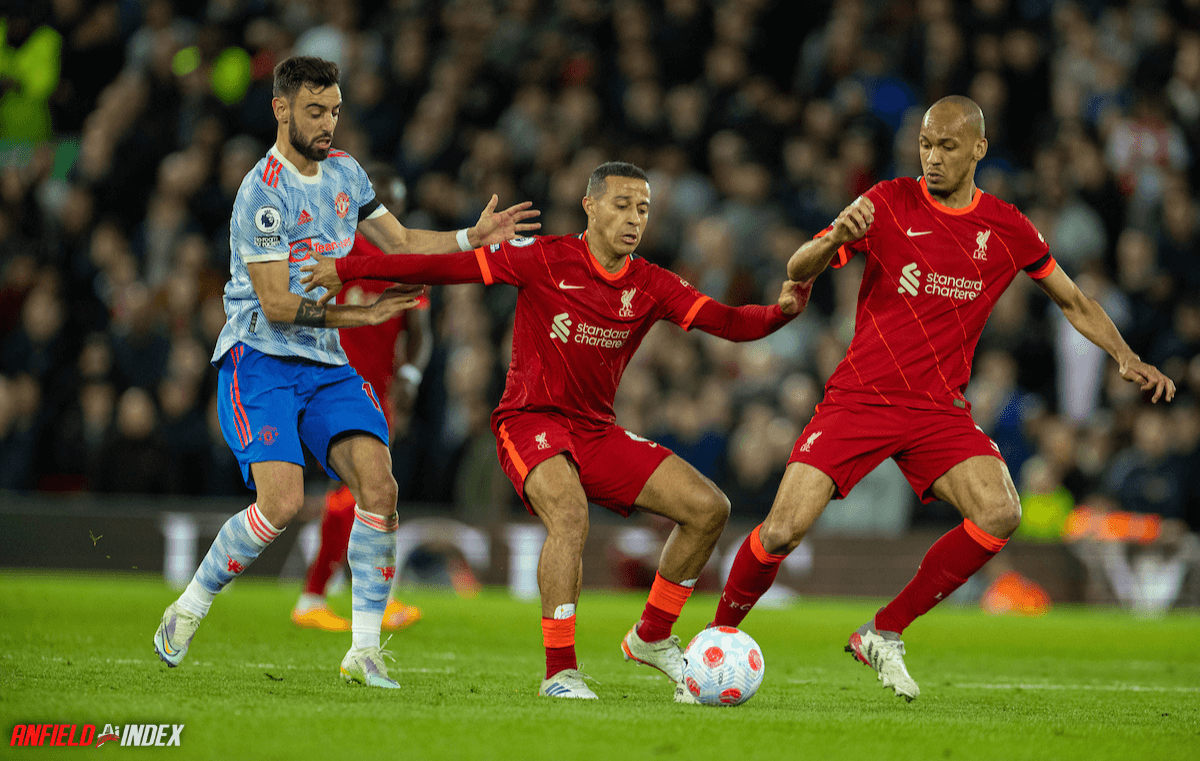 Observations: Demolition Job
4-0. Against Manchester United. 9-0 across home and away. It's often said that for certain fixtures, form goes out of the window and the derby atmosphere makes anything possible. That was true when Liverpool were struggling and United were top dogs, and it was true for most of Klopp's time the other way. But this year, the Reds have completely demolished the aura of the derby. Old Trafford has been conquered. Mancunian spirits have been broken. And boy, did we do it in style tonight.
Thiago Alcantara: Can anyone pass a football like him? Forwards, backwards, sideways, long or short, high or low, swinging in or out, on the volley or with a backheel, looking, or not. The sheer versatility of the Spanish playmaker's toolbox is astonishing, and he has the brain to use it. At numerous points in the first half, Thiago pierced the United block like a duellist's rapier. And if they tried to stab back, he would simply dance away, his feet gliding along the pitch as if the wind itself was his ally. There have been a number of fantastic performances in a Liverpool shirt by Thiago at this point, but today may have been the crème de la crème. If you want to know what it felt like to witness it unfold, don't read this article. Go listen to a piece of beautiful music, or read some of the finest poetry. For, like the romantic poets, Thiago's football evokes a feeling inside you that echoes the sublime, something beyond ordinary experience.
Every member of the Liverpool team was on top form today, but a special mention also has to go to Sadio Mane. Not just for his goal and assist, which were both superb. But also his sheer dominance over the game. He was everywhere, constantly linking play, making runs, tracking back, and doing it all at a tempo with which the United defence and midfield simply could not cope. His pass to Salah was an outrageous piece of skill that showcased the level of confidence flowing through his game right now. He does not hesitate, he knows what he wants to do before he even receives the ball and backs himself to make it no matter the difficulty. Whilst he has been playing well all season, he's now reached a level where it seems like one action flows smoothly into another. Long may it continue.

Salah broke his open play goal drought. It was always coming, of course. A player cannot perform on the level Mo has been performing at without breaking past the bad luck eventually. It seems almost typical that he got the breakthrough against Man United. He thrives against our old rivals. No-one intimidates Mo Salah, no opposition can deny him from playing his own game. His mentality is simply too strong. Not that this was particularly strong opposition, of course. These days, Man United serve best as an echo of a past we wish to never return to. Of years in the wilderness, without direction or strategy, simply limping from one game to the next. They are everything we are not. Once again, we should be reminded of what we have now. Of what Jurgen Klopp and all his staff, playing or otherwise, have built for us to enjoy.