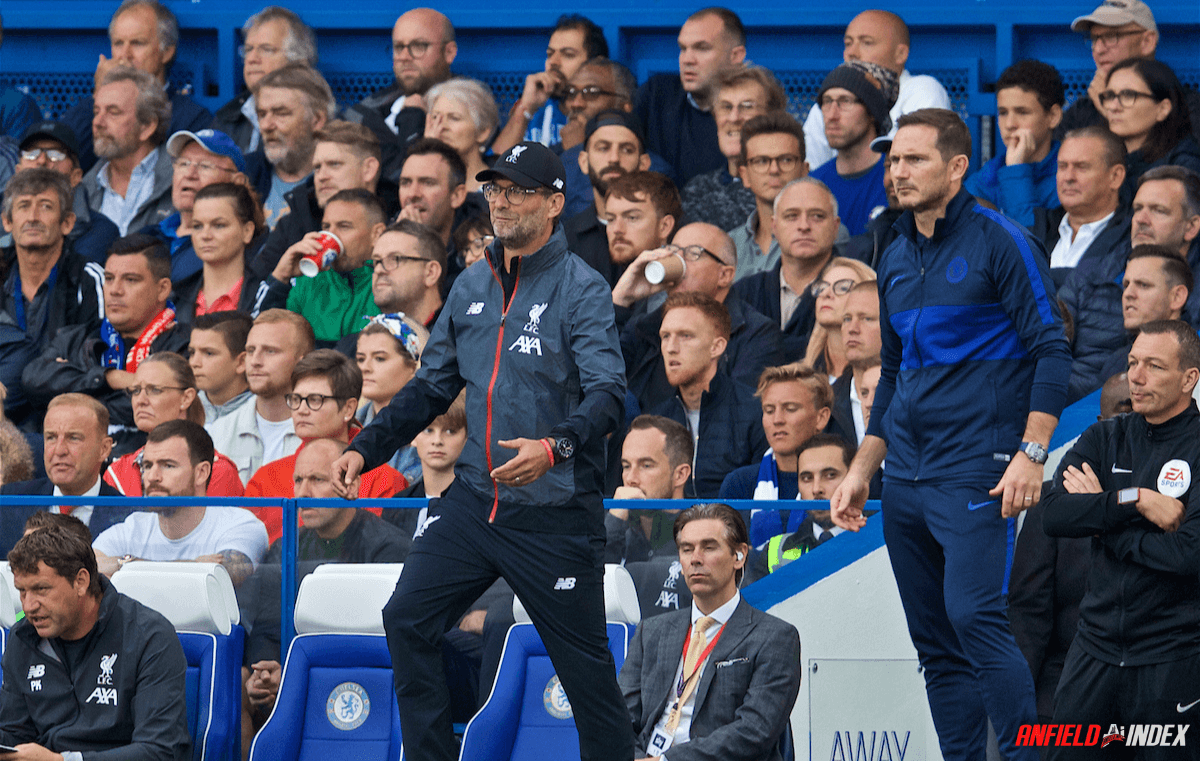 Klopp vs Lampard
Jürgen Klopp is one of the most respected managers in world football. Many fans of rival clubs surely admire the personality and performance of the charismatic German. In world football there are maybe three or four world-class managers, and Klopp is certainly one of those. To make an enemy of Jürgen Klopp is often detrimental, but to rile Jürgen Klopp with silly antics is still quite common.
In the recent past, managers such as Chris Wilder, Sean Dyche, Mikel Arteta, and Frank Lampard, have all crossed paths (in verbal warfare) with the big German. The commonality of all these managers is that they are far far below the Liverpool managers' pedigree, and perhaps possess an inferiority complex towards such a successful coach.
In the season when Liverpool last won the English top division (in 2018/19), there was a pitch side spat between Frank Lampard and Jürgen Klopp. Childish comments and various degrees of foul language were thrown at the Liverpool bench (by Lampard), and in particular Jürgen Klopp. Frank was manager of Chelsea back then, and was well on his way to being found out as a manager not fit to run a Premier League club. Frank Lampard was swiftly sacked when everyone came to that same conclusion, and only the stupidity of Everton has seen him return to management so quickly.

This Sunday Everton will make the quick trip across Stanley Park, to visit their Merseyside rivals Liverpool. Both halves of Merseyside are embroiled in completely different battles, and where the reds are fighting to reclaim the League, Everton are fighting to stay in it. Everton are a club not so much in freefall, but are still scratching around to stay out of the bottom three. Liverpool are very much in the ascent, and will see Everton has just one more obstacle to overcome.
Earlier this season we saw Arteta launch into a tirade of abuse all aimed at Jürgen Klopp. That day saw his Arsenal side almost holding their own (up until that point), against a strong Liverpool side. It would appear that to antagonise Jürgen Klopp, would be to unleash another level of competitiveness from the Liverpool manager. As soon as Arteta launched into his childlike tantrum, the whole of Anfield erupted, and the reds proceeded to take the Gunners apart. Much like with the earlier mentioned Lampard spat, Chelsea were also dealt a comprehensive defeat after the managers coming together.
This Liverpool team is built upon passion, power, and hard work. There are always going to be moments when great teams stutter, yet with this team, moments of disrespect (towards Klopp) can certainly alter the trajectory of his side. The bond that is shared between Jürgen Klopp and his players is clear to see, and this Sunday could see extra motivation against both Everton and Lampard.
Frank Lampard was a wonderful football player, he was brilliant for Chelsea and he was superb for England. Throughout his career, his goal scoring ability was simply world class. He is as close to football royalty (within the Premier League) as you will find, with a massive array of trophies and achievements under his belt. His ability as a footballer were evident very early on, and his drive to be a tremendous footballer could never be questioned.
When considering Frank Lampard the manager, almost the absolute opposite must be garnered from his relatively short spell as a coach. Frank seems to merely borrow ideas from his former managers, or overspend on talent. With certain players (such as Timo Werner or Delli Ali), he seems to have little idea of how the best extract their obvious ability. In short, Frank Lampard is currently a poor manager, and he has done very little to justify the three jobs on his CV.
The Derby can of course bring huge needle, but there must surely be some added spice with Klopp and Lampard coming head to head. With Liverpool currently intent on inflicting maximum damage, it could well spell bad news for the Toffees. As the season draws to a frantic climax, there will still be many twists and turns, and that could start with Klopp v Lampard this Sunday.