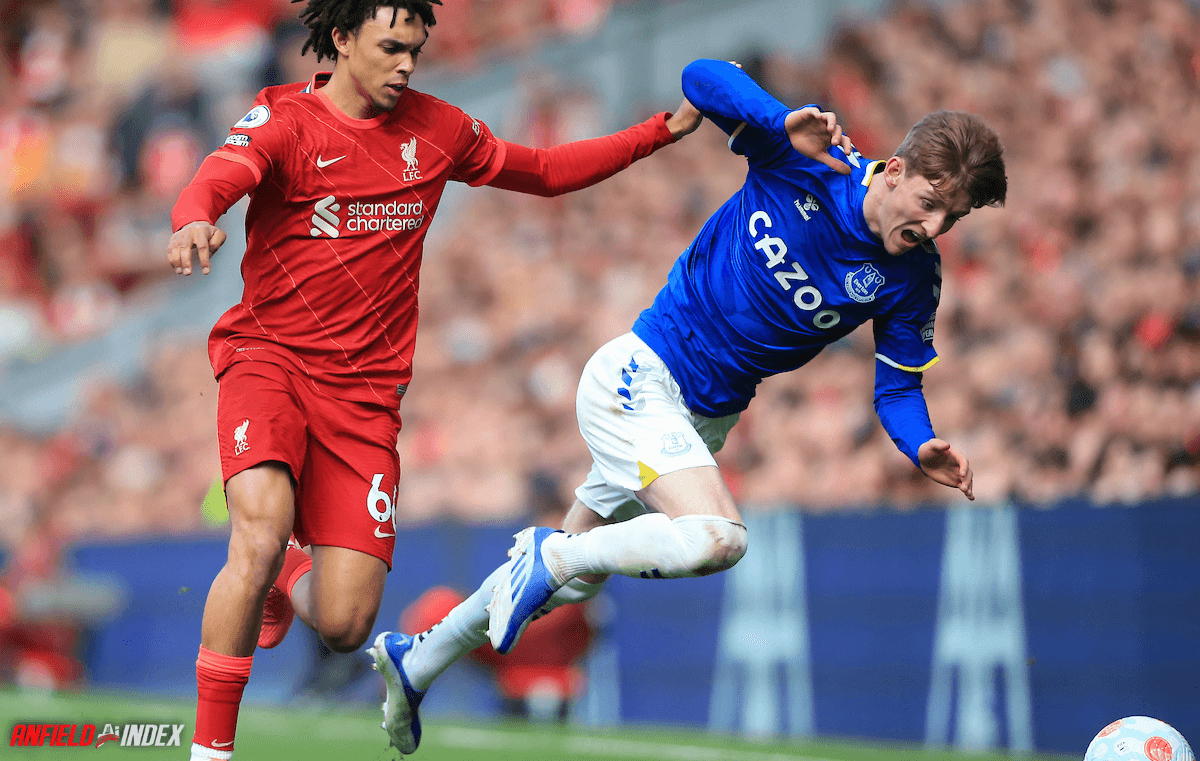 Observations: Siege Warfare
Divock Origi absolutely loves playing Everton. I'm sure you'll hear that in every article about this game, but it's worth saying anyway. There is no-one better at coming up with the goods at the perfect moment, in the hour of direst need. It seems very likely that Origi will be leaving Liverpool at the end of this season, but if that is to be the case, what a way to say goodbye. Liverpool beat Everton by 2 goals to 0 to maintain their title chase on Manchester City, and Origi played a crucial part in both. First, it was his run to the by-line that allowed Salah to move into the box and find space to play the cross to Robertson. And then, of course, his header to score the second was classic Origi, gambling on a run towards the goal line when it looked like a teammate was going to shoot. It was the same for his famous winner in the derby several years ago, and shows the importance of those striker's instincts to be in the right place in the box.
But don't let the almost mythic quality of Origi's effect against Everton disguise the fact that it was an astute tactical substitution by Jurgen Klopp, in a game with a tricky tactical problem to solve. Let's dial it back. Frank Lampard set his team up to defend in a very low 4-5-1 block. Congesting the space and taking no risks, and hoping that Richarlison could make some counters happen with Everton's pacy wingers. It worked well in the first half, as the Reds were frustrated in their attempts to play forward, and Everton actually had the better chances (though neither side made much). During that half, Klopp experimented with a few shape changes to try and work some paths through the block.
First, Matip moved up alongside Fabinho and Thiago in a midfield 3, with Van Dijk acting as the lone sweeper against counters. This allowed both fullbacks to move forward as well as Naby Keita joining the front 3. This was an attempt to make sure all of Everton's 4 man defence were occupied, creating space wide for players to receive and try to make crosses or reach the by-line. However, Everton's wide midfielders did a good job of shuttling out to the ball and applying enough pressure to make things congested and stop Liverpool penetrating. So the next step was to make sure the midfield was not in a position to move over and close the spaces. To do this, there was an incredibly aggressive change. Van Dijk stepped up higher, joining Matip in an ultra high 2 man back line. This allowed Thiago and Fabinho to make disruptive runs into the Everton midfield, dragging people around. When the Everton midfield adjusted to cover these runs, it gave just enough space for the ball out wide to be received in space by the fullback, who were essentially playing as wingers at this point.

But although this led to an improvement, it still wasn't quite enough. The Reds were getting into threatening areas, but not turning those into touches in the box which would allow for shots. This is when the subs made a difference. Keita has been brilliant recently, but a striker he is not. Liverpool were effectively playing with two centre forwards and two inside forwards by this point, so Origi coming on was a natural fit for the team's need in those areas. Diaz came on for the booked Mane to act as the left inside forward, and now Klopp had players in their natural positions inside the box, making the right runs into the right spaces. It was the final piece of the puzzle, and Everton's block collapsed under the pressure. Two excellent poachers finding space, with two dangerous inside forwards attacking the defence with speed and precision, backed by two accurate wingers.
It was a masterclass in staying calm and finding the right solutions to an extremely passionate and committed defence. Make no mistake, this was one of the most well earned wins of the season from everyone involved. Now lets hope we find it easier against Villareal, as unlikely as that may be. Come on you Reds!