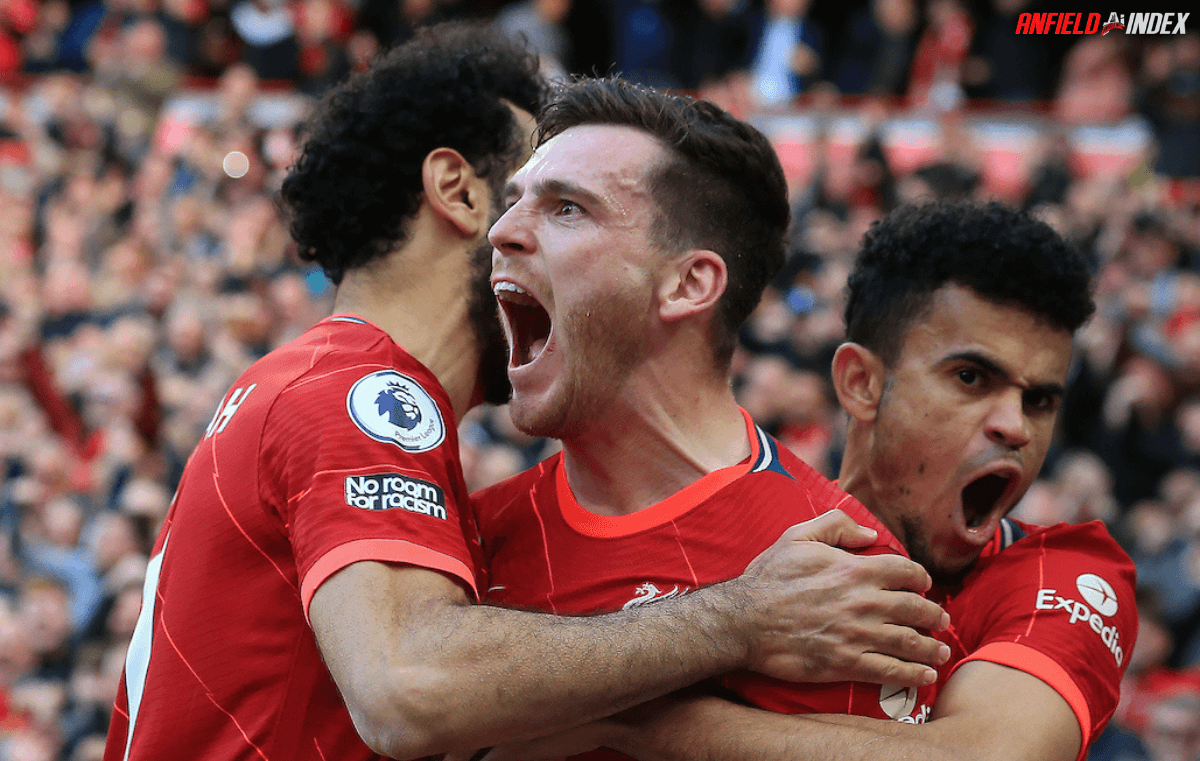 Liverpool 2 - 0 Everton - The Player Ratings
Alisson Becker – 7.5
As solid as he needed to be, without much to actually do. Nice antics at the end, and never really looked overly fazed by the odd Everton half chance.
Trent Alexander-Arnold 6.5

Seemed run by emotion, and caught in too many half spaces that allowed the Ev that odd break. Was tough and problematic to break them down, and he looked rushed and angry when control was needed. He's still 23 and world class, and these games happen.
Andy Robertson – 9.0
Excellent once again, and he's really taking this quadruple scenario seriously. Was instrumental in both goals, with one scored and one corner creating the Divock goal. No issues on his flank, with him and his surrounding cast on full lockdown.
Virgil Van Dijk – 7.5
Steady and assured, if unspectacular. Was the voice and line caller, and stood up when needed. So crucial to how the reds cut the pitch in two.
Joel Matip – 7.0
A little suspect, and thus a little lower in ratings to Virgil. Was evidently told to carry the ball, and create the overload, and therefore it can be understood the hassle he sometimes saw on his side. A clean sheet in a Derby, and three points to boot.
Fabinho – 7.0
A steady game of spatial awareness was more needed than anything, with the Toffee's midfield so often bypassed. Not a stellar game, and annoyance probably affected him like many others.
Naby Keita – 6.5
The overload created avenues of breaking on his side, and though he wasn't at fault, he was sometimes caught a little high and inside. The average games will come, and if a win ensues, there's no problem for Naby. Starts in midweek with a 60 played.
Subbed – 60 mins
Thiago Alcantara – 7.0
Was less dynamite, more slow burn in a game of frustration. The space wasn't there, the game was often horrible, and though he was good, he wasn't great. Life without him means we probably don't win this game, however.
Mohamed Salah – 6.5
Was keen to attack, was lively when surrounded, and showed good work rate in an often horrid affair. The signs are good for Mo, and this was not a game for beautiful players.
Sadio Mane – 6.0
Was frustrated in his game time, and his anger showed through the mid game fracas. Hopefully the upcoming games will actually have the opposite team wanting to compete. Starts in midweek.
Subbed – 60 mins
Diogo Jota – 6.0
His ineffective games are now a little too frequent, and Diaz may have effected his mindset. Was always likely to make way later, but kept on due to his knack for poaching.
Subbed – 82 mins
Subs;
Luis Diaz – 7.5 (on 60)
Maybe everyone's preferred forward right now, and showed such class and ability, with a tremendous flair.
Jordan Henderson – 6.5 (on 82)
Offered a steady look when the game needed a more solid shape.
Divock Origi – 8.0 (on 85)
He loves the Ev. Great in both instances where Liverpool scored, especially with another headed goal. His last moment in a derby was special.
The Manager;
Jurgen Klopp – 9.0
Did what he could, did what was needed, and made the calls at the right time. Against such an anti football outfit, he shines so bright. He must hate Lampard with that st at ting line up, and I'm sure Frank will be even more fond of him and reds after today.