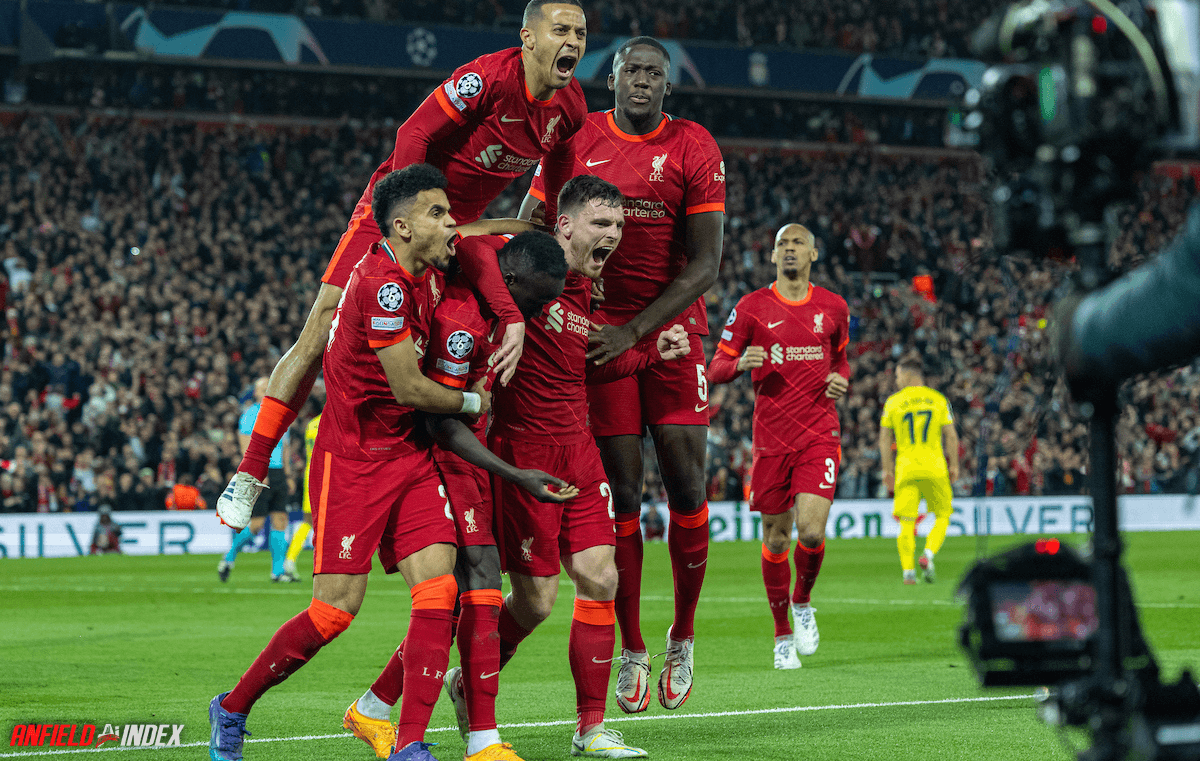 Liverpool 2 - 0 Villarreal - The Player Ratings
Alisson Becker – 7.5
The monster keeper was a certain starter, but he was a virtual spectator through the first half. Concentration (and whether to grab a snack from the crowd) was all he had to do, before a poor Villarreal corner on 73 minutes.
Trent Alexander-Arnold – 9.0

After a tricky derby, he was tasked with showing more composure. He seemed keen to show strength in defense from the off, and he really started to purr as the half went on. 35 minutes saw an outrageous first time volley find Mo, only for his shot to sail over. He picked up again after the break, with more urgency in his play. The disallowed Robbo goal stopped Trent grabbing a wonderful assist, as he started to run the game. He was excellent, and coming off was nothing more than protecting brilliance.
Subbed – 80 mins
Andy Robertson – 8.0
The electric form of the Scot made him a must start for Klopp. His aggression was there for all to see from kick off, as he looked to impose his game. He had a great goal ruled for offside on 63 minutes, with the reds really turning the screw. So important is Robbo right now.
Virgil Van Dijk – 8.0
The defensive leader needs to play every game, and was seen barking orders from the start. He had little to do other than pick up a booking in the first period, as the reds camped in the opposition half. He enjoyed the second half, and stung the keeper's hands at 2-0, with the reds becoming rampant. The best defender in the world.
Ibrahima Konate – 8.0
He came in, still without a Liverpool loss to his name. His pace was clear early on, with an ability to cover ground against any early breaks. There wasn't too much defending of note in the first 45 minutes, as the reds dominated. He and Virgil controlled that line with exceptional quality, as Villarreal's chances to break were fleeting through the second period.
Fabinho – 8.5
The shield within the midfield, this game was always going to be about concentration. He was evident in his desire to cut passes deep in the Villarreal half. He was neither good nor bad on the ball through the first half, with space so limited. He had the ball in the net on 49 minutes, only for the flag to rightly rule Virgil as offside in the build up. He ramped up his ball winning after the break, as they started to strangle the Spanish side. A dominant figure throughout.
Thiago Alcantara – 9.5
He is the tempo setter, and that saw him start once again. He tenacious style was clear from the outset. He was dictating the games pace, and was the orchestrator of nearly everything around him. On 41 minutes he nearly took the crossbar off its hinges, with a beautiful strike from the edge of the box. He continued to control the midfield, with some beautiful variation in his passing. Liverpool are the best team in the world when he's on his game, and his midfield work is currently unmatched in world football.
Jordan Henderson – 7.5
Came in for Naby, with a common rotation piece in midfield taken up once more. He was unlucky with a volleyed cross in the first half, and continued to be neat in his play. Liverpool started the second half with real intent, and the keeper was rewarded for his time wasting when Hendo's deflected cross sailed in. A good outing for the captain before being taken off for the weekend.
Subbed – 71 mins
Mohamed Salah – 8.0
The reds top scorer is finding his form once more, and was on hand to gift Mane a great chance on 11 minutes. 26 mins saw a fine shot go just over the far post, after some neat build up play. Another chance came on 33 minutes, only to be blocked well. He should have scored on 35 minutes, connecting with a brilliant first time Trent cross. He started the second half brightly, with a dangerous cross nearly ending in an own goal. He and Liverpool exploded into the second half, with a cute through ball finding Sadio for the Red's second goal.
Sadio Mane – 8.0
The reinvented false 9 has been tremendous of late, he should have scored on 11 minutes with a weak header. The pass to set Mo free in the build up was excellent, and it should have opened the night's scoring. On 32 minutes he spun and got his shot away, but the deflected effort drifted just wide. He scored a great goal on 55 minutes, slotting home after some great work by Salah. Another important performance before he came off, to prepare for the weekend.
Subbed – 72 mins
Luis Diaz – 8.0
The attacking maverick had to start this game. He drove on 14 minutes, with a cutting run inside which was eventually held by the keeper. 30 minutes saw another shot fired from an angle, with his instructions very clear when in possession. He maybe could have done more with a header on 52 minutes, as Liverpool started to show urgency. More chances and opening came his way in the second half, as Liverpool's play was becoming absurd and impossible to handle. He continued to look dangerous, and was unlucky not to score before coming off.
Subbed – 80 mins
Subs;
Diogo Jota – 6.5 (on 72)
Looked keen straight off, with so much competition up front.
Naby Keita – 7.0 (on 71)
Came in the midfield to add further control, as the midfield purred.
Divock Origi – 6.5 (on 80)
The cult hero loves some end of season action.
Joe Gomez – 8.0 (on 80)
A tremendous option to help ease the burden of fixtures.
The Manager;
Jurgen Klopp – 9.5
The manager went very strong with his starting line up, with a clear intention to claim a firm grip of the tie at home. Villarreal seemed intent on slowing play whenever the ball went dead, and players seemed to fall to the ground in an Everton lite fashion from the off. The first half was a period of frustration, as the reds dominated the game. His half time team talk clearly worked, as his side tore the visitors apart on the restart.
He is as important as any brilliant on field performance, and you can see his intent to win it all with some superb changes to protect key players.