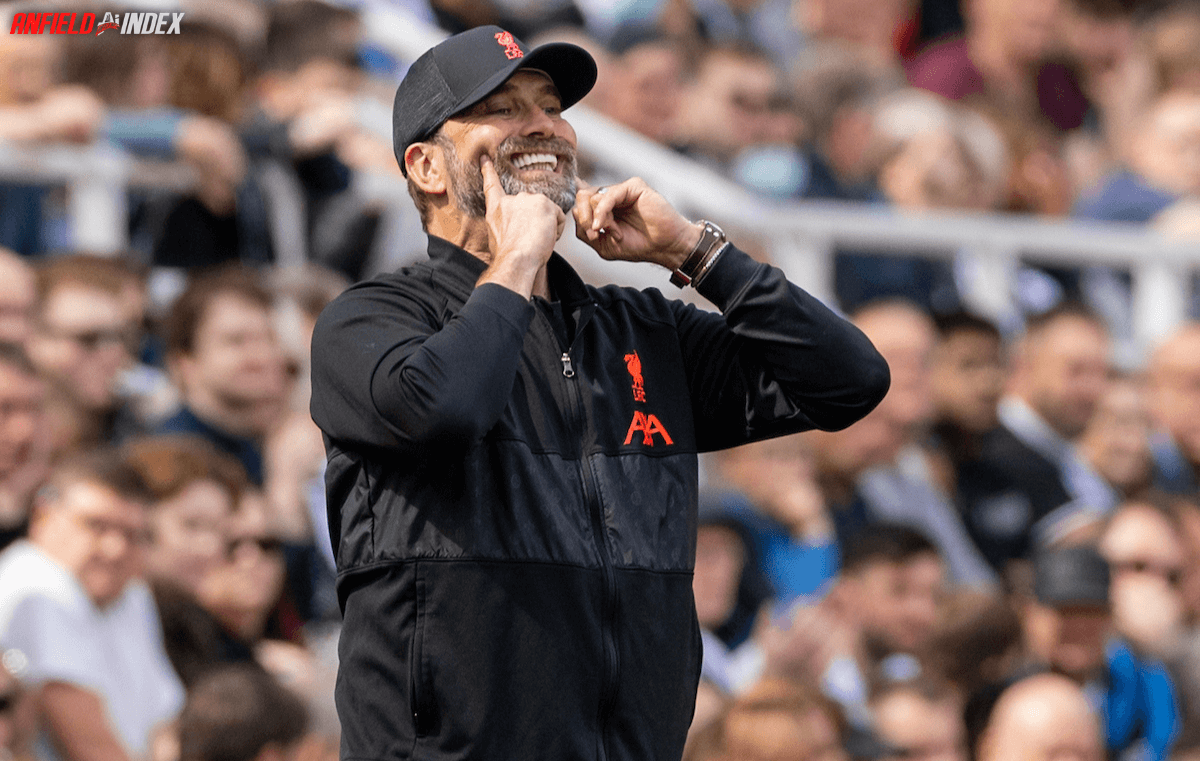 Footballs Of Steel
The past weekend saw a remarkable run of results continue, as Liverpool saw off Newcastle at St James' Park. The Reds are in the midst of a battle across three remaining fronts, with Villarreal dispatched after a minor scare in midweek.
Earlier in the year I wrote a piece named 'Rotation, Rotation, Rotation', as the Reds continued to smartly use the depth of their squad. It's always been a tricky subject for clubs that partake in rotation, as the squads' never quite seem deep enough to warrant weakening their preferred side. Under Rafa Benitez (at Liverpool, not the Ev), the drop off from the starting cast was often shocking, as David Ngog coming in for Fernando Torres will confirm. When it worked, it was seen as genius and courageous management. Yet when results didn't go that certain team's way, the boss would suddenly become clueless.
The listed bench for the Newcastle game was as follows, and it's quite the remarkable read.

Coaimhim Kelleher
Fabinho
Ibrahima Konate
Thiago Alcantara
Mohamed Salah
Curtis Jones
Kostas Tsimikas
Trent Alexander-Arnold
Harvey Elliott
Most of these players are regular starters for Jurgen Klopp, and pretty much all of them would walk into any Premier League side. The risk of rotation is real, and the aftermath of a potential loss can send a fanbase into hysteria. Yet this season, this year of the potential quadruple, Klopp is playing his hand like a grandmaster. Since the turn of the year, he has been continually rolling the dice and trusting his players to overcome. He clearly made a decision that he wanted it all, and here we stand on the verge of immortality.
Manchester City lost to Real Madrid last night, in a wonderful two legged tie. With this result, both the mental and physical fatigue could become damning, as they chase their only remaining chance of glory. They themselves face Newcastle this weekend, and if Liverpool beat Spurs on Saturday night, they will have to win in order to regain top spot. The Premier League now becomes their only priority, and this weekend is a crucial juncture for Pep Guardiola and his fallen stars.
Whereas all City players will be disheartened and tired, the Reds squad will be predominantly fresh and eager to go again. The likes of Robbo will probably need a rest, however, the squad in its entirety seems fit and hungry. We saw Kyle Walker once again get injured on Wednesday night (for City), and there is a feeling that certain players (key individuals), are being overplayed at the Etihad. Whereas Klopp has expanded his horizons, Pep often seems less intent to rotate his cast too much. The end of season is the only time where we will know who's logic is more sound, but at this moment Liverpool have their tails up, and City are scrambling to prevail.
We may never see a season such as this again, but in the days after Klopp signed on till at least 2026, we can at least be sure of one thing. Jurgen Klopp, Liverpool's fearless and brilliant manager, has footballs of steel, that could just create the most impossible reality for the Reds.