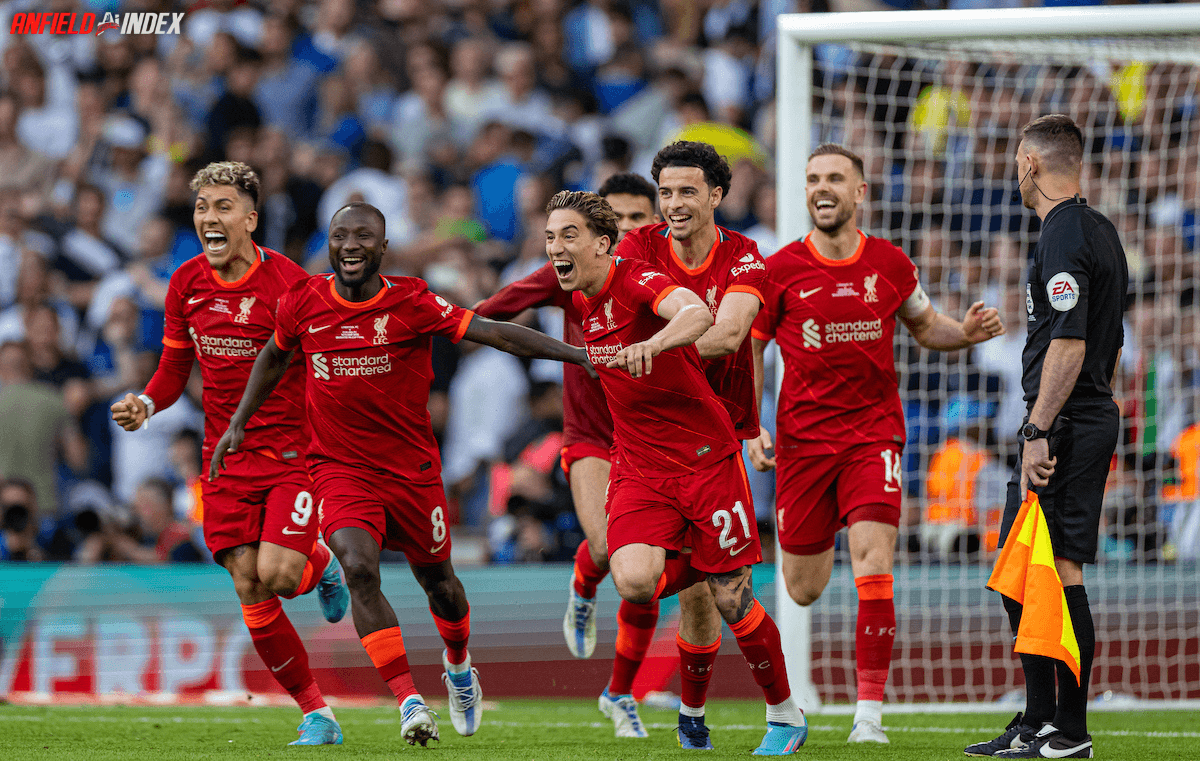 Player Ratings for Liverpool 0-0 Chelsea (LFC win 6-5 on penalties)
For the third time under Jurgen Klopp, the Reds outlasted the detestable Chelsea FC in a penalty shootout to lift a trophy into the night sky. While Liverpool once again could not get a win in either regulation or extra time against the Blues, new heroes stepped up to complete the set for Herr Klopp.
Alisson – 8
Shook off a knock in the first half after a clash with Marcos Alonso to put in a composed and vital display. He snuffed out several Chelsea chances and then stepped up when it counted most after struggling to get close to the first five Chelsea penalties. Mason Mount will be seeing the beautiful Brazilian in his nightmares.

Robbo – 7
Was caught upfield a couple times in the first half, but he grew into the game and easily could have set up or scored the winner in the second half. Finally ran out of gas after 111 minutes but continues to give everything to the club when he's on the pitch.
Virgil – 8
The biggest occasions call for the best players and once again in a final, VVD was there to be counted. He helped deal with Lukaku and made several vital clearances when needed. While he came off after 90 minutes with a potential injury, for now it appears that the Big Dutchman will be ready for Paris.
Konate – 7
Lost a runner a couple times when Chelsea started to find their footing in the first half, but his size and speed were on full display at Wembley as he kept things solid at the back and didn't allow the Blues to break through. There appears to be little doubt that he will become a fixture in the starting XI as long as he stays healthy.
TAA – 8
Trent put in a fantastic two-way performance with a brilliant, side-foot incisive ball to start an early chance, later followed up by several crucial interceptions and break-ups of play. Trent's defensive prowess is always a target of pundits and opposing supporter, but the Scouser in the team more than held up for the entire match and then punctuated his performance with a coolly taken penalty.
Thiago – 8
Aside from one poor turnover that set up a half-chance for Chelsea, Thiago had a strong 120 minutes capped off by a penalty that he made look too easy in his trademark fashion.
Henderson – 8
Called in to play the 6 due to Fabinho's injury, it was a captain's display for Jordan. Rarely set a foot wrong all game, he provided the solidity that Liverpool's midfield needed in a cup final. After some wanting displays when trophies were on the line, this performance was a sight for sore eyes.
Naby Keita – 7
Was progressive going forward, but he unfortunately wasted a good early chance by sending a shot miles wide. Not his finest day, yet his place in the starting XI vs. Madrid should be safe.
Luis Diaz – 8
The stand-out player of the match, Luis absolutely deserved a goal. He was easily the heart of most of Liverpool's best play, and he could have had a fantastic early assist if not for Thiago being a half-step behind Diaz's cross. It is telling how vital he has become in such a short time, and it is evident Liverpool would be nowhere near a quadruple chance in mid-May without the Colombian.
Mane – 6
Sadio endeavored and put in a shift, but on a day that was set up for him to make a difference, it just didn't happen. He could have written another storybook ending if he had converted the winning penalty, but his countryman Mendy got the better of him.
Salah – 6
Was part of Liverpool's early dominance, but he sadly came off early in yet another cup final. The early word is that he should be okay, so fingers will be crossed that he gets to exact revenge against Madrid in two weeks time.
Subs:
Jota (On 33) – 7
Had several chances and arguably should have scored. Biggest contribution was an ice-cold penalty that calmed Liverpool nerves after Sadio's miss sent the penalty kicks into sudden death.
James Milner (On 74) – 6
In a deadlocked cup final, Milner was always a candidate to come on due to his success in taking penalties. He not only delivered the goods at the penalty spot, but he also kept Liverpool's midfield composed and solid. This match and win at Newcastle makes a couple good Milderson outings in a row.
Joel Matip (On 90) – 7
All supporters probably had their heads in their hands as Van Dijk came off after regulation, but Joel capably filled in and did not let Chelsea get much look on goal in extra time. It is a testament to Matip how calmly he goes about his business and how strong of a centre-back he is even when not paired with Virgil. Joel will likely get another start in a Champions League Final in Paris, and he certainly deserves it for the hilarious beret he wore during the trophy celebrations.
Roberto Firmino (On 98) – 5
Did not create much as the game lost its energy and sparkle in the last 15 minutes of extra time. Yet, he still converted his penalty even if Mendy should have saved it.
Kostas Tsimikas (On 111) – 7
One of the best parts of Liverpool finally having the squad depth to challenge on all fronts is how so many different players have stepped up to save the day and take home the spoils. After Kelleher had his moment in the spotlight in the Carabao Cup Final, Kostas took advantage of his big moment to calmly dispatch the winning penalty and send the Liverpool end of Wembley into ecstasy. As Robbo has tired down the stretch this season, Tsimi has produced on every occasion he's taken the pitch. He deserves to be starting for a top club, but the Greek Scouser always has a home on Merseyside as long as he wants it