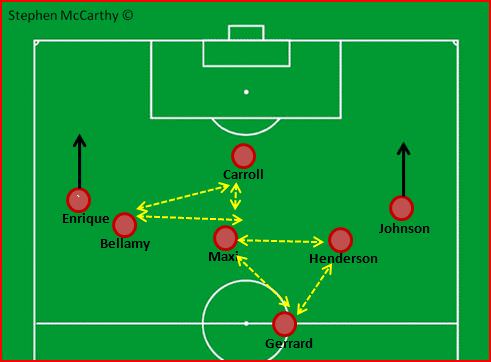 Bolton vs Liverpool | Passing Triangles - Graphical & Stats Preview
Next up is a trip to Owen Coyle's Bolton Wanderers where we will look to put our recent problems at Anfield behind us and try to continue our good away form. In the previous meeting at Anfield this season Liverpool came out winners with a 3-1 scoreline. Bolton go into the game sitting second from bottom in the league table and with a last 6 that reads LWDLWL. That form guide includes defeats against, Man United, Newcastle and Fulham. However they did pick up an impressive win at Goodison Park against Everton amongst those defeats. Bolton sit on 16 points from 21 games and are 1 point off the bottom and 1 point off climbing out of the relegation zone.
Liverpool go into the game against Bolton with a form guide of DLWDDW. That only defeat coming against Manchester City 3-0 at the Eithad Stadium. Included in that last 6, are draws against Stoke, Blackburn and Wigan. All teams you would expect to win against if you had genuine aspirations of finishing in the Champion's League positions. We sit in 7th place in the table on 35 points, with Newcastle and Arsenal immediately above us with a point more. Chelsea are 5 points ahead of us occupying that coveted final Champion's League spot.
Our troubles in front of goal have been well documented this season, and for this reason I believe we need to rest Dirk Kuyt and Stewart Downing against Bolton. Neither have scored a league goal this season, and I think there comes a time when you have to admit that certain players need to be taken out of the starting line-up and other players given a chance to see what they can do. Both players are good players, however, I think that maybe they are both suffering from a lack of confidence on the pitch. For this reason I believe both Maxi and Bellamy should be certain starters when fit. They both know the route to goal, and I fear if we continue with the team we've been regularly starting this season then the lack of goals will eventually cost us that much prized fourth spot.
I'd like to see us go with a 4-2-3-1 formation (see graphic) against Bolton, with both Gerrard and Adam the two in central midfield. Those two should give us a good basis in midfield and I'd expect them to have too much for Muamba and Reo-Coker and dominate the centre of the park. Our back four should remain the same, with both Johnson and Enrique providing good width on either flank to compensate for our narrow midfield. With Suarez still suspended, Kuyt lacking goals, and Bellamy playing a wing role it doesn't leave us much choice but to continue with Andy Carroll up front. The fear I have with Carroll playing this 4-2-3-1 system is that he may become isolated if we don't have willing runners from the 3 playing in behind him. His lack of mobility can be a hindrance in this set-up, so it will be pivotal to our attacking play that Maxi stays slightly further forward than Henderson and Bellamy either side of him. This will provide a valuable link between Carroll and the rest of the team. Maxi's positioning here could be vital to our chances of winning the game. Furthermore, 4-2-3-1 gives us the option to convert to a more solid 4-4-1-1/4-5-1 in the transition phase and have Maxi come back and be that extra man in midfield to match Bolton if they play a 4-5-1.
This is a game where we need to re-discover our quickness of play and concentrate on our passing triangles between players. I watched the Bolton game from earlier in the season prior to writing and I was quite surprised at the speed of thought and the quickness of our passes between our attacking players. Compared to recently where we've become quite laboured and predictable in our attacking build-up play I was quite surprised at the difference. As you can see from the position of the players on the graphic above, Adam will sit and hold in front of Agger and Skrtel. If Bolton play their 4-5-1 and concentrate on flooding the midfield then Adam will find himself with plenty of time on the ball to start attacks. In this formation I would have Gerrard playing slightly further forward on the right of centre midfield. This allows Gerrard to operate towards Henderson's right side and with the footballing and passing intelligence of both, it forms a nice triangle with Maxi who sits just in behind Carroll. On the opposite side you have Adam, Bellamy and Maxi also providing nice passing triangles and with Bolton players inevitably getting sucked in it will leave space for Enrique and Johnson to overlap and try to get crosses into the box for Carroll to get on the end of. With so many good passers on the football pitch at once I'd expect a lot of intricate one-two's and give-and-go's in front of the Bolton back four. As a consequence if we play this team, I wouldn't be surprised if we score from a threaded through ball to Bellamy, Gerrard or Henderson who should be making plenty of runs beyond Carroll and Maxi.
Scouting Report
First off, for reference purposes, let's take a look at the graphic which includes the possible Bolton line-up and the match-up with our players.
Next let's take a look at the Bolton defenders defensive statistics this year and see if we can spot any vulnerability we may be able to exploit. Despite Gary Cahill's transfer to Chelsea I have still included him in the analysis, more to point out his relative influence and what Bolton may be missing on Saturday. Red indicates a statistic that is the poorest (negative) in any given category and blue cells (positive) mark the best statistic in said category. If you take a quick glance at the table immediately you can see that Ricketts has a lot of red cells. Probably slightly mis-leading considering he has only played 3 games this season.  You can also notice the amount of blue cells in Gary Cahill's column. Surely he will be a big miss for Bolton on Saturday. Also noticeable is the lack of clean sheets Bolton have, only keeping two this season. In fact they have conceded an incredible 46 goals at 2.19 goals per game. The worst goals conceded record in the league. They've also the second worst record of conceding shots at 17.6 per game.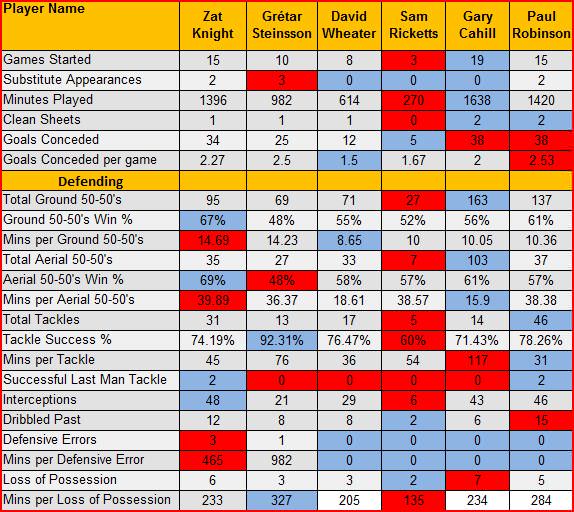 With only Chelsea (301) and Man City (293) having more shots than Liverpool (292) this season then I wouldn't be surprised if we outdo our most shots in an away game this season which was at Stoke where we had a total of 24 shots. Simplistically put: Bolton concede a lot of shots, and we take a lot of shots. It doesn't take a genius to see how this game may pan out!
So let's look at the table in more detail. Who comes out top in the percentages? Take a look at the chart attached. You can see that Steinsson wins a fantastic 92.13% of his tackles, however he has the poorest aerial and ground duel 50-50's on the table only winning 48% of both. So perhaps if we can isolate Steinsson with Carroll at the back post during set-pieces then we may get some success there. It is worth noting, that the 6 defenders on the table are averaging a 75% tackle success rate compared to LFC's regular back four (Agger, Skrtel, Johnson, Enrique) who are averaging winning 80% of their tackles. So these aren't great statistics from the Bolton defence. Zat Knight comes out tops winning more of his aerial duels (69%) and ground duels (67%) than his colleagues. At 6'7" Knight will more than likely be marking Andy Carroll, so it will be important that Carroll tries to lose him at corners and free-kicks, and as a team it will be important we recognise that if Knight has the better of Carroll in the air, then we must change our tactics and play more to his feet.
So what about Bolton's passing, creativity and attack, how are they faring and what dangers do we have to look out for?
Passing
Straight away you can see the amount of blue cells in Reo-Coker's column under the passing statistics. However, when it comes to creativity and goal threat he falls down, amd has the worst stats in the majority of those categories. So it will be important that both Adam and Gerrard close down Reo-Coker and don't allow him too much time on the ball. He is the pivot at the base of Bolton's attack and will look to keep things ticking over for them. Muamba however has the most respectable pass completion at 88%, and he will be the typical defensive midfielder who will just sit in front of his centre halves and try to regain possession of any second balls that come off of Carroll. If Maxi plays in the hole for us, it will be Muamba who will be tasked with picking him up. Worth noting in this category is Kevin Davies's very poor pass completion at 56%. So if he plays our defenders should be ready for his physical presence but be aware that he misplaces 44% of all his passes.
Creativity
Not surprisingly both Reo-Coker and Muambu don't figure too highly in the creativity stakes. They are both holding midfielders of a sort so won't be charged with creating too much. That emphasis falls to both of Bolton's wide men. Eagles comes out top in this area with a total of 2 assists and 30 chances created.  When you think that someone like David Silva has created 46 chances this season then Eagles has a respectable stat here. So if Eagles plays, and plays in his normal position at right midfield, it will be down to Enrique and Bellamy to keep him quiet.
Goals
Bolton have scored 25 goals this season, which is one more than we have managed all season. So not prolific, but not the worst total in the league by any stretch of the imagination. When it comes to shooting Chris Eagles comes out top in the frequency of shots (shot every 46 minutes) and the amount of shots he gets on target (19). He has managed a total of 19 shots on target from midfield this season, four more than Klasnic who plays up front. However, Mark Davies, who more than likely will play just off the striker his the most accurate with this shooting, only being off target with 2 of his shots all season, and hitting the target with 82% of them. He doesn't shoot that often, but when he does it's more often than not a shot on target. Something for Adam to think about as Davies will probably be operating in his zone. Lastly, when it comes to putting the ball in the back of the net then Klasnic comes out top in this area. He is Bolton's top scorer with 7 goals this season, with 14 games played that's a goal every second game for Klasnic. He also converts a third (33%) of all chances that come to him, which when you consider that top scorer Van Persie's chance conversion is 23% this season, it's a brilliant conversion rate from Klasnic. Something both Agger and Skrtel will have to be wary of, but considering we have the second best defence in the Premiership with only 18 goals conceded and the fifth best defence at conceding 'chances' with only 12.1 'chances' per game conceded then I believe we have the tools to nullify Klasnic. Here's to 3 points and a win on Saturday.
Statistical Summary
On a game basis, Bolton have the second worst record in the league at conceding shots. They concede 17.6 shots per game.
Only Chelsea (301) and Man City (293) have had more shots than Liverpool (292) this season.
The most shots (24) LFC have had in an away game this season has been at Stoke.
LFC's regular back four (Agger, Skrtel, Johnson, Enrique) are averaging winning 80% of their tackles this season.
Kevin Davies has mis-placed 44% of all his passes this season. Poor.
Ivan Klasnic has a better chance conversion rate (33%) than Robin Van Persie (23%) this season.
LFC have the second best defence in the Premiership with only 18 goals conceded and the fifth best defence at conceding chances with only 12.1 shots chances per game.
You can follow me here on twitter.