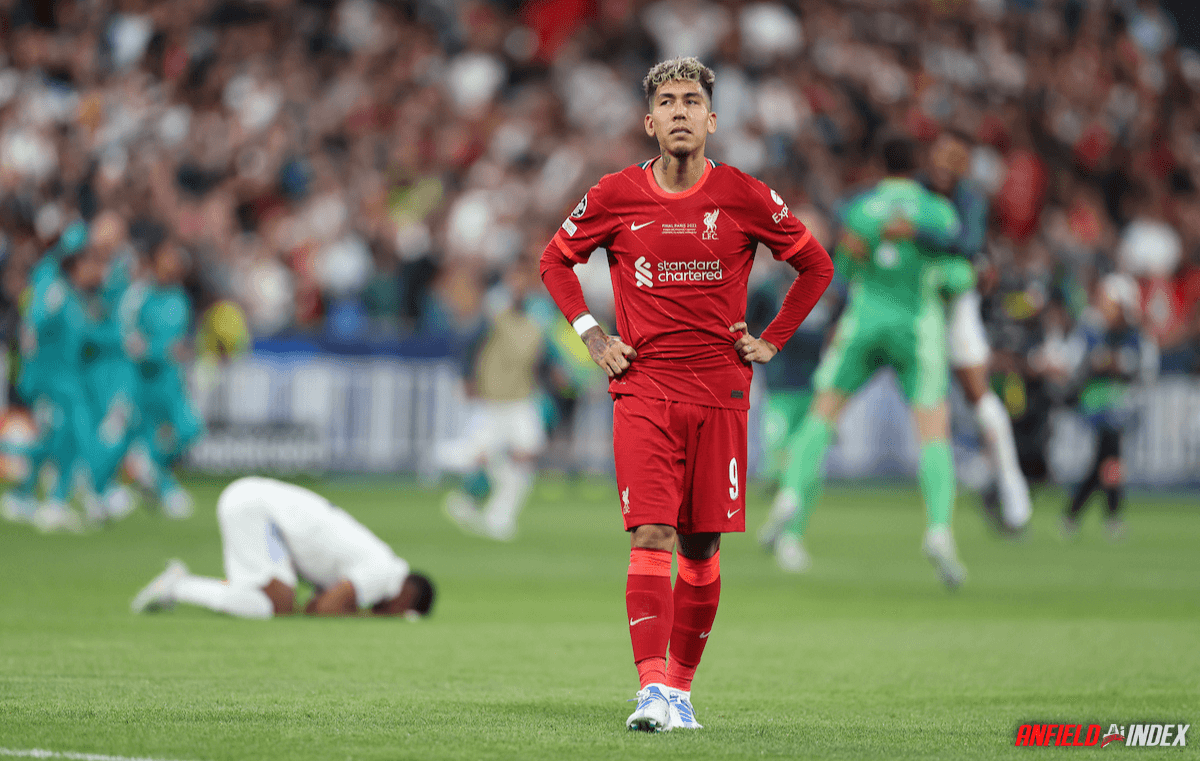 Observations: Liverpool lose the Champions League Final
I'm sure we all feel pretty terrible right now. Liverpool have been defeated in the Champions League Final 1-0 by Real Madrid. It was a good performance by the Reds, but a monumental game from Thibaut Courtois kept the many shots at bay, and so all it took was one chance from Vinicius Junior to sink the hopes of a seventh Champions League trophy. It's a disappointing end to a magnificent season. Even still, we can feel proud of the fact that we never gave up, and that the performance was up to the standard we can expect. Klopp and his men will be back next year to attack the competition once more.
Of course, it would be remiss not to mention the events that unfolded before kick-off. It's important not to jump to definitive conclusions until time for information to settle has happened, but there are enough reports from the journalists on the ground to indicate this was a colossal mess-up by UEFA and the French organizers.  Some of the stories coming out are pretty scary, and we all wish that every fan was able to make it out safely with no serious damage incurred.
Going back to the game, its tempting to spin a narrative of clever Madrid outfoxing Liverpool, having the game go exactly as they planned. But that isn't what happened. They showed lots of grit to hang in there of course, but ultimately, they had only a single quality chance in the game. They scored it, as they have been doing in many games this season. But Ibou Konate played a brilliant match containing Vinicius for 99% of the time. In fact, it wasn't a break down their left which led to the threat at all, quite the opposite, as their charge down the right allowed Valverde to play an excellent driven cross.

Going the other way, Liverpool were understandably cautious about how many risks they were taking to move the ball up the field, which resulted in slow progress for most of the game. Once they got there, Real defended their box excellently, but even still the Reds were able to carve out a number of decent chances, taking 24 shots to 4 in the end, and an xG of 2.14 to 0.88. This is not to make excuses or take any credit away from Real (quite the opposite as I will come to), but instead, it's a demonstration of the fact that we shouldn't be hard on the players for their performance. They played well against good opponents at the end of an exhausting season. But they were thwarted by a Belgian Wall.
The clear Player of the Match was Thibaut Courtois. He made a number of fantastic saves to prevent those chances from being converted, and sometimes as a fan you just have to hold your hands up in respect to someone who has truly earned their victory. Courtois definitely did that today, and you would hope he gets the respect he deserves from his own fans. In the meantime though, we can put a shoulder around our boys and back them to charge again next year. It's been a wonderful wonderful season, and we have so much more to look forward to in the next one.
Walk on, Reds. The Golden Sky is still waiting.