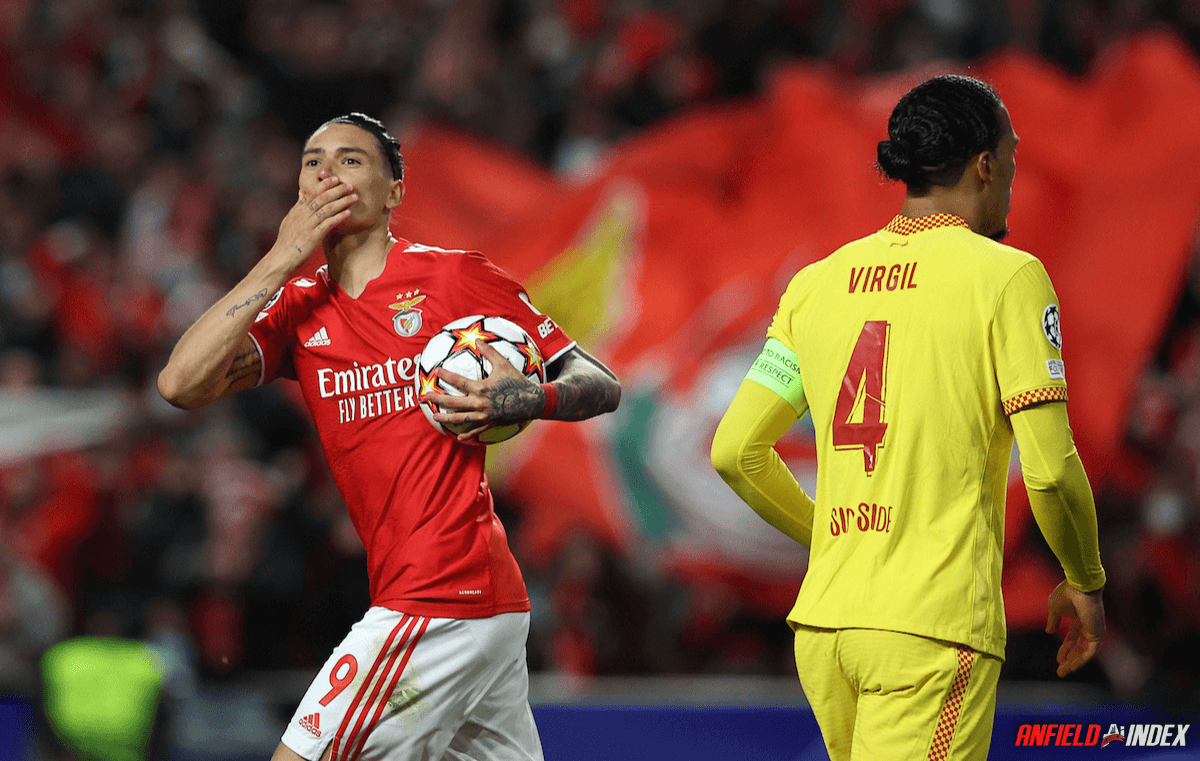 Attacking Through the Middle
Throughout nearly the entirety of Liverpool's recent domestic and European campaign, Jürgen Klopp's team was faced with the low-block reality presented by opposition sides. I've written before about how elite sides such as Liverpool and Manchester City need to adapt their style of play in order to combat the all too common low-block. Weaker sides have mastered this strategy, and I spoke about how it was a challenge for innovative coaches to overcome.
Manchester City drew first blood this summer with the well documented capture of Erling Haaland. Liverpool have reacted with the potential signing of their own traditional 'number 9', Darwin Núñez. The signing of each player represents more than just a tinkering of the usual patterns of play. Not since Sergio Aguero have we seen Manchester City play with the more traditional centre forward. Gabriel Jesus is the nearest incarnation to such a player, and he in no way can be compared to the incoming Erling Haaland.
I'm not quite sure who invented the false nine situation role, but Liverpool FC are probably the team that mastered it's variety. With Sadio Mané and Divock Origi on their way out, a huge decision was needed on the next step. Darwin Núñez represents a certain pathway, which sees Jürgen Klopp choosing to adjust his celebrated forward line.

With the Premier Leagues top two sides introducing a more conventional striker, it will take an awful lot of tactical instruction for each player. In the Bundesliga, Borussia Dortmund is often a team that will have chances created by their own counters. The space with which Erling Haaland (Darwin Núñez at Benfica) was rewarded, is similar to much of Mohamed Salah's first Liverpool season. Mohamed Salah was attacking space time and time again (that season), as teams looked to go toe to toe with a less effective reds side. The goal return that year was absurd, and he has had to adjust accordingly as space became more and more limited. These two major signings will now have to make the same adjustments, with their new patterns of play about to change somewhat.
I think we can safely assume that neither Erling Haaland or Darwin Núñez encountered weekly low blocks, within the realms of their previous clubs. Erling Haaland is an explosive and magnificent striker. His game is built upon power, ridiculous speed, and unparalleled ferocity in his striking. We have seen this season how Jack Grealish has continually struggled within a team so different from his former club. Haaland is light years ahead of Grealish (in terms of quality), but frustration may loom within a team built upon patient possession.
When Aston Villa humiliated Liverpool a few years ago, it came by counterattacking the life out of the Reds. Jack Grealish was able to excel in this bespoke system, which enabled his best attributes to explode in continuous space. In essence, Villa with built to service the needs of Jack Grealish. At City, his possession play has been poor, and even Gareth Southgate has commented on his lack of game intelligence.
Borussia Dortmund (in the last couple of seasons at least), were a team  built to serve the talents of Erling Haaland and Jadon Sancho. With an average defence, many of their games created open spaces across the entirety of the field. Much like with Jack Grealish, this allowed the space for Haaland to express his explosive best. Haaland has now arrived into a City team that will have all of the ball, apart from when they face Liverpool. There will not be the space to run into, and there will rarely be the counterattacking moments which he create YouTube moments. Mohamed Salah was utterly destructive in his first season at Liverpool, and his catalogue of goals saw him able to invade half pitched time and time again. With the brilliance of this reds side, that half pitch has gradually disappeared.
In order to stop Liverpool and Manchester City destroying team after team, teams had to increase their defensive numbers & reduce their own possession. Frustrating games ensued, as these world class teams would recycle the ball over and over. It seems that enough is enough for Pep & Klopp, and a more direct approach is very much incoming for both.
With both potentially looking to mould each of their teams into a 4-2-3-1 or 4-4-2 formation, Liverpool and City will clearly look to be more potent in their central areas. It can sometimes be painful to watch Trent and Robbo launch cross after cross, only for giant centre backs to continually head away time after time. Liverpool have now excepted their current place within the football pyramid, and will look to be more direct and attacked minded in their assault. I expect Mohamed Salah to drift inside more, with his game set to take on a new evolution. His ability to create from inside could be magnificent, and the limitations that are continually put upon him (from a wide position), will surely be lessened.
It might take each team a while to really produce the best of their new central strikers, but with two world-class coaches at each helm, it's an exciting time to watch how this next transition of the league proceeds. Erling Haaland versus Darwin Núñez could be a fascinating watch for multiple years. The hunger of each side to win more silverware will surely add spice, and relevant fans should be very excited by both additions.
With last season only just behind us, the excitement is already building towards another memorable campaign. Liverpool versus Manchester City is now on par with the Manchester United and Arsenal feud, in the early years of the Premier League. In what promises to be yet another closely fought battle, the return of the number 9 could see this battle truly explode.